Town of Princeville, North Carolina: Princeville Community Floodprint: Resilience Strategies for Greater Princeville, North Carolina
The Town of Princeville, North Carolina, located in the Tar River coastal floodplain along the U.S. eastern seaboard, has become increasingly vulnerable to extreme flooding. Princeville has endured multiple catastrophic flood events brought on by powerful Atlantic hurricanes, including Hurricane Floyd in 1999 and Hurricane Matthew in 2016, which flooded approximately 80 percent of the town. Part of the residential community is in the process of relocating to higher ground with hazard mitigation funding support from the Federal Emergency Management Agency (FEMA). However, Princeville's unique culture and history is irreplaceable. As such, the town is planning to preserve the original historic floodplain and community to the extent possible, with a more resilient landscape. 
Princeville was established by freed slaves after the Civil War, and is the oldest town incorporated by African Americans in the United States in 1885. Rather than abandoning the historic site and now bought-out vacant lots (see below for more information on the buyouts), the Town of Princeville, with collaborative support from state agencies, universities, and nonprofit organizations, proposes how Princeville's floodplain can be used in more resilient ways — both through conservation and retrofitted development. Specifically, North Carolina State University's Coastal Dynamics Design Lab led a strategic "adapt-in-place" redesign study and community planning initiative referred to as "floodprinting." The resulting plan presents design and planning best practices for both social and environmental resilience that preserves the community's character and history, while keeping residents safe from flooding. The Princeville Community Floodprint was formally adopted by the Town of Princeville Board of Commissioners in September 2020.
As framed in the Floodprint report: 
"The courageous founders who settled and eventually chartered Princeville created the community from the promise of self-determination. These newfound opportunities were, however, pitted against great pressures and risks, including constantly living with the threat of flooding . . . . As a town, Princeville has fought to sustain itself and maintain its place in history. Therefore, all current and future land-use recommendations must simultaneously recognize both Princeville's singular community history and the numerous ways in which the town's individual properties have been affected by policies and regulations over time." 
One solution for adapting to flooding in Princeville has been to buyout willing sellers with the financial support from FEMA federal disaster recovery programs and relocate residents out of floodplains and to safer locations. In 2017, the Town of Princeville engaged residents, land-use planners, and adaptation experts in a long-term, comprehensive planning process to annex a 53-acre parcel of land located outside of the town's 100-year floodplain in order to develop a safer, higher ground area where residents, structures, and infrastructure can be relocated. Georgetown Climate Center produced a review of this managed retreat approach in the case study: Annexing and Preparing Higher Ground Receiving Areas in Princeville, North Carolina Through Post-Disaster Recovery Processes.
Princeville has since acquired the 53-acre parcel and an additional 83-acre parcel annex just outside of the historic community and floodplain. As the town's boundaries continue to expand, the Floodprint offers methods of bridging the historic areas of Princeville to newly annexed areas through resilient design guidelines — both physically and visually connecting to the newly planned developments. 
As a result of these buyouts over the years, many vacant parcels have been left scattered across the historic town, creating a patchwork of open space lots and related land-use laws. The empty lots now have FEMA land-use restrictions that do not allow for future development, but must be maintained to support natural floodplain functions. In turn, these properties are being repurposed through culturally sensitive, flood-resilient, open space management strategies.
The Princeville Community Floodprint incorporates the results of a vulnerability assessment of flood depth and property elevations across the floodplain district into a land-use analysis that aligns with FEMA-approved land-use strategies. The following categories are FEMA-compliant land-use options for vacant lots that have been bought out for flood mitigation: Outdoor Recreation, Unpaved Parking, Campgrounds, Wetlands Management, Nature Reserve, Grazing, Buffer Zone, and Cultivation (small-scale agriculture). The Floodprint team conducted a parcel-level analysis across Princeville. Of FEMA's potential land-use options for bought-out properties, the Floodprint team recommends the use of four of these open space strategies to form a land-use composite for the town that best aligns with Princeville's land ownership and environmental conditions: Outdoor Recreation, Wetlands Management, Nature Reserve, and Cultivation. 
One of the primary goals of the Floodprint is to propose methods for connecting vacated, underutilized, and/or repetitive flood loss parcels with already established public open spaces, such as parks or greenways. The plan suggests ways the town can maximize the benefits of vacant open space parcels by combining and consolidating clusters of properties where possible; and then connecting them to existing, publicly accessible parks, conservation easements, and city-, county-, and state-owned parcels. 
As a part of the town-wide flood composite mapping the four FEMA-compliant land-use options, the Floodprint team proposed five different projects that Princeville could consider across these options to begin implementing the Floodprint's goals and design guidance. Each of  these recommended foundation projects are mapped and described in greater detail in the report. Further, the plan includes step-by-step actions for how to implement each project, and provides compatible case studies for reference.
Lastly, the Floodprint goes into more depth to show how each of the five proposed projects fits one or more of three overarching themes that also align with the four FEMA categories identified for Princeville: 
Conservation 

Cultivation

Wetland Connections
Conservation: Strategically selecting properties for placement into certified conservation easements will ensure the protection of ecosystem functions along the Tar River while also providing public access.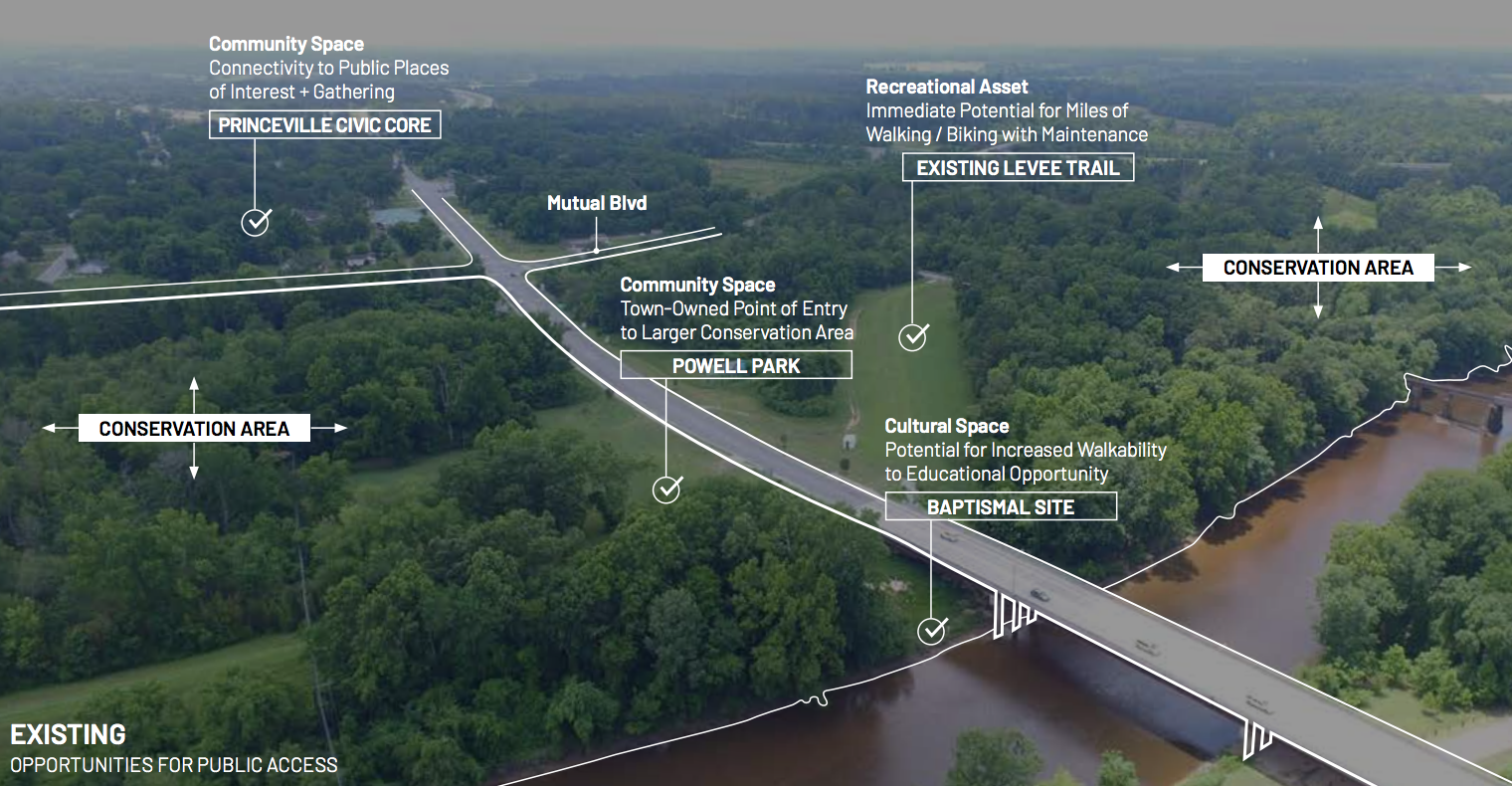 Cultivation: Provides flexibility as lots can be leased or donated to farmers to create small-scale, community agriculture for local, sustainable food systems.
Wetlands: Stormwater retention and flood mitigation capacity, beautifies the landscape with co-benefits for recreation, habitat for native plants and wildlife, and environmental education opportunities. The Floodprint suggests three wetlands projects for implementation that include a trail system with rain gardens or bioswales for stormwater management and educational signage, a stream restoration project, and a right-of-way improvement project to create a walkable, landscaped "travelway" between Princeville's historic, civic core and the newly acquired higher ground land annexed by the city to support relocation.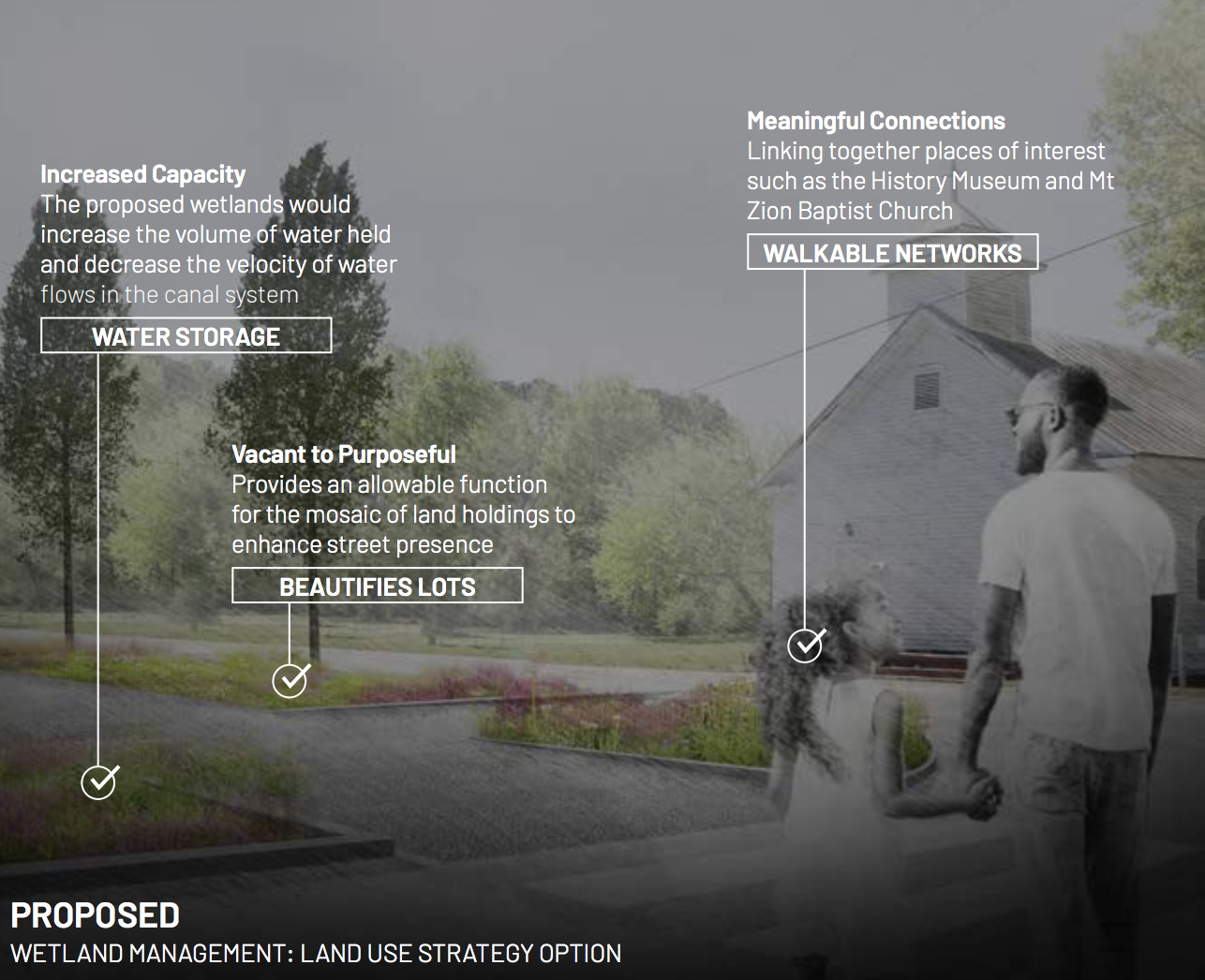 Princeville also plans to protect the remaining Black-owned properties in the floodplain that currently remain occupied or are viable as future home sites. The Floodprint includes recommendations for the town to update Princeville's floodplain management ordinance to include standards that adopt a minimum set of design guidelines for single-family residential development to reflect varying degrees of flood risk in different zones. Specifically, the Floodprint asks the town to consider creating flood-risk zones that would correlate to the design guidelines in town ordinances. The Floodprint project team suggests that elevating homes in higher- and moderate-risk flood zones is "the safest option for residents to mitigate personal flood risk while remaining in Princeville's historic core." These types of planning and zoning updates can allow people to stay safely in their homes longer and for the town to keep a "much-needed tax base" while building a flood ready community.  
Publication Date: September 2020
Related Organizations:
Town of Princeville, North Carolina
North Carolina State University
Related Toolkits:
Sectors:
Resource Category:
Resource Types:
States Affected:
Impacts: