Tribal Climate Adaptation Guidebook
Created by the Oregon Climate Change Research Institute with support from Adaptation International, this guidebook provides a climate change adaptation planning framework for tribal communities. The report offers a stepwise framework on adaptation planning, and over 30 case studies of tribes already in the adaptation process. It identifies opportunities for working with both Traditional Knowledges (TKs) and western science, and is designed to be useful for tribes at any stage of adaptation planning.
Comprehensive guidance is provided within 5 Steps to adaptation planning:
1. Center the Tribe's Adaptation Effort
2. Identify Concerns and Gather Information
3. Assess Vulnerability
4. Plan for Action
5. Implement and Monitor Actions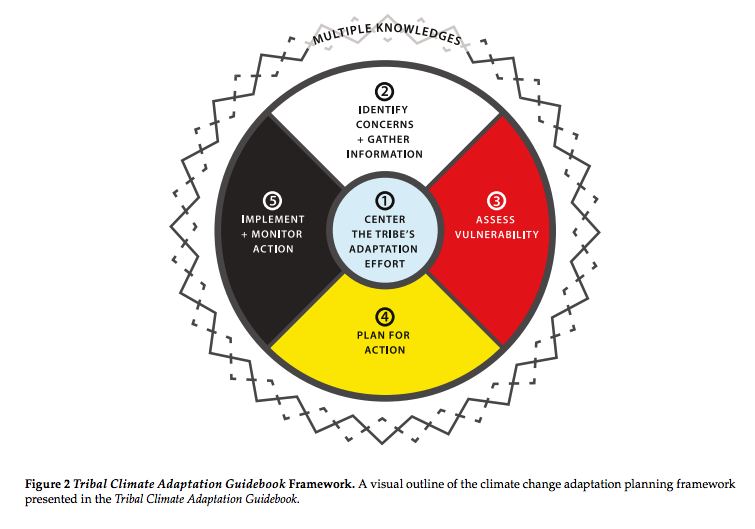 The process begins with centering the tribe's adaptation effort in the tribe's vision and priorities. Guidance is also given in this step on tribal leadership and community engagement, as well as opportunities to incorporate TKs in climate change adaptation planning.
Step 1: Center the Tribe's Adaptation Effort details each of the following processes:
1.1 Select Climate Change Planning Approach
1.2 Assemble the Climate Change Planning Team
1.3 Develop a Vision, Goals, and Objectives
1.4 Consider Opportunities & Risks of Incorporating Traditional Knowledges
1.5 Gain Tribal Leadership Support
1.6 Tribal Community Engagement
1.7 Pursue Funding
1.8 Engage External Partners
Each of the 5 Steps are extensively reviewed through strategic actions and a checklist of opportunities or sub-steps within each action. For example, in part 1.3 of Step One - Develop a Vision, Goals, and Objectives - the checklist includes to:
Develop a Vision

Make Initial Scoping Decisions

Articulate Goals and Objectives
All of these strategies are explained from within a tribal perspective, or approach and necessity unique to tribes in climate adaptation planning. In addition, each of the strategies include tribal adaptation case studies to illustrate existing implementation among other tribes. Guiding Questions are outlined as well - that will support the thought process behind navigating the step strategically.
Step 3 - the Vulnerability Assessment includes 5 detailed case studies of tribal climate vulnerability assessments at various phases. 
Step 5 - Implement and Monitor Actions - offers guidance on taking action, and monitoring and evaluating actions. This section includes suggested indicators for evaluation, and Principles for Developing Indicators of Adaptation Success.    
Climate adaptation planning is unique to tribes in that many tribal communities have resource based livelihoods that are critically at risk to climate change and the impacts on natural resources. Climate change also negatively impacts tribal community health through reductions in availability or access to culturally important species, subsistence and traditional nutrition sources.
Publication Date: November 2018
Related Organizations:
Sectors:
Cultural resources
Land management and conservation
Resource Category:
Resource Types:
Case study
Planning guides