U.S. GAO report: Climate Change - Information on Potential Economic Effects Could Help Guide Federal Efforts to Reduce Fiscal Exposure (GAO-17-720)
The U.S. Government Accountability Office (GAO) has analyzed the current and long-term aggregate economic impacts of climate change on the U.S., the methods utilized for climate economic impact assessments, and the accuracy of modeling these projections. GAO investigated the financial risks to the federal government, and this report also provides information about how these economic impacts could inform efforts to manage climate risks across the federal government. Ultimately, GAO concludes that "the federal government has not undertaken strategic, government-wide planning to manage climate risks, using the best available information, including information on the potential economic effects of climate change, to identify and assess significant risks."

This resource was featured in the December 1, 2017, ASAP Newsletter.
"A recent report from the Government Accounting Office, Climate Change: Information on Potential Economic Effects Could Help Guide Federal Efforts to Reduce Fiscal Exposure, points to myriad ways the economic impacts of climate change threaten national budgets and security."
Climate-related impacts, such as wildfire and coastal property damage, have already cost the U.S. federal government billions of dollars, and these costs are projected rise in the future. GAO reported in 2014 that from fiscal years 2004 through 2013, the Federal Emergency Management Agency (FEMA) obligated about $95 billion in federal disaster assistance for 650 major disasters declared during this time frame. According to the Office of Management and Budget - over the last decade, extreme weather and fire events have cost the federal government over $350 billion, and that recurring costs that the federal government incurred could increase by $12 billion to $35 billion per year by mid-century. While GAO found that projections of the economic effects of climate change can be by nature imprecise, they do convey crucial information to prepare the federal government and the nation's most vulnerable regions and sectors.
GAO recommends:
that the Executive Office of the President (EOP) use information on economic effects to help identify severe climate risks and develop appropriate federal responses in establishing government-wide priorities to manage these risks;
to establish a strategy to guide federal investment to enhance resilience against future disasters, in order to help prioritize and guide federal investments;
and to include developing more comprehensive information on the potential benefits and costs of different adaptation options in this federal investment strategy.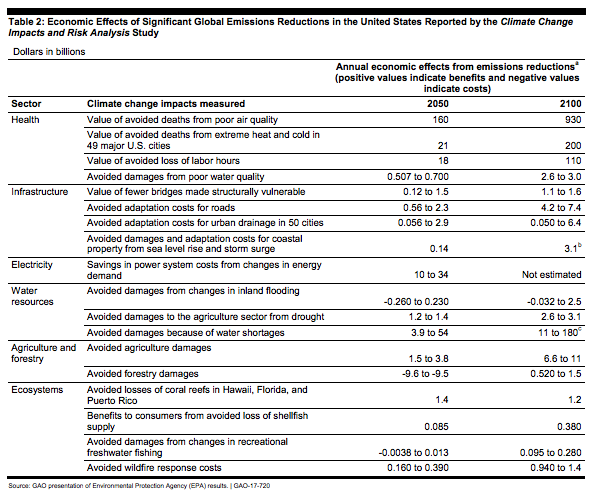 Publication Date: October 24, 2017
Related Organizations:
U.S. Government Accountability Office (GAO)
Resource Category:
Resource Types:
Assessment
Policy analysis/recommendations