Broward County, Florida Ordinance 2017-16 and Future Conditions Maps for Infrastructure Design
Pursuant to Broward County Ordinance 2017-16, Broward County, Florida is referring to new groundwater maps that display how sea-level rise and precipitation changes are expected to affect future groundwater levels in reviewing applications for surface water management (i.e., drainage infrastructure) licenses required for certain development projects. Due to the porous limestone geology throughout much of Southeast Florida, saltwater intrusion and increasing groundwater table levels are an increasingly concerning effect of rising sea levels. These impacts are causing more frequent nuisance flooding that causes traffic delays and has potential to damage roads and other infrastructure and facilities. These requirements are intended to help ensure more resilient infrastructure investments in the future that will improve the effectiveness of drainage infrastructure and help mitigate surface flooding under future climate conditions. 

The Broward County Environmental Protection and Growth Management Department (Department) is responsible for permitting for the development of surface water management (drainage) systems, which can include storm drains, street gutters, pumps, culverts, dry retention areas, wetlands, and more. Well-designed drainage systems are needed to provide flood protection for infrastructure and development and to remove pollutants from storm runoff before it is discharged into the area's waterways. Groundwater levels are an important consideration in the design of drainage systems because, for example, heightened groundwater levels will reduce the ability of soils to absorb stormwater and therefore create more surface flooding.

With an effective date of July 1, 2017, the future conditions map visualizes the average groundwater table under sea-level rise and precipitation conditions predicted for the years 2060-2069, using an estimated sea-level rise of 26.6 inches to 33.9 inches compared to 1992 levels (determined using U.S. Army Corps of Engineers National Research Council Curve 3), and an estimated 9.1% increase in rainfall compared to a 1990-1999 baseline. The Department was previously using average wet season water table maps that were adopted in 2000 and based on surface water and site-specific groundwater measurements from the 1990s. However, the region was already observing changes in hydrology and is expected to continue seeing these changes as groundwater levels rise and precipitation patterns change.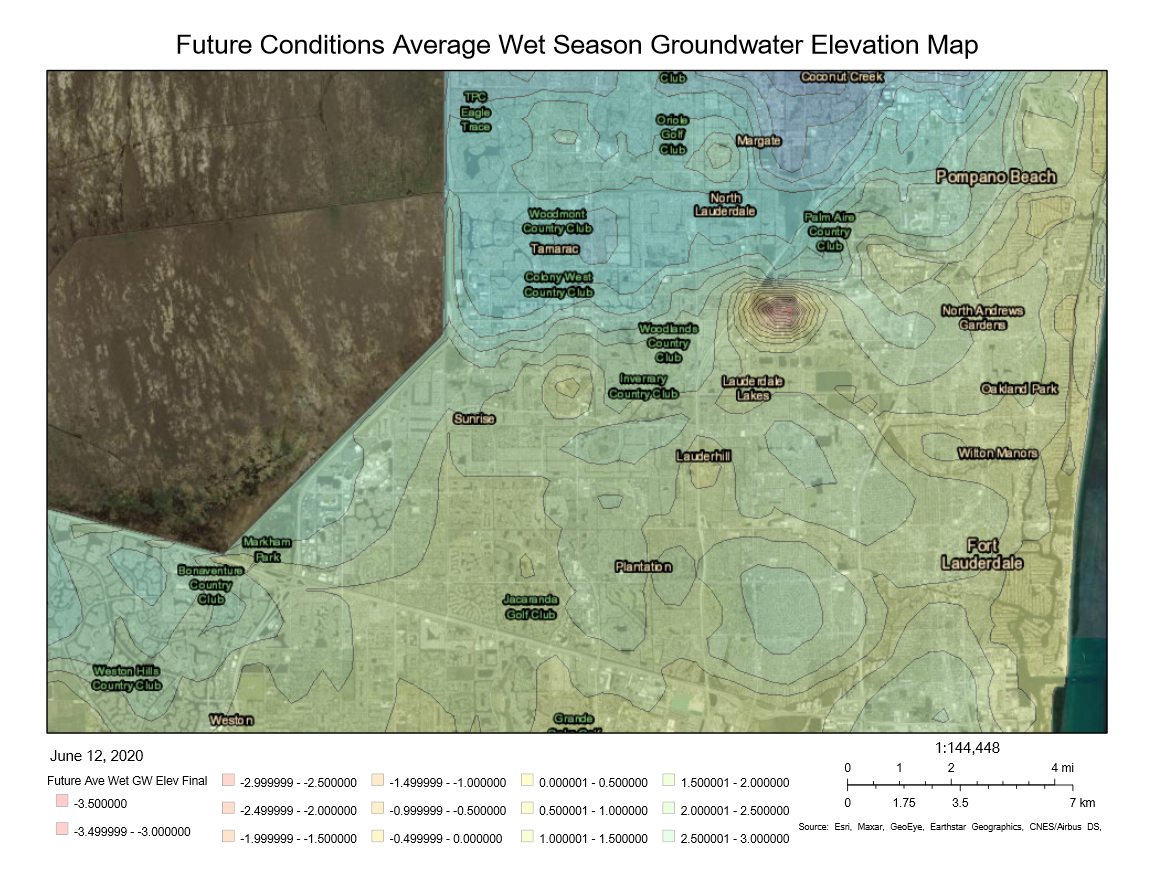 In May 2017, the Commission passed Ordinance 2017-16, integrating the new future conditions maps into the Water Resource Management Article of the County Code, and requiring their use in "applications for a new surface water management license, applications for major redevelopment of existing sites, and applications for major modifications to existing surface water management licenses submitted after June 30, 2017," meaning that the heightened design standards will generally apply in licensing requirements for a new development or major redevelopments. As a result, the Department can ensure that future developments and redevelopment will phase in designs that can better provide flood protection and drainage over the lifecycle of the assets and developments under future sea-level, precipitation, and groundwater conditions.
The future average wet season groundwater table map is the first in a larger series of "future conditions" maps to be used in decisionmaking related to infrastructure and development. The development and use of the future conditions map series was originally approved by the County Commission in February 2017.    
In June 2021, the Broward County Board of County Commissioners enacted Ordinance No. 2021-33 and adopted Broward County's Future Conditions 100-Year Flood Map 2060. This future conditions map displays the expected future 100-year flood elevations for Broward County and will be used to determine the "future minimum habitable floor elevations for new buildings and major redevelopments and future investments in resilient infrastructure in the County." For its predictions, the map accounts for: (1) projected sea-level rise; (2) increased precipitation; (3) saturated soil conditions; and (4) land-use changes. Development of the future conditions map series is consistent with the County's Comprehensive Plan Climate Change Element, including Policy 19.5.7., which states: "Broward County shall support recurring and continued development of local integrated models and continuous data collection, to help predict and track the impacts of sea level rise on groundwater levels, saltwater intrusion, and drainage infrastructure through enhanced development and application of local hydrologic models and the use of down-scaled climate models."   
Publication Date: May 26, 2017
Related Organizations:
Broward County Commission
Related Toolkits:
Sectors:
Resource Category:
Resource Types:
Agency guidance/policy
Laws
States Affected:
Impacts: