California Climate Change and Health Equity Program
The California Climate Change and Health Equity Program (CCHEP) - of the Office of Health Equity at the California Department of Public Health - "embeds health and equity in California climate change planning, and embeds climate change and equity in public health planning." The CCHEP is working to increase climate resilience by improving the public health and living conditions of vulnerable populations. The CCHEP also provides public health and social equity input into state agency plans and programs that affect climate vulnerability, such as transportation and land use planning. They assert that adapting to climate change represents a significant opportunity to both improve public health and advance social equity.
Health impacts that are created or amplified by climate change can include increased cardiovascular and respiratory diseases, heat-related illness or death, injury and loss of life due to extreme weather events, occurrences of vector-borne and water-borne diseases, and stress and mental trauma. 
CCHEP is developing strategies that will address social vulnerability such as alleviating poverty and improving living conditions, while supporting climate-resilient communities. The following graphic demonstrates this framework: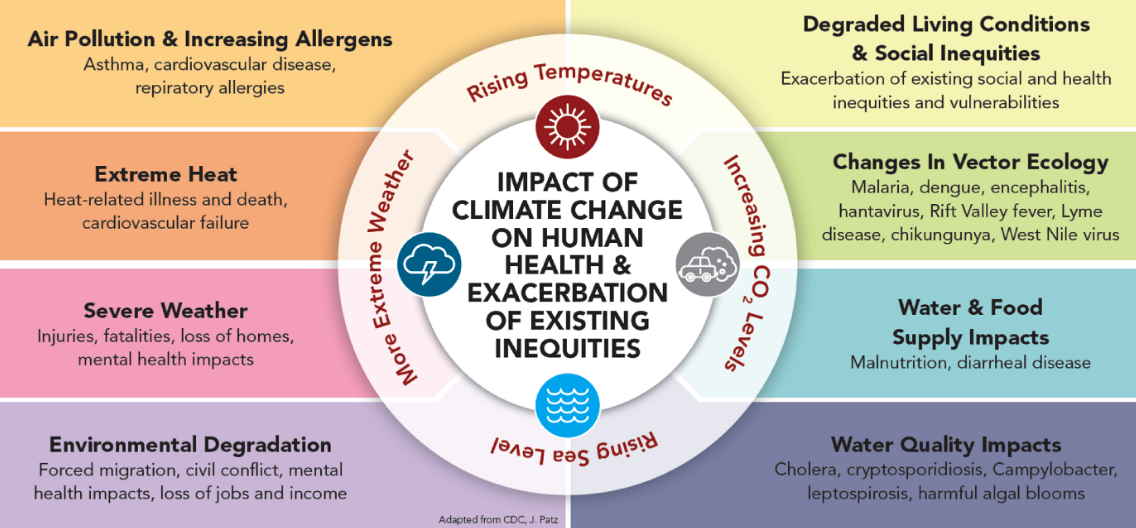 The Climate Change and Health Equity Program works in the following areas:
Supporting local health departments in climate change and health planning

Promoting health co-benefits of climate change action

Developing climate change and health communication strategies

Evaluating health effects of climate change mitigation and adaptation strategies

Preparing climate change and health plans for the state

Working with other state agencies to assure that health and equity are considered in California's climate planning

Engaging with community groups working to promote health equity and environmental justice
Related Organizations:
California Department of Public Health
Related Resources:
Sectors:
Resource Category:
Resource Types:
States Affected:
Impacts:
Air temperature
Invasive species and pests
Socioeconomic