California's General Plan Guidelines - Environmental Justice Element
Developed by California Governor's Office of Planning and Research (OPR), this document ("EJ guidelines") provides guidance for local governments on integrating an Environmental Justice (EJ) Element into the local General Plan. Senate Bill 1000, an amendment to California Government Code Section 65302, mandates that jurisdictions with disadvantaged communities must incorporate an EJ element into general plans. The EJ guidelines provide a history of EJ in California and associated policies, guidance for policymakers in determining if a general plan must include EJ requirements, and guidance for drafting policies and fulfilling these EJ requirements. The EJ guidelines are included in Chapter 4 (Required Elements) of California's overall General Plan Guidelines. 
The EJ guidelines first describe the history of EJ in California dating back to the 1700s, discussing the many unjust land use policies enacted in California over the years and the EJ movement created to address these inequities. This movement resulted in lawmakers passing Senate Bill 1000 in order to integrate EJ principles into the planning process and improve public participation. This bill, an amendment to Government Code Section 65302, is discussed in the Section III of the EJ guidelines: Introduction to Senate Bill 1000. It requires that both cities and counties with disadvantaged communities (DACs, which are "identified based on geographic, socioeconomic, public health, and environmental hazard criteria"1) incorporate EJ policies into their general plans. The purpose of this legislation is to address the "unique or compounded health risks" in DACs by decreasing pollution exposure, increasing community assets, and improving overall health. Adding onto the legal background, Section IV, Policy Framework, provides an overview of federal and state laws and policies that are related to EJ and the general plan. 
Section V, Integrating EJ into the General Plan, discusses the possibility of jurisdictions either addressing EJ by creating a new stand-alone EJ element, integrating EJ as a cross-cutting topic throughout their general plan, or pursuing both strategies. Either approach must ensure that the EJ policies must meet the internal consistency rule for general plans outlined in the Government Code.
Section VI, Guidance for Determining EJ Requirements, lays out steps in determining whether the EJ element is mandatory for a specific jurisdiction and if so, how to incorporate EJ into the jurisdiction's General Plan. An EJ element is required if (1) the jurisdiction will be adopting or revising two or more elements concurrently on or after January 1, 2018, and (2) the jurisdiction contains DACs. Details are provided that can assist policymakers in determining if a jurisdiction contains a DAC. 

If both of these conditions are met, the local jurisdiction must identify EJ policies for inclusion in its general plan. The OPR recommends that policymakers review existing policies and programs, update and/or draft new policies, and assess the tradeoffs, all while engaging with partners such as EJ organizations, faith-based organizations, or other organizations that have strong connections with community members. OPR provides tips and strategies for these steps, including a series of questions that local jurisdictions can ask themselves and their community partners to help assess the effectiveness of existing EJ-related programs and determine where improvements or new programs are needed.
The last sections in the document refer to the statutory requirements outlined in Government Code section 65302, or the specifics of the EJ requirement. Specifically, in addition to identifying DACs within the area covered by the general plan, local jurisdictions must identify policies and objectives in the general plan that would:

reduce exposure to pollution including improving air quality in DACs,

promote public facilities in DACs,

promote food access in DACs,

promote safe and sanitary homes in DACs,

promote physical activity in DACs,


reduce any other unique or compounded health risks in DACs,

promote civic engagement in the public decision-making process in DACs, and

prioritize improvements and programs that address the needs of DACs.

Each of the requirements are outlined with a requirement description, general considerations, and data to consider. For example, the guidelines identify relevant data sources for assessing food access and food insecurity, and provide examples of how jurisdictions can improve food access, such as through "zoning, streamlining project approvals for opening grocery stores in underserved areas, providing policies to increase access to farmer's' markets, promoting community gardens and small-scale urban farms," and more. For promoting civic engagement in DACs, the guidelines recommend understanding local history and building trust; partnering with community-based organizations, trusted leaders, and advocates; and identifying and addressing external and internal barriers to participation such as time conflicts, access to transportation and childcare, use of jargon, and lack of transparency; among other recommendations.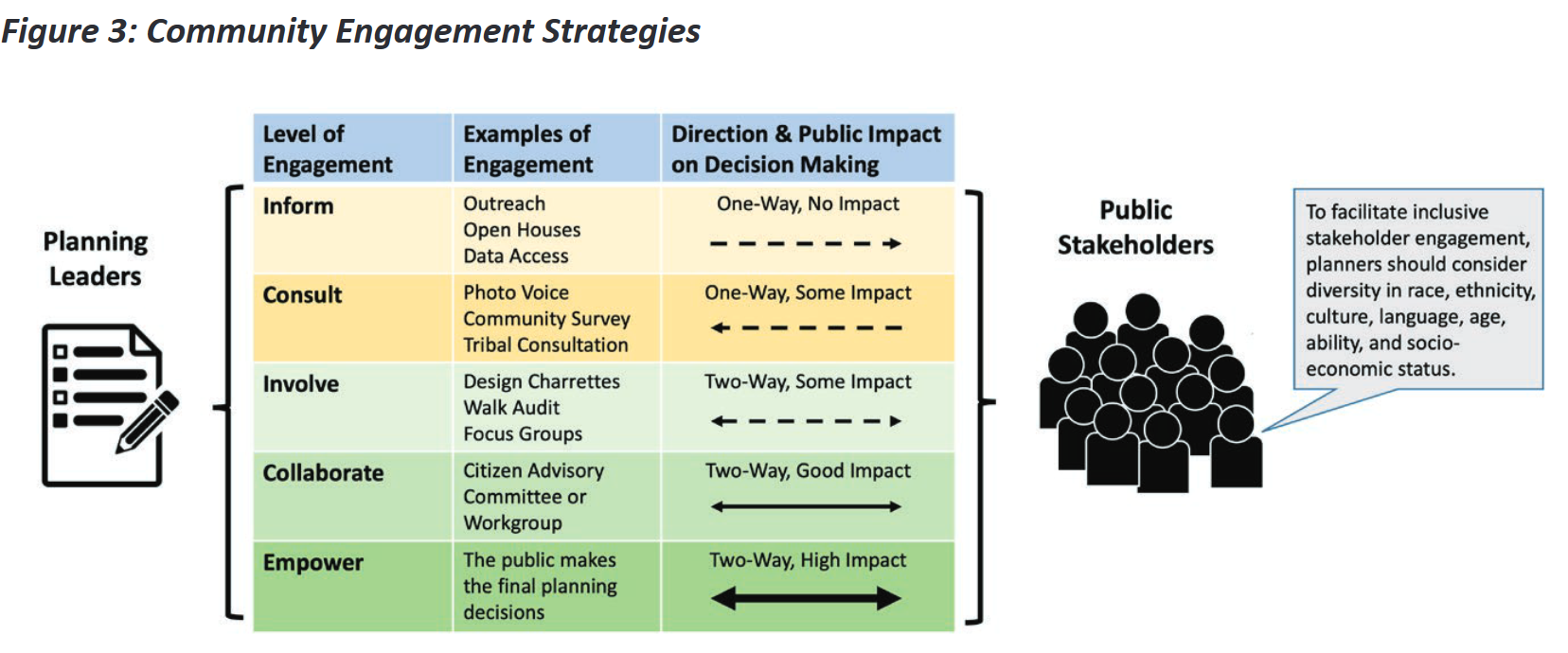 The document also includes more resources for those seeking to fulfill EJ element requirements in the section Additional Data Resources for Equity and EJ, which identifies data sources such as Cal-Adapt, CalEnviroScreen, census data, and much more; and indicates with which statutory requirements these sources can help in the analysis.

Publication Date: June 2020
Related Organizations:
Sectors:
Resource Category:
Resource Types:
Agency guidance/policy
Planning guides
States Affected:
Endnotes
1. Cal. Health and Safety Code § 39711.