Case Study: City of Portland, Oregon Ecoroof Incentive
In 2008, The City of Portland Oregon adopted an Ecoroof Incentive program to address the city's stormwater management problems and the incentive program was active through 2012. The program provided an incentive for the installation of green roofs and other innovative roofing methods to better manage stormwater runoff. Green roofs have the potential to help mitigate both the urban heat island effect, increase the energy efficiency of buildings, and manage stormwater. 
Through the program, the city offered property owners and developers an ecoroof construction incentive of $5 per square foot in the form of a subsidy. During that time, BES granted almost $2 million in incentives that helped fund over 130 projects, creating more than 8 acres of ecoroofs that manage an average of 4.4 million gallons of stormwater each year. The program was administered by the Portland Bureau of Environmental Services (BES).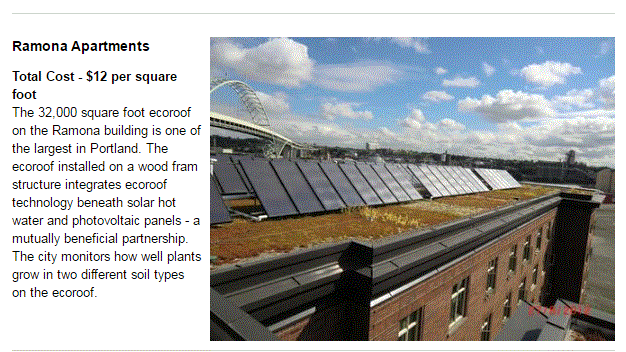 The program had specific project selection criteria. Projects that received the incentive have to be (1) in the Portland city limits, (2) designed to manage stormwater, and (3) feasible and buildable within two years of receiving funds. BES also evaluated projects based on cost estimates, size, ratio of green roof to total roof area, visibility, innovation, and the opportunity to engage diverse communities.
BES conducted outreach and technical development as part of the program. Staff offered annual seminars to connect property owners to ecoroof service providers, developed technical resources, and monitored existing ecoroofs to gather and share performance data.1  They also helped form the Greenroof info Think-tank (GRiT) to raise awareness of ecoroof benefits and promote ecoroof construction. These educational elements continue to support ecoroof construction in Portland even after the official incentive program ended in 2012.2 
Several state and local codes and policies contributed to the success of the Portland Ecoroof Incentive Program. On the state level, the Oregon Building Code includes ecoroofs as an elective measure for energy conservation. In 2011, the Portland City Council passed the Green Building Policy, which requires ecoroofs for all new city-owned facilities and roof replacements on buildings greater than 500 square feet. The City of Portland Watershed Health Plan also recognizes vegetated roofs as a way to sustainably manage stormwater runoff and improve habitat. Furthermore, under Portland's Clean River Rewards program, ecoroofs can be used to reduce stormwater drainage fees on private property. The Portland Central City Plan District also offers an Ecoroof Floor Area Ratio (FAR) Density Bonus to larger scale development projects. If a building includes an ecoroof that meets specific requirements, the FAR bonus will allow a larger development footprint or additional floor area than would otherwise be allowed by zoning codes.3 
Incentives encourage action on private property, especially already-developed buildings that can be hard to motivate people to retrofit. This case study provides detail on how the city implemented this type of program in an effective way using incentives. Incentives may be more politically feasible than mandates. The Portland program leveraged elements of building codes, community engagement, technical expertise, selective criteria, and monitoring to implement a successful incentive program.
Publication Date: February 23, 2017
Related Organizations:
Sectors:
Resource Category:
Resource Types:
States Affected:
Impacts:
Endnotes
1. See also: Cost Analysis for the Portland Ecoroof Incentive, available at https://www.portlandoregon.gov/bes/article/522380.
2. The City of Portland, Oregon, Environmental Services, Ecoroof Incentive, available at https://www.portlandoregon.gov/bes/article/547491 (viewed October 20, 2016).
3. International Green Roof City Network, Case Study of Portland, Oregon, USA, available at http://www.igra-world.com/images/city_network/IGRN-Case-Study-Portland-IGRA.pdf (viewed on October 20, 2016).
User Comments:
March 17, 2017
Kimberly Hill Knott, President/CEO at Future Insight Consulting, LLC

WOW...I really like this program-very creative. The selection criteria for incentives was especially impressive. I also like the coordination of state and local policy initiatives that provided the incentives. I also like the integrated approach of addressing the urban heat island effect, energy efficiency and managing storm water. I believe that these focus areas are especially important in urban centers, like Detroit. I am planning to share this model with the City of Detroit because of our storm water management challenges. Detroit's system combines sewage and storm water which has lead to Combined System Overflow's impacting water quality and causing hundreds of homes to be flooded with sewage. Lastly, I like the focused incentives toward action on already-developed buildings. Often these type of programs only apply to new construction. Great Job!!