Case Study of Efforts to Promote Resilient Affordable Housing in New Orleans
The City of New Orleans is prioritizing efforts to provide safe, affordable housing as part of its resilience strategy.  In June 2016, the City released its Housing for a Resilient New Orleans: Five-Year Strategy, that lays out the City's approach for protecting and enhancing safe and affordable housing as the City continues to rebound from Katrina and other hurricanes.  Although the Strategy does not explicitly address climate change, it does talk about the resilience challenges posed by the lack of safe and affordable housing and it discusses the city's plan for preserving and enhancing existing affordable housing and building new housing.  
New Orleans was also one of the first cities to address the resilience of affordable housing through its Assessment of Fair Housing (AFH) required as a result of new U.S. Department of Housing and Urban Development's (HUD) Affirmatively Furthering Fair Housing (AFFH) Rule. The Rule includes a requirement for certain HUD grantees to conduct an assessment of fair housing issues, goals, and plans for achieving them. Communities will analyze challenges to fair housing choice and establish their own priorities to address fair housing barriers in their community. A key objective of this rule is to decrease disparities in access to opportunity and community assets – including environmental health.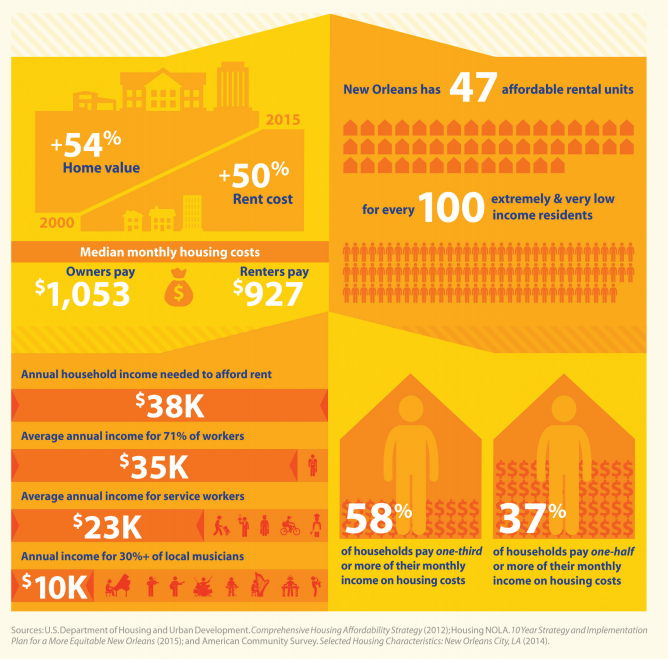 New Orleans 5-Year Strategy and AFH demonstrate ways that cities can ensure that housing, particularly housing for lower and moderate income homeowners and renters, is sustainable, safe, and can withstand impacts from extreme weather events.  
New Orleans has historically struggled to provide fair housing as a city that has been segregated by race and class. Hurricane Katrina exacerbated this segregation, as higher-ground areas that experienced less flooding gentrified quickly in the aftermath of the storm. Residents in majority-black neighborhoods often have less access to jobs, transit, affordable housing, and other community amenities (such as parks and libraries).
The 5-Year Strategy lays out the city's priorities for promoting affordable housing supported by city infrastructure and services such as schools,parks, transit, and job centers. Combined with the AFH, part of the City's goal is to direct public investments to reduce segregation and address historical disparities in access to services and opportunities. The Strategy includes a series of concrete recommendations for achieving these goals:  
Use a data-driven approach to map community assets (e.g., schools, parks, libraries, employment centers, transportation routes) and use maps to identify "neighborhoods of opportunity" for targeted neighborhood revitalization investments.
Align housing investments with other public investments to link housing, economic and workforce development opportunities, and transit.  
Identify development incentives that could be used to finance affordable housing (such as tax increment financing or payments in-lieu of taxes) 
Increase access to affordable housing for vulnerable populations (such as homeless people, persons with disabilities, or people with criminal records)
Provide short-term emergency housing and permanent housing for persons experiencing homelessness
Support creation of and improvements to housing for vulnerable populations (such as seniors, persons with disabilities, persons living with HIV/AIDS) by proving housing that allows seniors to age in place, by helping landlords accommodate the needs of disabled renters, and by banning the denial of housing based upon criminal records.
Adopt an inclusionary housing policy. 
The City also released its Assessment for Fair Housing (AFH) for public comment in October 2016. The AFH was guided by principles of equity -- "recognizing the importance of helping low- and moderate-income residents build financial stability and live in thriving communities."  The AFH lists 10 goals and strategies for reaching the City's goals for equity and resilient affordable housing. Strategies include making investments in neighborhoods that have long been less affluent than others and making it easier for residents of those areas to move to more affluent areas that have prospered over time. For example, the city plans to prioritize public investments in transit, quality schools, healthy foods, parks, and other amenities in underserved communities. They hope to improve the quality of life in New Orleans neighborhoods by promoting alternate uses of vacant lots as community gardens, playgrounds, and parks.
City officials hope that AFH can serve as a model for other cities. All cities that receive federal housing grants will eventually have to comply with the new HUD rules (unless these rules are rolled back by the new administration); New Orleans was in the first wave of cities to implement these new requirements. Cities are expected to use existing funds to achieve their goals. 
HUD's Furthering Fair Housing Rule could offer cities an opportunity to invest and allocate resources specifically to promote resilience in minority and low-income neighborhoods.  Cities can consider environmental health and justice when conducting the required assessment of fair housing under the Rule. In doing so, cities can choose to identify priorities, goals, and strategies that align with urban heat island mitigation programs, such as tree planting or green infrastructure improvements in vulnerable neighborhoods. 
Publication Date: 2016
Related Organizations:
City of New Orleans, Louisiana
Sectors:
Resource Category:
Resource Types:
States Affected: