Case Study: Scottsdale, Arizona's Cool Roofs Workshop
In 2015, the City of Scottsdale, Arizona hosted a Cool Roof workshop series, to promote the use of cool roofs as a strategy for increasing the energy efficiency of buildings and reducing urban heat islands.  Cool roofs are designed to reflect sunlight and heat away from a building, reducing roof temperatures and urban heat islands. Cool roofs also reduce energy use, ambient air temperature, air pollution, greenhouse gas emissions, and improve human health and comfort.1 cool materials can significantly lower the surface temperatures of roofing shingle
and surface paving. Furthermore, large-scale implementation of cool materials can reduce air temperatures by more than 3°F at the urban scale.2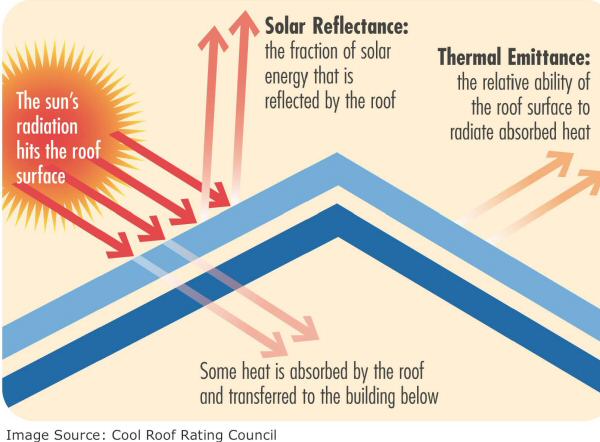 The Cool Roof Workshop, held in 2015, was part of Scottsdale's ongoing Green Building Program Lecture Series. The Program encourages a holistic approach to reduce energy consumption of buildings through design and construction techniques. The lecture series features local speakers and experts discussing relevant topics across a range of green building issues, including environmental building standards, utility incentives, healthy landscapes, indoor fresh air strategies, energy efficient roofing, green schools, and energy upgrades for old homes. The free, monthly lectures take place in community centers and are open to the public.3  The target audience was homeowners and contractors with a goal to encourage and explain green building options.  The city publishes the annual lecture series schedule on its website.
A local news source also promoted the Cool Roofs Workshop, encouraging readers considering getting a new roof to become educated on the benefits of cool roofs and the various installation options.4  The workshop agenda consisted of a research scientist providing a "Cool Roofs 101" overview, discussing low-slope roofs, flat roofs, and cool roof membranes and coatings. A representative from a roofing company then presented on steep-slope roofs and energy efficient roof technology, design, and installation systems. The workshop also provided an overview of relevant stakeholder organizations and resources where attendees could learn more about current technologies to help reduce summer cooling costs and mitigate the urban heat island effect.
A lecture series can help cities encourage developers to deploy innovative adaptive building strategies and can complement city cool roof ordinances by encouraging community outreach and engagement on the subject.
The Global Cool Cities Alliance recognized Scottsdale, Arizona's Cool Roof Workshop as an innovative approach to community engagement in the pursuit of lowering urban temperatures and ensuring a healthier citizenry.5 
Publication Date: February 23, 2017
Related Organizations:
Sectors:
Resource Category:
Resource Types:
Communication
Education/training materials
States Affected:
Impacts:
Endnotes
1. US Environmental Protection Agency, Using Cool Roofs to Reduce Heat Islands, available at https://www.epa.gov/heat-islands/using-cool-roofs-reduce-heat-islands (viewed on October 20, 2016).
2. Dr. Brian Stone, Louisville Urban Heat Management Study, Urban Climate Lab of the Georgia Institute of Technology (April 2016).
3. Scottsdale, Arizona Green Building Program, available at http://www.scottsdaleaz.gov/green-building-program (viewed on October 20, 2016).
4. Sonorana News, Cool Roofs in the Urban Desert, available at http://www.sonorannews.com/archives/2015/150506/comm-cool-roof.html (May 6, 2015).
5. The Global Cool Cities Alliance (GCCA), Cool Retrospective Report, available at http://www.coolrooftoolkit.org/wp-content/uploads/2015/07/Retrospective-7-15-Final.pdf (viewed on October 20, 2016).