Changing Shorelines: Adaptation Planning for Maine's Coastal State Parks
Maine's Department of Agriculture, Conservation and Forestry (DACF) collaborated with the Bureau of Parks and Lands, Maine Geological Survey, and Maine Natural Areas Program to conduct climate change vulnerability assessments for select coastal parks and historic sites on Maine's shoreline. Climate adaptation strategies and guidance were developed to help to protect these areas, and are presented in this report along with the assessment findings. The study sites are considered to have significant natural and historical resources and to be at risk to climate impacts such as more frequent storms, storm surges, flooding, erosion, and sea level rise.
The Changing Shorelines project:
prioritized parks based on a multi-disciplinary vulnerability rating

developed new vulnerability assessments

completed natural resource inventories

identified adaptation alternatives for selected sites

compiled vulnerability assessment results and suggested adaptation strategies for future planning and preparedness measures, and


gathered park visitor preferences for alternative adaptation solutions.
Using a scenario-based approach, the vulnerability assessments for four coastal sites analyzed flooding and water damage to infrastructure, coastal erosion, long-term and short-term shoreline change, water supply and wastewater management, and natural resources. Potential adaptation strategies for infrastructure assets and historic and cultural resources were then identified and are provided in tables in Sections 2.8 and 2.12 and Appendices B, C, and D.
Popham Beach State Park and Complex, considered the most vulnerable of the project sites, was given extensive analysis and the results of such are presented in Chapter 2. Summary results from the other three sites are provided in Appendices B, C, and D - each including maps (location, change, and vulnerability), vulnerability and adaptation strategy tables, and a discussion. A Natural Resources Inventory for Popham Beach State Park is provided in Appendix G.
A comprehensive adaptive management plan is recommended to prepare for and respond to impacts related to climate change and the dynamic migration of the Morse River within the park. The project looked at examples of various scales and locations of inlet management across the country for approaches transferable to the Morse River. Section 2.5 discusses a "threshold-driven management approach" to cope with erosion caused by the continually changing path and migration of the Morse River, and maps out where potential adaptation strategies could be employed.
Adaptation strategies described include:
Do nothing

Episodic beach scraping

Dune planting and restoration

Beach nourishment

Placement of temporary barriers

Placement of permanent barriers

Mechanical inlet relocation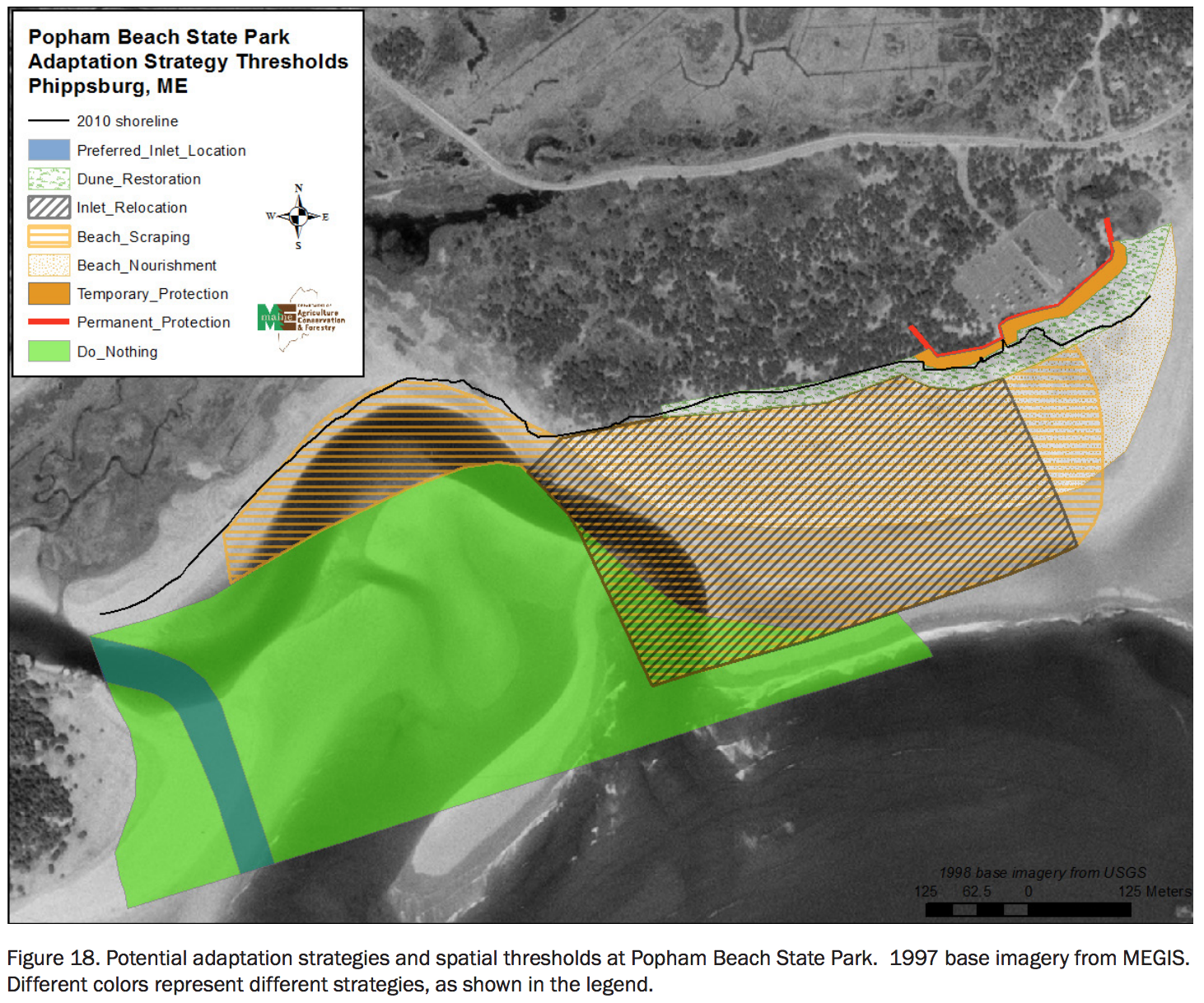 A variety of best management practices for Popham Beach State Park are discussed for monitoring erosion, seaweed management, dune fencing and signage, and dune path management.
General findings and recommendations for the DACF parks and historic sites include:
Policy and Planning

: additional policy-level discussions needed for detailed management plans at select sites and examination of capital needs at vulnerable sites; more proactive budgeting for maintenance and repairs at vulnerable sites; consider new designs for parks to include mobile infrastructure; consider applying living shoreline pilot projects to state-owned properties


Education and Outreach

: project team should present results and lessons learned to policy makers, site managers, and municipal parks and recreation directors; involve municipalities, residents, property owners, and the general public in open discussions on management practice changes; develop interpretive materials for visitors


Park Management

: continue monitoring shoreline and habitat changes; consult with other state agencies for guidance about site management and adaptation opportunities


Data Needs

: acquire new data to build more sophisticated models of changing shorelines; in future analyses, examine habitat connectivity adaptation opportunities and access issues beyond state-owned properties


Regulatory Implications

: examine current regulatory structure for managing development in sand dune systems

(Maine Sand Dune Rules) experiencing dramatic and continual shifts 

Changing Shorelines: Adaptation Planning for Maine's Coastal State Parks and Historic Sites was funded by NOAA in 2014, designated as a "project of special merit."
Publication Date: December 1, 2016
Authors or Affiliated Users:
Kathleen Leyden
Stephen Dickson
Ryan Gordon
Don Cameron
Related Organizations:
Maine Department of Agriculture, Conservation, and Forestry
Sectors:
Land management and conservation
Resource Category:
Resource Types:
Assessment
Best practice
Case study
Policy analysis/recommendations
States Affected:
Impacts: