Chippewa of Lake Superior 1854 Ceded Territory Climate Change Vulnerability Assessment and Adaptation Plan
In 1854, the Chippewa of Lake Superior entered into a treaty with the United States whereby the Chippewa ceded to the United States ownership of their lands in northeastern Minnesota. These lands are the so-called "1854 ceded territory." Article 11 of the 1854 Treaty provides: "...And such of them as reside in the territory hereby ceded, shall have the right to hunt and fish therein, until otherwise ordered by the President." The Chippewa of Lake Superior who reside in the ceded territory are the Fond du Lac, Grand Portage and Bois Forte Bands.1
This climate vulnerability assessment and adaptation planning project was completed through a collaboration between the Bois Forte Band of Chippewa, Fond du Lac Band of Lake Superior Chippewa, Grand Portage Band of Lake Superior Chippewa, and the 1854 Treaty Authority. This report represents a holistic assessment of how climate change is impacting, and could continue to impact numerous species, groups of species, or ecosystems within the 1854 Ceded Territory. 
The report opens with this: "To the Ojibwe, natural resources are cultural resources. There is no separation between how the bands manage and interact with a resource and how their culture endures: one is dependent on the other. Climate change, however, is threatening the very viability of many natural resources important to the Ojibwe."
It also notes that - climate change will disproportionately affect tribes because reservations and the 1854 Ceded Territory have geographically-defined boundaries that do not allow them to follow shifts or changes in the natural resources that may occur as the climate changes.
Key natural resources for the bands, such as subsistence species, were analyzed for their vulnerability to climate impacts, and their ability to adapt. More than 30 different species, groups of species, and habitats that are of significant cultural value were assessed - which represent a broad cross-section of the natural resources that the bands rely on across the region. These species/ecosystems are represented within nine categories in the report:
Air quality
Aquatic and terrestrial plants
Culturally significant places
Fisheries
Forestry
Resource access
Water quality
Wetlands
Wildlife 
The vulnerability assessment utilized data from the Great Lakes Integrated Sciences and Assessment (GLISA) program at the University of Michigan who compiled and analyzed the most recent climate information available for the Territory - including both historic information and downscaled regional climate projections.
There are focal species under each category that are chosen based on their cultural or spiritual meaning for the tribes. For example, the walleye is a focal fish species which are a "sought after and celebrated fish species in the 1854 Ceded Territory and across the reservations."  The climate threats to this species survival are detailed, and customizable adaptation actions are given specifically for the walleye.  All species are described for their climate vulnerability, along with strategies for their protection.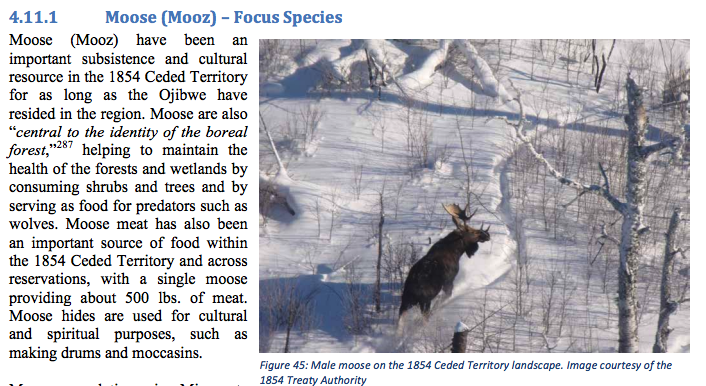 The project team developed 269 detailed and customized adaptation strategies for 11 focus species/habitats. General adaptation strategies were also established for the remaining species/ecosystems. For each of these species, many adaptation strategies or actions were identified in five categories: collaboration; conservation, preservation, and maintenance; education; monitoring and assessment; and restoration. All of these robust ecological adaptation strategies are outlined in the report. 
Publication Date: September 13, 2016
Sectors:
Fish and fisheries
Forestry
Land management and conservation
Wildlife
Resource Category:
Resource Types:
Adaptation plan
Assessment
States Affected:
Impacts:
Endnotes