Citizen Science: Mapping Urban Heat Islands in Richmond, Virginia
The urban heat island mapping project in Richmond, Virginia is a collaborative project that brings community members together to collect temperature variation data in order to design community-scale adaptation plans. Richmond is a highly populated city that has encountered increased urban heat island effect in recent years. While current technology such as satellites can provide city-scale urban heat data, a more detailed, block-by-block examination of temperature variation in each community has to be studied to understand which communities are most vulnerable to the extreme heat. "Citizen-scientists" were gathered to help measure temperatures in their own city, and related human activities or land use. The citizen-scientists included students from the University of Richmond and Virginia Commonwealth University, the Virginia Academy of Science, the City of Richmond's Sustainability Office, and Groundwork RVA - a nonprofit focused on empowering local young people in the communities.  
The project began with community engagement to record temperatures across the city. Instead of using expensive and complicated hi-tech tools, simple hand-made devices were utilized by citizen-scientists to measure the air temperature, while marking time and location. During the first major heatwave, the citizen-scientists divided into 15 teams to survey planned routes by car or bikes equipped with devices for data collection. The data was then input into an open-source software package created by scientists at Portland State University, which incorporated the federal National Land Cover Database and U.S. Census Bureau's American Community Survey data. Through this process, the researchers are able to connect types of land use with local air temperatures, and further, identify the warmest communities with most impermeable surfaces and less tree canopy. The research group also found that these warmest communities are mostly low-income families that are most vulnerable to the heatwave and most frequently call for heat-related emergency help.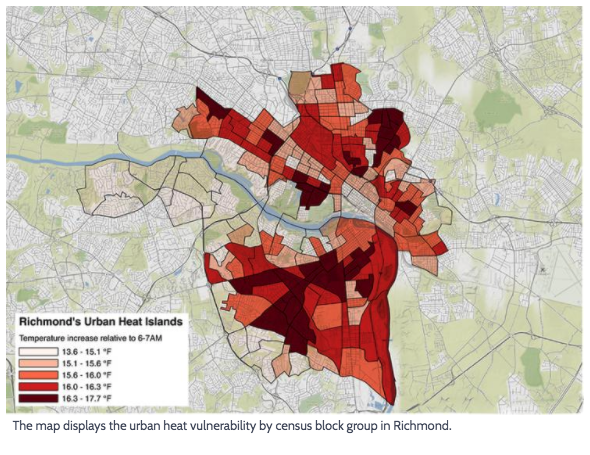 The dataset collected by citizen-scientists is also being utilized to help the city government update its master plan, greenhouse gas emissions reduction plan, and watershed management program. This project can help local governments and communities to identify neighborhoods that are most vulnerable in an effective and low-cost fashion. The collaborative process can build community members' capacity to know their own city better, while empowering them to create adaptive solutions together. 
Related Organizations:
City of Richmond, Virginia
Groundwork RVA
Related Toolkits:
Sectors:
Resource Category:
Resource Types:
States Affected:
Impacts: