Climate and Health - Understanding the Risk: An Assessment of San Francisco's Vulnerability to Extreme Heat Events
The San Francisco Department of Public Health was awarded funding by the Centers for Disease Control and Prevention to conduct an environmental health assessment of vulnerability to heat waves and air quality. This report provides an overview of the health department's study of heat distribution, and predictions of neighborhoods that are especially vulnerable to extreme heat in San Francisco, California. The assessment will inform climate change adaptation planning efforts including a heat wave disaster response plan.
The report includes an overview of the relevant climate change impacts that increase the risk for extreme heat-related illness, morbidity or mortality in San Francisco. The health department identified data from a literature review that were found to affect the relationship between heat and health. Data were collected from 21 variables to investigate the interactions of individual, social and environmental vulnerability to extreme heat events and associated air quality impacts.

This resource was featured in the October 5, 2017, ASAP Newsletter.
"Clocking in at more than 30 degrees above normal September temperatures, the record-breaking, 106-degree day in San Francisco early last month ruthlessly tested the region's resilience to extreme temperatures. It was a tough reality check in a state that is a national leader in climate change policies, exposing a shortage of infrastructure and personnel needed by residents vulnerable to heat. Across the Bay Area, libraries, senior centers, and other public buildings equipped with powerful air conditioning units served as cooling centers for San Franciscans struggling to cope with the heat. But the centers were slow to open, and not all vulnerable residents were able to reach them. Bay Area Rapid Transit train tracks risk warping in extreme heat, so people reliant on public transportation—including vulnerable residents—were at the mercy of a delayed schedule and slow rides with unreliable air conditioning. As the temperatures soared, so did the demand on San Francisco's emergency services. The volume of 911 calls doubled over normal numbers, forcing the city to send out a call for help to public and private ambulance services outside the city. Despite the support from surrounding cities and counties, the weekend's extreme heat caused the deaths of six people in the Bay Area."
Table 1 outlines the 21 variables that impact heat vulnerability, including individual pre-existing factors (asthma) and socioeconomic factors (age, race, educational attainment, language, income, poverty, living alone, living in a nursing home, population density and employment density), and their effects on health during an extreme heat event. The 21 factors also include environmental exposures indicators such as tree density and surface temperature and infrastructure considerations such as building stock and access to air-conditioning. 
Each variable was mapped by each of the City's 574 census block groups and the data were analyzed to create several heat vulnerability indices. A Heat Vulnerability Index (HVI) was developed to determine the spatial distribution of heat wave vulnerability and associated air quality impacts in San Francisco. 
In addition to identifying where residents who exhibit relative heat vulnerability live, the index identifies by geographic location what cause might be driving the vulnerability. For the City as a whole, socio-economic vulnerability accounted for the most variability of all the variables (18.5%), suggesting that socioeconomic factors have the greatest effect on an individual's ability to prepare and respond to an extreme heat event.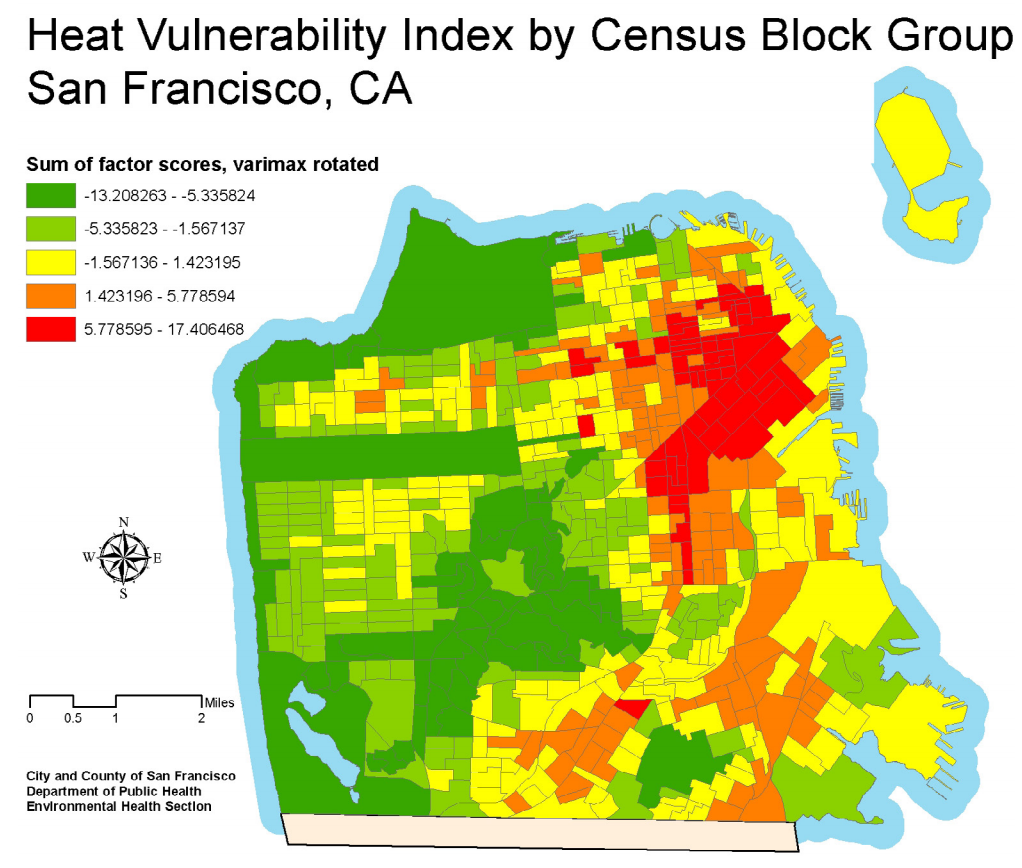 Publication Date: 2013
Related Organizations:
San Francisco Department of Public Health
Related Resources:
Sectors:
Resource Category:
Resource Types:
States Affected:
Impacts:
Air temperature
Socioeconomic