Climate Resilient and Equitable Water Systems Capital Scan
The Kresge Foundation's Environment Program has developed a strategy to address climate change impacts on water systems while prioritizing the needs of low-income communities. The report describes a set of integrated strategies for how grants and investments can best support climate-resilient and equitable water systems. Recommendations are focused on scaling up green infrastructure, water efficiency, and climate planning to address flooding, storm damage and drought impacts. 
The strategy primarily addresses a multi-faceted problem found in urban areas in which low-income communities are particularly vulnerable to climate threats to housing and water infrastructure systems. These communities are often located in areas most vulnerable to climate stressors, while also having limited financial capacity to manage displacement or income loss from disruptions in water management. The analysis determined that green infrastructure generates more co-benefits than any other solution. 
The process for this capital scan included a pipeline assessment across six sectors and more than 100 companies or projects that are actively seeking capital or have raised capital within the past three years (2013-16). For each of the sectors investigated, an "investment heat map" was created to assess the number of potential investment opportunities - and as of November 2016, more than 100 potential water investments were identified.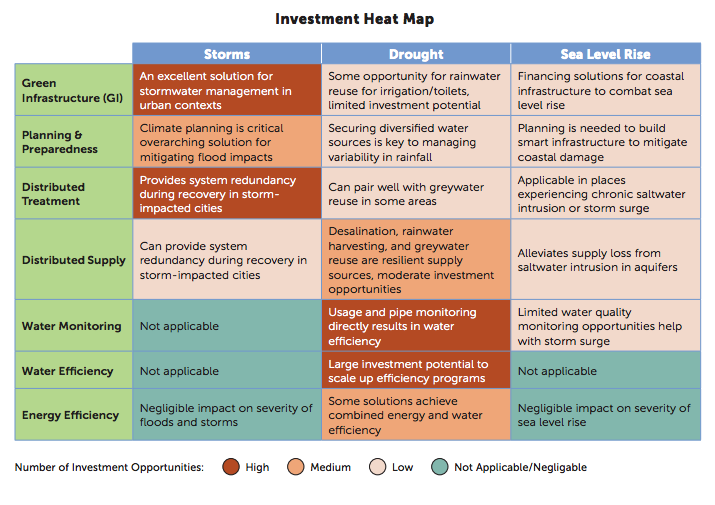 Four Integrated Strategies are described along with opportunities to apply these strategies, and specific roles for foundations. 
1: Deploy large-scale green infrastructure in shrinking cities with combined sewer overflow quality mandates and flood risk
2: Better planning tools and data to reduce storm damage and increase co-benefits
3: Use financial innovation to help scale GI and resiliency planning
4: Private capital/data to speed adoption of innovative technologies
Publication Date: June 2017
Related Organizations:
Sectors:
Resource Category:
Resource Types:
Impacts: