Coast Resilience Solutions for East Boston and Charlestown, Massachusetts
East Boston and Charlestown, Massachusetts are coastal communities that face significant vulnerability to sea-level rise and coastal flooding. Created with the support of the Commonwealth of Massachusetts and the Barr Foundation, this report describes local climate risks, and provides short- and long-term resilience strategies for these areas. This is the first neighborhood coastal resilience plan to be implemented from the Climate Ready Boston plan and initiative.
Study areas within East Boston and Charlestown were prioritized as they are at risk from 1% annual chance coastal flooding, are at heightened risk due to low-lying narrow flooding pathways that originate at the waterfront, and have high concentrations of vulnerable residents and critical infrastructure. Boston's sea-levels are predicted to rise by at least 9 inches by 2030.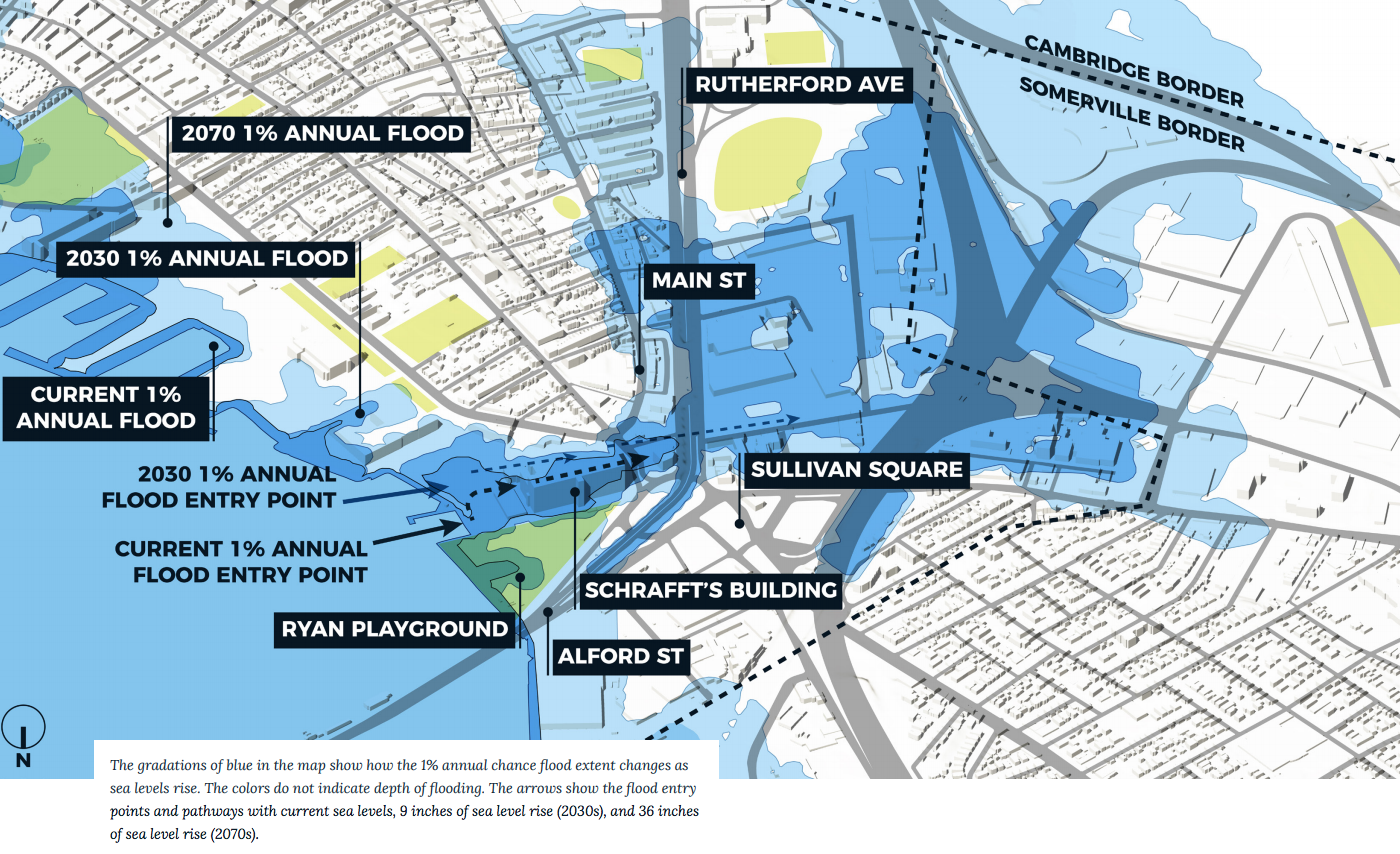 The coastal development strategies included address multiple criteria and priorities as identified through extensive stakeholder and community-level engagement. The measures proposed are designed to serve both social and flood protection functions - while focusing on accessibility, recreation, views, social spaces, and ecological features. The following strategies are explained with much more detail in the report:
Open Space Strategies:
Elevated waterfront parks and plazas to block critical flood entry points, provide public green spaces, and handle flooding with green infrastructure such as stormwater gardens and recreational fields
Infrastructure and Development Strategies:
Elevated roadways and deployable flood walls to block critical near-term flood pathways
Mixed-use development, with taller buildings of smaller footprints to maximize green space and flood protection, low and middle income residential housing - while ground floors have public uses such as retail
Support for Local businesses through the addition of new ground-floor uses in mixed-use development, and existing ones enjoy new customers and opportunities to expand
Investments in Maritime industries - to upgrade their infrastructure and equipment, and help Boston remain a competitive port city
Implementation plans for both East Boston and Charlestown are provided that act as roadmaps to guide the implementation of recommended near- and long-term strategies. The strategies for each community are detailed with project phasing, implementation timelines, cost estimates and benefit-cost analyses. Near-term strategies include more information on project design, related policies, funding opportunities, and recommended partnerships.
The costs estimated for capital projects are based on costs per acre for waterfront berms, parks, and shoreline protection features, and then are scaled based on estimated constructed height to withstand flooding in each area. Benefits of flood protection are based on the directly quantifiable benefit of flood protection, or avoided loss, then weighted by the probability of such losses occurring.
The implementation plans, as well as the rest of the report, have visuals of project designs, including green infrastructure and site specific detail.
Publication Date: October 2017
Related Organizations:
City of Boston, Massachusetts
Barr Foundation
Sectors:
Resource Category:
Resource Types:
Case study
Planning guides
Policy analysis/recommendations
States Affected:
Impacts: