Climate Ready Boston Final Report (2016)
Climate Ready Boston is an initiative to enhance near- and long-term climate change preparedness and resiliency in Boston, Massachusetts. The comprehensive 400-page final report from the initiative uses updated climate projections to predict how climate change will impact Boston, and details the findings on vulnerable populations, buildings, infrastructure, the shoreline, and the economy. The report also provides an extensive analysis of climate resilience initiatives and a roadmap for strategic implementation. Climate Ready Boston is led by the City in partnership with the Green Ribbon Commission and with support from the Massachusetts Office of Coastal Zone Management and community partners.

The initiative behind this resource was featured in the August 25, 2016, ASAP Newsletter.
"The City of Boston continues to act on climate adaptation and mitigation through their Climate Ready Boston initiative. After Hurricane Sandy devastated New York City, Boston concentrated its already existing climate action efforts to develop solutions to help the city become more resilient to climate effects, building off of climate pieces in four other city-wide plans. Climate Ready Boston includes four parts: developing consensus around climate projections, a vulnerability assessment, specific resilience strategies, and an implementation plan. The assessment and strategy is scheduled to be published very soon."
Updated climate projections for Boston are incorporated from the first Climate Ready Boston baseline assessment published in June 2016. Both reports detail the localized projections of four climate factors: extreme temperatures, sea level rise, increased precipitation, and storms. The final report forecasts a further increase in extreme temperatures and precipitation, and more regular flooding and storms with sea level rise. The highest sea level rise considered in this analysis, 36 inches, is described as highly probable toward the end of the century if emissions remain at the current level or even if there is a moderate reduction in emissions.
The Vulnerability Assessment analyzes how Boston's people, buildings, infrastructure, coastal resources and economy will be affected by climate hazards. This section addresses extreme heat, as well as stormwater flooding, coastal and riverine flooding for the near-term (2030s-2050s), mid-term (2050s-2100s), and later-term (2070s onwards).  As sea levels continue to rise, severely damaging floods are projected to shift from a rare occurrence (once annually) to a monthly occurrence. 
Climate Ready Boston takes into account social vulnerabilities to climate change in both its assessments of climate risks and its policy proposals. The Vulnerability Assessment specifically considers seven groups who may be especially vulnerable to heat and flood hazards in the city (e.g. elderly, children, people of color, people with limited English proficiency, low-income people, people with disabilities, and people with medical illnesses), and recognizes that cumulative vulnerabilities put people at greater risk. Given this, the report looks

at neighborhood-level social vulnerability, reasoning that a lack of access to certain resources such as reliable transit, community organizations, and healthy food can increase risks among all residents. Even more, the plan considers the social consequences of flooding, calculating the potential needs for mental health treatment as a result of physical displacement and lost work productivity.

Among the initiatives suggested, the report emphasizes the need to do public engagement in areas that have high levels of social vulnerability and to conduct outreach to facilities that serve these populations to ensure they are prepared. To respond to heat risks, the report suggests developing neighborhood-level volunteers who can check on those most at risk of fatality from heat. To better respond to flooding, the report suggests finding better ways to quantify the social and economic costs of serving the needs of socially vulnerable groups to improve costs benefit analysis of managing flood risks. Additionally, the plan stresses the need for more equitable access to green space throughout the city.




The report presents a set of Climate Resilience Initiatives to address Boston's climate risks as identified in the Vulnerability Assessment. Climate resilience principles and eleven adaptation strategies create a framework for the numerous recommended next steps for Boston.
All of the initiatives relate back to 5 "Layers" of resiliency that Boston has prioritized:
Updated Climate Projections

Prepared Communities

Protected Shores

Resilient Infrastructure

Adapted Buildings
These recommended policies, planning, programmatic, and financial initiatives are given detailed attention and address all sectors affected by climate in the City. Some of the initiatives include:
retrofitting existing buildings,

updating zoning and building regulations to support climate readiness,

incorporating green infrastructure,

creating a coastal protection system to address flood risk, and

supporting the most vulnerable populations. 

 
These initiatives and umbrella adaptation strategies are summarized in a "Recommended Roadmap" for implementation -  that provides a time frame, key milestones, and designated lead agency for each of the initiatives. The timeline has three divisions - within two years, within five years, and long-term - plus an indicator if an initiative is ongoing.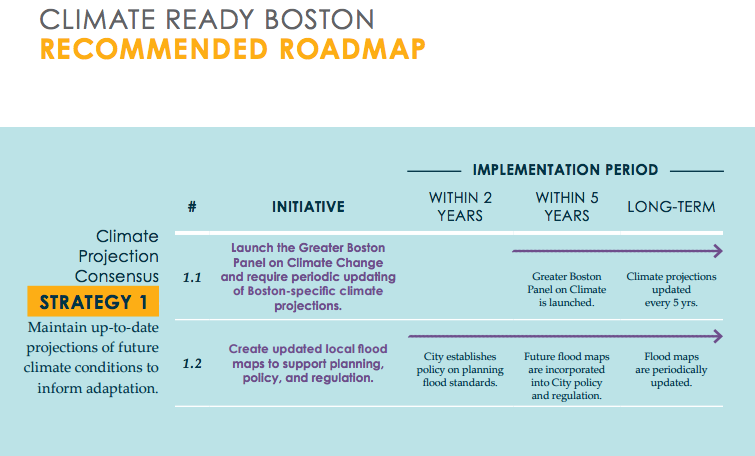 Eight "Focus Areas" in Boston are assessed and built into comprehensive case studies - where the results of the Vulnerability Assessment and the climate resilience initiatives are applied in even more detail to eight locations within Boston.  All 5 "Layers" are also integrated into the analysis of each of the 8 areas including neighborhood-level analysis of climate projections, prepared communities, protected shores, resilient infrastructure, and adapted buildings. 
Climate Ready Boston is coordinated with Imagine Boston 2030, the first citywide plan in 50 years to be released in 2017, and 100 Resilient Cities, to guide Boston toward a more affordable, equitable, connected, and resilient future.
Publication Date: December 8, 2016
Related Organizations:
City of Boston, Massachusetts
Related Resources:
Sectors:
Resource Category:
Resource Types:
Adaptation plan
Assessment
States Affected:
Impacts:
Air temperature
Precipitation changes
Socioeconomic