Coastal Climate Resiliency - Resilient Retail (New York City)
In the wake of Hurricane Sandy, New York City (NYC) was left with significant damage to its urban retail corridors. In response, the NYC Department of City Planning launched the Resilient Retail study to address commercial-infrastructure flood resiliency, particularly in retail corridors located within the city's floodplains. This report offers detailed case studies of affected areas, documents the challenges of increasing flood resiliency within retail corridors, and suggests potential solutions. The report aims to highlight the current options available to businesses and property owners to mitigate flood risk. It also identifies the federal and local regulatory hurdles that business owners face.
Resilient Retail has two stated goals:
Support the continuing vitality of retail corridors and the neighborhoods they serve by addressing short-term needs and long-term regulatory challenges related to flood risk.
Promote retrofitting and rebuilding strategies that reduce flood risk to individual businesses, while ensuring they remain accessible, viable, and able to meet community needs for critical goods and services.
The Resilient Retail report is separated into five chapters. The study begins by offering a detailed, illustrated description of NYC's diverse city structure. The study breaks down variable neighborhood characteristics, and describes factors that may impact flood resiliency, such as ownership, space constraints, and zoning. The study recognizes that dense, mixed used and pedestrian oriented retail corridors face different challenges compared to low-density shopping corridors consisting of detached buildings with larger lot sizes. In the second chapter, the study narrows its focus to retail located within the 100-year floodplain. It describes the types of commercial buildings and their uses, the importance of retail to local communities, and retail's response to Hurricane Sandy.
The third chapter explores the challenges to retrofitting commercial spaces for increased flood resilience –featuring diagrams that illustrate these challenges (see example below). This chapter also suggests potential short and long-term mitigation strategies such as elevating critical systems and wet-floodproofing techniques. The fourth chapter provides several case studies of retail corridors within New York City, describing for each the unique challenges presented by different building makeups.
Finally, the fifth chapter elaborates on strategies for increased flood resilience. This includes a discussion of the 2013 Flood Resilience Zoning Text Amendment, and suggested land use strategies such as offering temporary parking waivers to properties constructing flood-resilient buildings. Resilient Retail also suggests reforms that FEMA can undertake to better incentivize partial-mitigation techniques.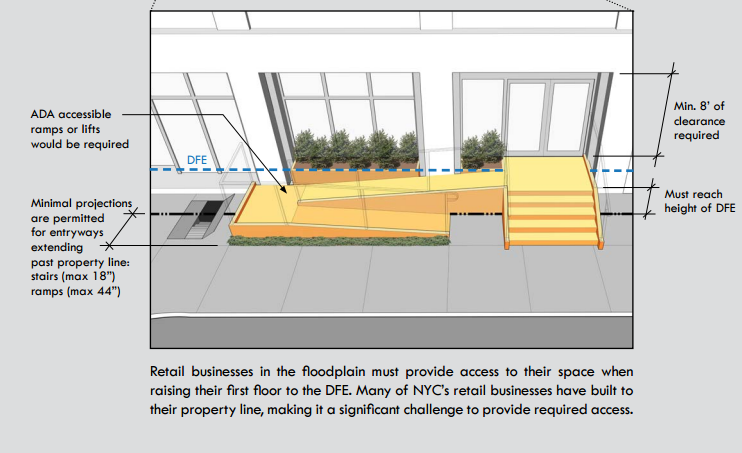 (Diagram from page 30)
Publication Date: July 2016
Related Organizations:
New York City Department of City Planning
Sectors:
Resource Category:
Resource Types:
Best practice
Case study
Legal Analysis
Policy analysis/recommendations
States Affected:
Impacts:
User Comments: