Flood Factor
In June 2020, First Street Foundation released Flood Factor, a free online tool Americans can use to determine their property's flood risk and understand the ways that flooding is changing due to climate change. Flood Factor presents flood risk data in a user-friendly way by quantifying and communicating flood risk to property owners. The platform indicates that over 25 million properties in the U.S. are at risk of flooding over the next 30 years and First Street Foundation suggests that Flood Factor is a helpful resource for property owners across the country. In particular, Flood Factor can serve as a crucial source of information for property owners, in addition to regional and local policymakers and infrastructure agencies, among other decisionmakers and stakeholders. At a high level, this is largely due to the complexities and differences around federal and state flood disclosure requirements and the need for more climate-forward data. As such, Flood Factor can help inform decisions like where people might choose to live and support future development and adaptation decisions. 
Developed by 80 world-renowned scientists, technologists, and analysts, Flood Factor is the first publicly available, peer-reviewed tool to consider changes in the environment due to climate change and illustrate how property-related flood risks change over time as a result. Flood Factor determines any location's probability of flooding from four major sources and how they are influenced by future conditions like sea-level rise: rain, riverine, tidal events, and storm surge. 
People can use the tool to evaluate flood risk on two different scales for individual properties and across larger areas.  
For individual properties, the tool prompts users for an address and then calculates that property's Flood Factor score. A Flood Factor score is measured on a scale from one to ten and evaluates the likelihood of flooding and depth of flooding to indicate the probability and severity of future flooding. This score increases as the 30-year cumulative flood likelihood or as the projected depth of flooding increases. To accurately map the combined flood risk from the four major sources mentioned above, the model considers precise elevation data, local adaptation measures, and modeled historic floods.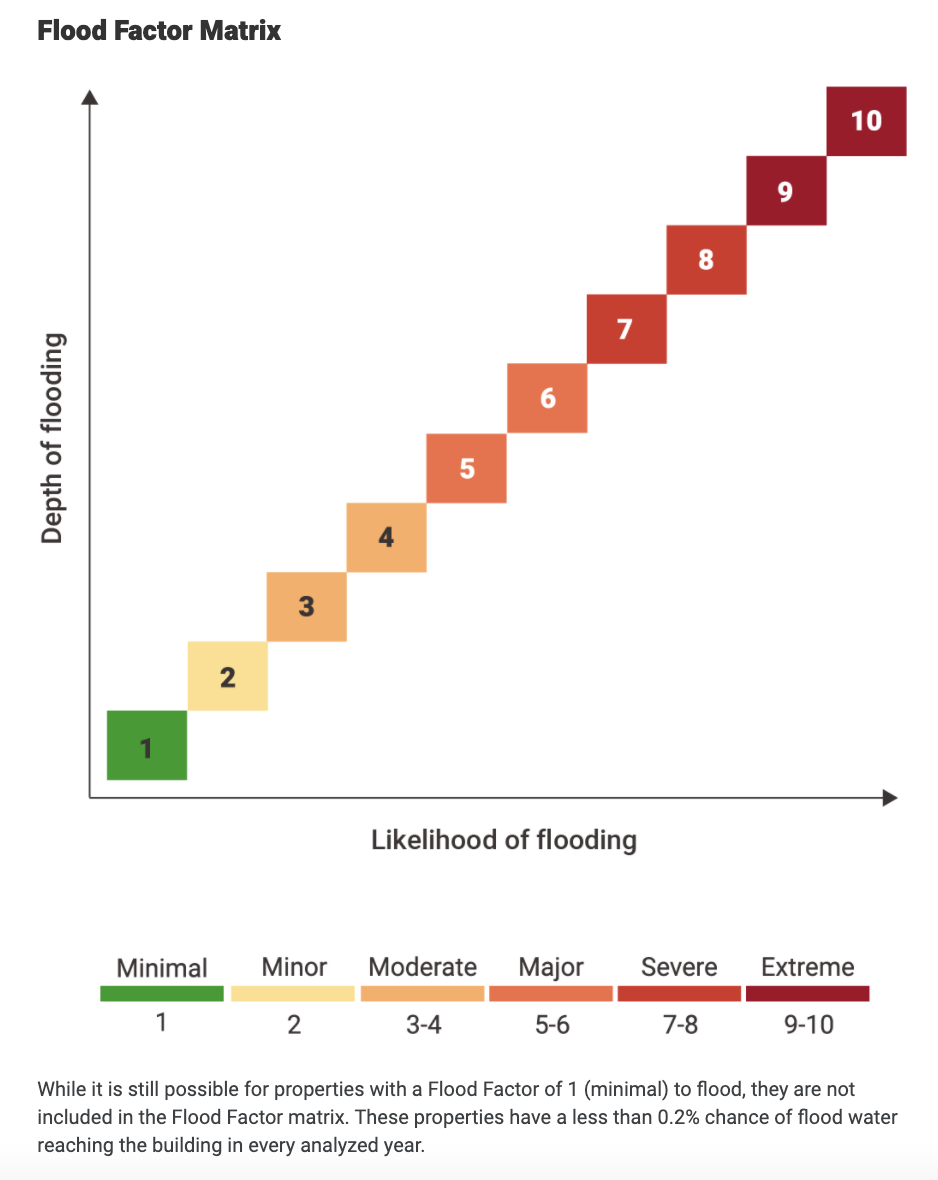 In addition to the Flood Factor score itself, Flood Factor uses average annual loss data to approximate the potential dollar cost of flooding to a property owner. An inch of flooding is capable of causing $25,000 worth of damage but typical homeowners insurance does not cover flood damage. At the end of the page for a property analysis, Flood Factor presents different ways owners can adapt their property depending on the cost of different strategies. For example, in the lower price range for adaptation strategies, property owners can raise electrical outlets, and in the upper price range, property owners could invest in sump pumps to pump flood waters out of basements.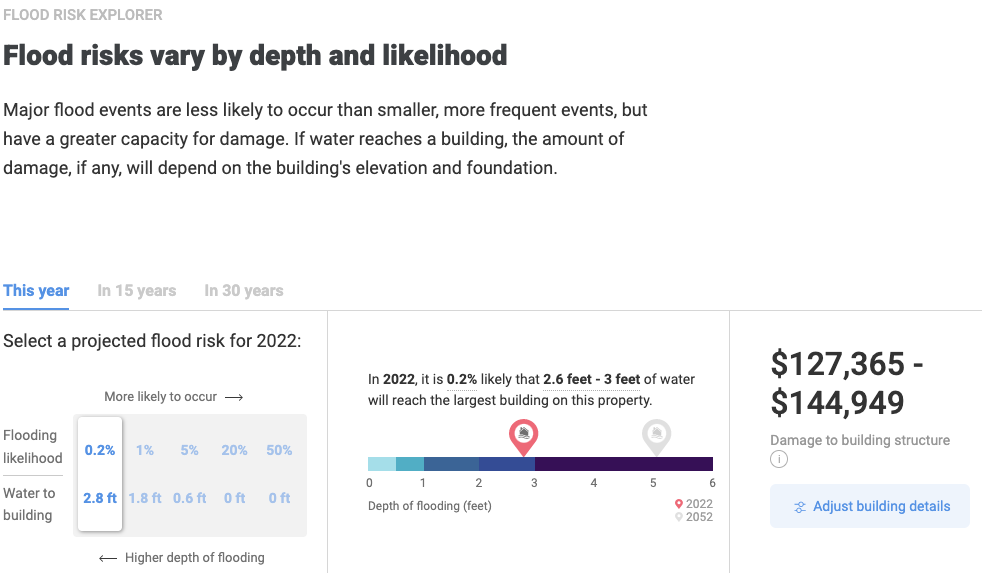 In addition, Flood Factor presents information about the flood risks facing communities on a larger scale. Specifically, users can examine the risk for residential, road, commercial, infrastructure, and social assets in their neighborhood, zip code, city, and county. Flood Factor also documents the history of past flooding in the area or region of focus.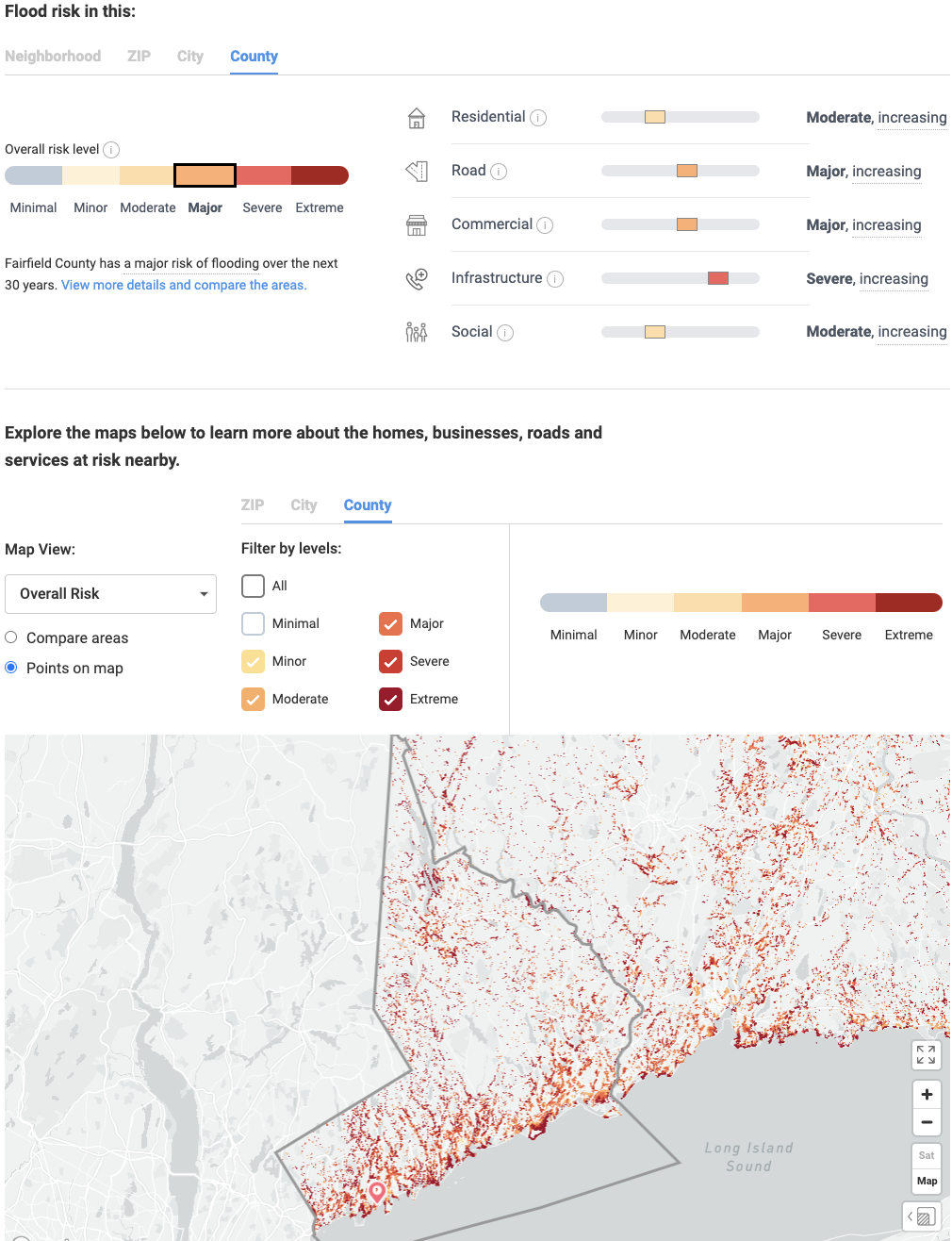 As a probabilistic flood model, Flood Factor considers uncertainties and creates a distribution of likelihoods that it then sorts into "hazard layers" that show where and how deep flooding could occur for each probability. For example, the tool could indicate that there is a one-percent annual chance of two feet of flooding this year and a five-percent annual chance of flooding one foot in 15 years. In the Flood Risk Explorer section of an areawide report, Flood Factor analyzes the likelihood and depth of flooding across different timeframes to help people assess current and future risks. This can inform decisions about where people may choose to live or where governments may choose to site future development and infrastructure anticipated to have a multi-decadal life span.  
By providing property owners with this free flood-risk data, Flood Factor equips them to prepare for and mitigate flood risks. Generally, local governments base land-use and zoning requirements on flood maps from the Federal Emergency Management Agency (FEMA). Given its property-level focus and public accessibility, regional and local policymakers and property owners alike can use Flood Factor as a complementary resource, in addition to other stakeholders like home builders and infrastructure agencies to inform the potential siting and design and of development and any associated flood mitigation and adaptation measures. 
Publication Date: June 2020
Related Organizations:
Related Toolkits:
Sectors:
Resource Category:
Resource Types:
Impacts: