Hawaiian Islands Climate Vulnerability and Adaptation Synthesis
The Pacific Islands Climate Change Cooperative (PICCC) developed the Hawaiian Islands Climate Synthesis in 2014, and partnered with EcoAdapt on the project in 2015. The goal of the project was to develop a synthesis of current and projected climate impacts as well as adaptation strategies and planning options for natural resources and ecosystems of the main Hawaiian Islands. The Synthesis presents the results of a climate impacts assessment, numerous vulnerability assessments, and adaptation strategies for every ecosystem in Hawaii.
A number of vulnerability assessments were conducted  for various habitats and ecosystem services across the islands of Maui Nui, O'ahu, Hawai'i, and Kaua'i. The focal areas of assessments varied by island but cover such resources or topics of: Coastal Habitats, Aquatic Habitats, Dry Forest, Mesic and Wet Forest, Alpine/Subalpine, Cultural Knowledge and Heritage Values, Flood and Erosion, Fresh Water, Food and Fiber, Aesthetic Values, and Recreation and Tourism. Overall trends of the vulnerability assessment are described in the report and indicate that every "resource" evaluated received a moderate or higher vulnerability ranking to climate stress.
For each of these resources, habitats or sectors on each island, the report offers a vulnerability assessment syntheses which reviews the assessment process, key vulnerabilities, and potential climate impacts. Adaptation summaries briefly review the vulnerability of a given habitat/ecosystem service and offer tailored adaptation strategies. The strategies include specific adaptation options for every recommended strategy. 
For example, for Kauai'i, the following table provides a short sample of the adaptation strategies developed for Flood and Erosion Control: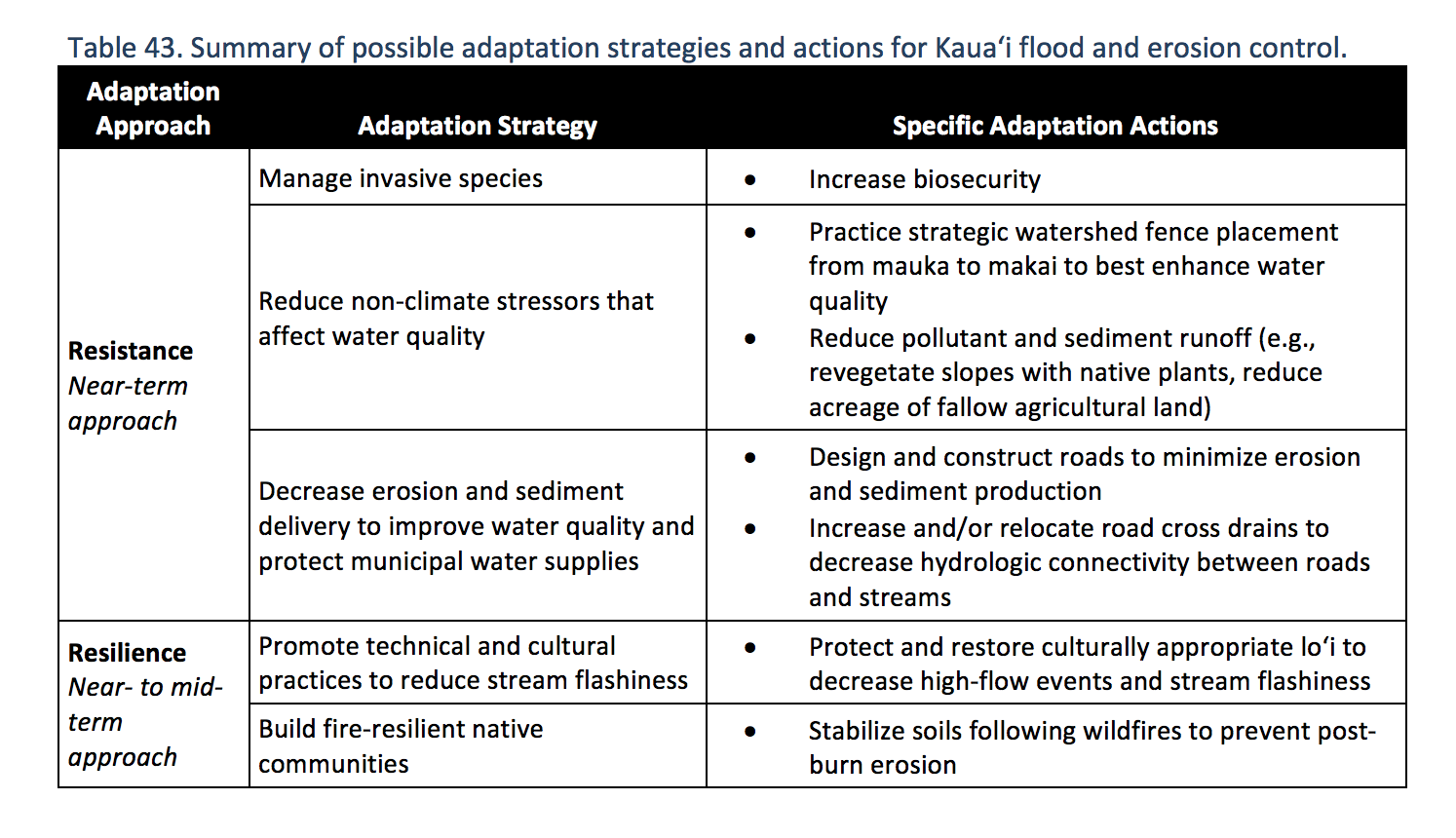 Appendix A. Observed and Projected Climate Changes for the Main Hawaiian Islands provides extensive detail of climate impacts across all islands and per island for air temperature, precipitation, extreme precipitation events and tropical storms or hurricanes, wind and circulation, streamflow and riverine flooding, drought, soil moisture, stream temperature, wildfire, sea level, coastal flooding and saltwater intrusion, sea surface temperature, ocean Ph, species distribution of forest birds and mosquitos, and species distribution of native and invasive plants.   
Publication Date: January 28, 2018
Related Organizations:
Sectors:
Resource Category:
Resource Types:
States Affected:
Impacts:
Air temperature
Invasive species and pests
Ocean acidification
Precipitation changes
Wildfires
Wind