Implications of Climate Change for Rhode Island Wastewater Collection and Treatment Infrastructure
This assessment for Rhode Island investigates how increasing storm intensities and flooding from climate change can impact wastewater treatment systems, including plants and pump stations throughout the state. The study presents the projected implications of climate change on Rhode Island's nineteen public wastewater treatment facilities that are at risk of inundation, as by design they utilize low elevations, often in riverine or coastal floodplains. The RI Department of Environmental Management collaborated with the state's Office of Housing and Community Development to evaluate these natural hazards, and begin integrating climate change considerations into wastewater system planning and design. Recommendations and adaptation strategies are provided for each of the wastewater facilities analyzed.
Wastewater system studies generated extensive data and results for each of the facilities including hazard modeling and mapping, and recommended infrastructure upgrades per hazard. In addition, each of the facilities are provided with a simplified ranking of their systems for use in prioritizing repairs if multiple systems fail at any time. Seven wastewater systems were predicted to become predominantly inundated under the hazard situations modeled.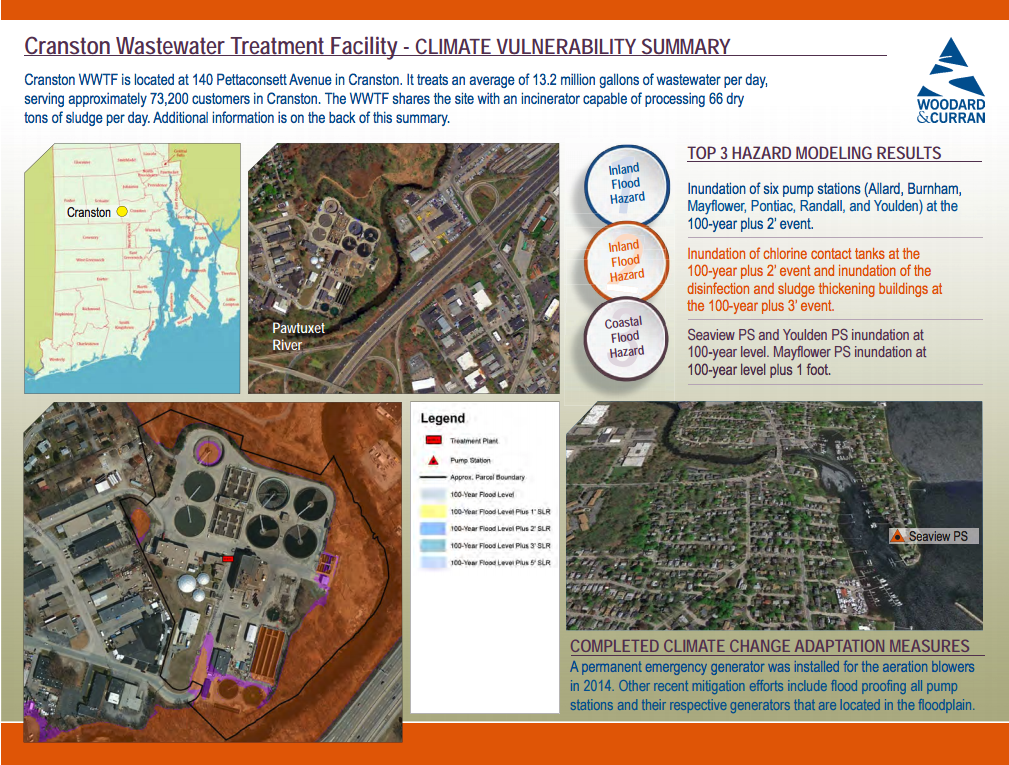 Adaptive strategies are suggested for each of the systems that were identified as being vulnerable. Consistent with the intent of this report to support planning efforts, the adaptive strategies are proposed to provide guidance for future system upgrades. The strategies fall under 5 categories:
Hardening (e.g., constructing walls and dikes, flood-proofing);

Relocating (e.g., elevating or relocating equipment or systems);

Readily repairable or replaceable (e.g., standardizing equipment or stocking spare parts);

Redundancy (e.g., providing means to convey wastewater to two pump stations or using portable, temporary pumps); or as a last resort

Wet weather bypass (e.g., controlling flow to surface waters to avoid flooding public ways).
Estimated cost ranges were identified for each of the recommended adaptation strategies to assist communities with planning and budgeting for future improvements to their wastewater infrastructure. According to the report, the majority of the suggested strategies fall into the category of hardening with corresponding implementation costs of under $50,000 each.
Publication Date: March 2017
Related Organizations:
Rhode Island Department of Environmental Management
Sectors:
Resource Category:
Resource Types:
States Affected:
Impacts: