Indicators of Climate Change in California, 3rd edition
Form the California Environmental Protection Agency (CalEPA) Office of Environmental Health Hazard Assessment (OEHHA), this report presents 36 indicators tracking trends in climate change and climate impacts on California's environment and people. This third edition report updates the 2009 and 2013 versions. The report is a resource intended for decision-makers, scientists, educators, and the public - and brings scientific analysis to inform climate mitigation and adaptation decision-making. 
The report's 36 indicators are grouped into four categories:
Human-influenced (anthropogenic) drivers of climate change, such as greenhouse gas emissions

Changes in the state's climate

Impacts of climate change on physical systems, such as oceans, lakes, and snowpack

Impacts of climate change on biological systems – humans, vegetation, and wildlife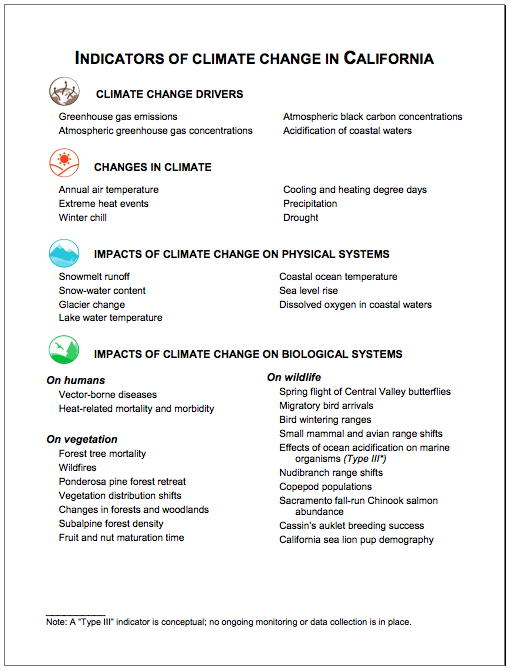 Every indicator has a dedicated and detailed subsection within the report.  For each indicator, the trend is illustrated using one or more graphs or maps, and the following questions are answered: • What does the indicator show? • Why is the indicator important? • What factors influence the indicator? Each indicator report includes some technical considerations (describing strengths and limitations of the data); and contact person(s) who generally are the researcher or technical expert who contributed to, or collaborated with OEHHA on, the preparation of the indicator information.

This resource was featured in the May 18, 2018, ASAP Newsletter.
"Governor Jerry Brown refuses to accept another devastating wildfire season as California's "new normal." Timed with the release of the California Environmental Protection Agency's new report, Indicators of Climate Change in California, Brown signed an executive order launching an all-out offensive against the conditions enabling wildfires. In addition to calling on land managers from across the state to join the cause, he announced $96 million, in addition to the $160 million in cap-and-trade revenue that he has previously proposed spending, for forest improvements and fire protection."
Environmental changes and trends for which the influence of climate change remains uncertain are discussed in the final section - Emerging Issues. Additional data or further analyses are needed to determine the extent by which climate change plays a role for these issues to be considered indicators. These climate-related impacts include: coastal fog, Central Valley fog, lightning, forest disease and pest infestations, invasive agricultural pests, blue-tongue in livestock (a vector-borne viral disease of sheep, goats, and cattle transmitted by biting midges), and harmful algal blooms.   
Publication Date: May 9, 2018
Related Organizations:
California Environmental Protection Agency (CalEPA)
Sectors:
Fish and fisheries
Forestry
Land management and conservation
Wildlife
Resource Category:
Resource Types:
States Affected:
Impacts:
Air temperature
Ocean acidification
Permafrost melt
Precipitation changes
Water temperatures
Wildfires