King County, Washington Equity and Social Justice Strategic Plan
The King County, Washington Equity and Social Justice Strategic Plan provides the county's blueprint and shared vision for addressing environmental justice, advancing equity, and fostering resiliency. The Plan was developed through a diverse and inclusive community engagement process including more than 600 county employees and 100 local organizations.  The Plan sets a pro-equity agenda for expanding access and addressing the following determinants of equity: child and youth development, economic development and jobs, environment and climate, health and human services, housing, information and technology, the justice system, and transportation and mobility. In the area of climate, the Plan recognizes that communities of color face disproportionate negative impacts during floods, heatwaves, and other natural disasters, the Plan reaffirms all citizens' rights to clean air and water, open space, and other recreational spaces. 



Model for how local governments can incorporate considerations of equity across a range of local programs, policies and sectors, including climate resilience.

The Plan provides a framework and specific implementation strategies across the plan's "Pro-Equity Policy Areas," including goals of investing upstream (in order to address the systemic causes of inequality) and where needs are greatest, investing in employees, investing in community partnerships, and ensuring "accountable and transparent leadership." By focusing "upstream," the County acknowledges that a successful approach requires addressing the root causes of inequity.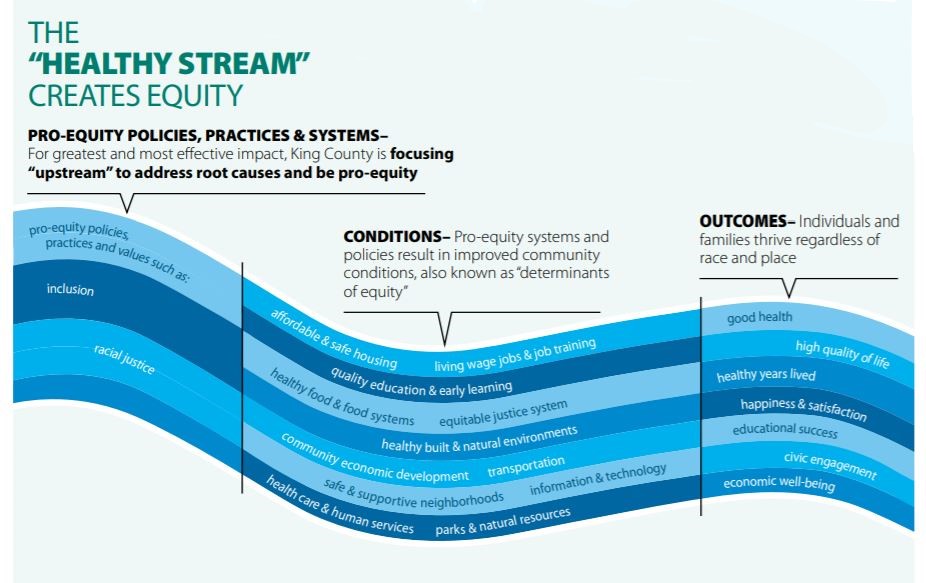 To achieve the Plans' equity goals related to climate change and the environment, the county committed to:
1) being more inclusive in its climate work by engaging more diverse groups in environmental governance, as well as partnerships, program development, and contracts. Priority hiring processed are one way the plan suggests the county work towards more inclusive decision making.
2) incorporating equity considerations into long-term planning, especially projects dealing with both natural and built environments and in the county's policies. Decisions regarding the siting and design of combined sewer overflow facilities is one such planning decision that would require thoughtful consideration of equity concerns that is given as an example  in the plan.
3) ensuring that outreach for disaster preparedness efforts prioritize those who are most vulnerable to the impacts of climate change to enhance their resiliency. This includes working with community-based organizations and offering grants and incentives in low-income communities.  The document also calls for "heat event" exercises, to be carried out across community groups and service providers to address the needs of those with pre-existing health conditions. The plan also calls for information on storms and floods to be channeled to communities that are likely to be the most impacted, specifically through non-traditional sources and multiple languages, ensuring that information is accessible and digestible for all residents.
Publication Date: September 13, 2016
Related Organizations:
Sectors:
Resource Category:
Resource Types:
States Affected:
Impacts: