Louisiana 2017 Coastal Master Plan
In June 2017, the Louisiana State Legislature unanimously approved the state's 2017 Coastal Master Plan, which updates the state's 2012 plan.  The Coastal Master Plan provides a 50-year blueprint for directing Louisiana's investments, regulations, and programs in coastal restoration, resilience, and protection. The plan recommends 124 projects to restore coastal ecosystems, build flood control structures, and enhance land-use policies to reduce flood risks in coastal Louisiana communities and to enhance coastal economies and ecosystems.
To develop the plan, the state updated their sea-level rise projections.  What was the worst case scenario under the 2012 plan, is now the state's best case scenario based upon updated science and data on rates of land loss and sea-level rise in the region.  The low environmental scenario looks at 1.4 feet of sea-level rise and the high scenario projects 2.72 feet of sea-level rise over the next 50 years. The plan estimates that without action the region will lose between 1,200 (low scenario) to 4,100 (high scenario) square miles of coastal land in the plan's 50-year time frame.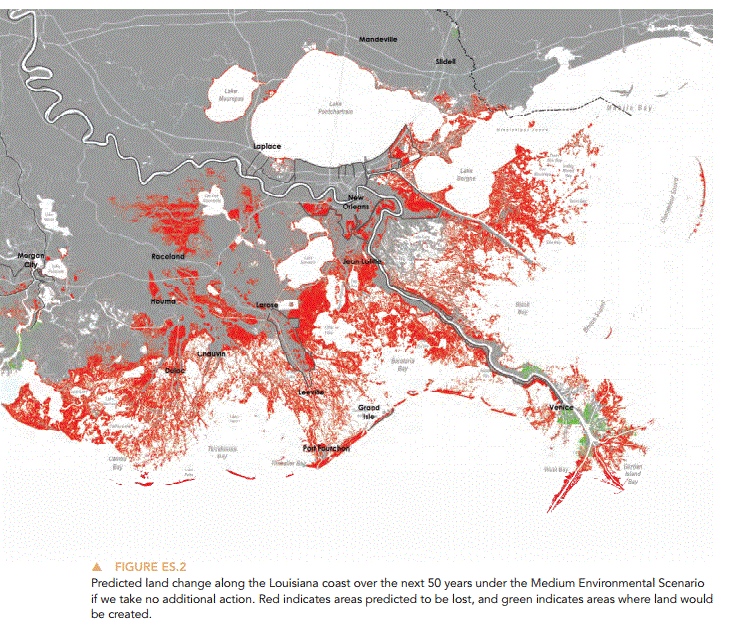 | | |
| --- | --- |
| | Utilizing predictive models, projects were evaluated using a range of metrics including the presence and location of socially vulnerable groups. Overall, the plan authors believe that "The master plan does not disproportionately affect communities identified as vulnerable, whether that vulnerability is based on income levels; where people live (rural or urban); whether residents are very young, elderly, or non-English speaking; or whether people depend on a single natural resource for employment or sustenance."  Additionally, Appendix E explains that CRPA is prioritizing elevating and floodproofing structures benefiting low to moderate income households and describes their framework for implementing this policy.   |

The plan recommends a suite of coastal protection and restoration projects, including:
$20 billion to fund marsh creation and restoration projects.
$5 billion for sediment diversion projects that would rebuild between 800 and 1,200 square miles of land.
$19 billion to build structural protection projects, like new and rehabilitated levees.
$6 billion for "non-structural" projects to elevate homes and enhance floodplain and land-use regulations to reduce annual flood losses by $8.3 billion over 50 years compared to a no action alternative.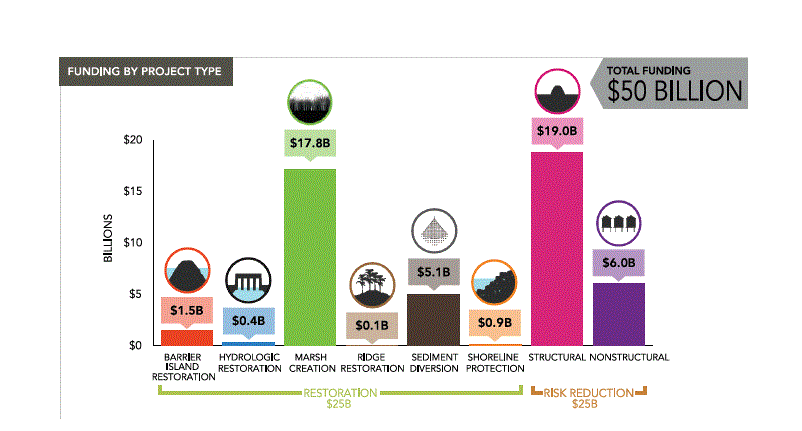 The projects will also provide restoration benefits by preserving and enhancing coastal habitats that support commercial and recreational fisheries, support wildlife, and provide recreational opportunities for residents and visitors. Since the first coastal master plan was adopted on 2007, the state has completed or funded 135 projects benefiting 36,000 acres of land.
The Georgetown Climate Center completed a case study of the innovative practices Louisiana used to develop the 2012 coastal master plan, including a summary of the Coastal Louisiana Risk Assessment Model (CLARA) which helped the state assess the risk reduction and other benefits provided by different suites of projects.
The plan must be updated every 5 years and is developed by the Louisiana Coastal Protection and Restoration Authority.  However, all state agencies, departments, and offices are also directed to carry out their regulatory programs, practices, grants, and contracts in a manner consistent with the plan to the maximum extent possible in accordance with Louisiana Executive Order JBE2016-09, signed by the Governor in April 2016. Coastal Master Plan projects are to be implemented using settlement funds from the Deepwater Horizon oil spill and oil drilling royalties that flow to the state. 
Publication Date: June 2, 2017
Related Organizations:
Louisiana Coastal Protection and Restoration Authority
Related Resources:
Related Toolkits:
Sectors:
Cultural resources
Fish and fisheries
Land management and conservation
Tourism and recreation
Wildlife
Resource Category:
Resource Types:
States Affected:
Impacts:
User Comments:
June 13, 2017
Jessica Grannis, Coastal Resilience Director at National Audubon Society

Excellent example of a comprehensive science-based plan for coastal restoration, protection, and flood-risk reduction developed at the state level. As money starts to flow to the region from the Deepwater Horizon settlement, LA will be a place to watch for implementation of innovative resilience projects.