Lower Manhattan, New York Climate Resilience Study
Building on the recovery and climate planning efforts in the wake of Hurricane Sandy, New York State and City funded the Lower Manhattan Climate Resilience Study to identify adaptation and resilience strategies for Lower Manhattan - which is a critical economic, cultural, and civic hub for New York City and the region. Led by the Mayor's Office of Recovery and Resiliency and the New York City Economic Development Corporation, this study included a climate risk analysis of the area and identified approximately $500 million worth of short- and long-term investments in coastal resilience projects.
The report provides an overview of existing social, economic, and physical conditions of Lower Manhattan, and the results of a climate hazard assessment for the region by 2050 and 2100. The assessment focuses on sea level rise, groundwater table rise, tidal inundation, storm surge, extreme precipitation, and heat waves.
Based on the assessment and the variety of adaptive strategies needed for the area, a Climate Adaptation Toolkit was developed and is presented in Chapter 4, which includes 22 adaptation measures that could be implemented within Lower Manhattan. These adaptation measures or tools address coastal climate impacts with varied levels of risk reduction, and are organized by five scales or approaches to implementation along the water's edge, including:
Building and Public Realm Approach

Building and Low Edge Approach

District Deployable and Low Edge Approach

High Edge Approach

Outboard Approach
Each of these adaptation approaches were evaluated on the criteria of Technical Difficulty, Neighborhood Considerations, Sectoral Responsibility, and Potential Co-Benefits.
In response to the risks identified, multiple neighborhood-specific adaptation projects were developed in conjunction with the toolkit as part of the overall resilience strategy:
Two Bridges Coastal Resilience

- a project to install flood walls and deployable flip-up barriers to protect the neighborhood from storm surges

The Battery Coastal Resilience

- to elevate the waterfront esplanade and create a berm to protect the neighborhood from storm surges and adapt to groundwater table rise

Interim Flood Protection Measures

- to deploy "just-in-time" water-filled Tiger Dams and pre-deployed sand-filled HESCO barriers as temporary measures for the upcoming hurricane season in advance of a permanent solution

Battery Park City Resilience Projects

- multiple flood barrier projects to protect the area from storm surges and sea level rise

The Financial District and Seaport Climate Resilience Master Plan

- a comprehensive design and plan for expanding Lower Manhattan's shoreline into the water for climate hazard protection for these two neighborhoods that are currently highly vulnerable and physically constrained from more conventional adaptation measures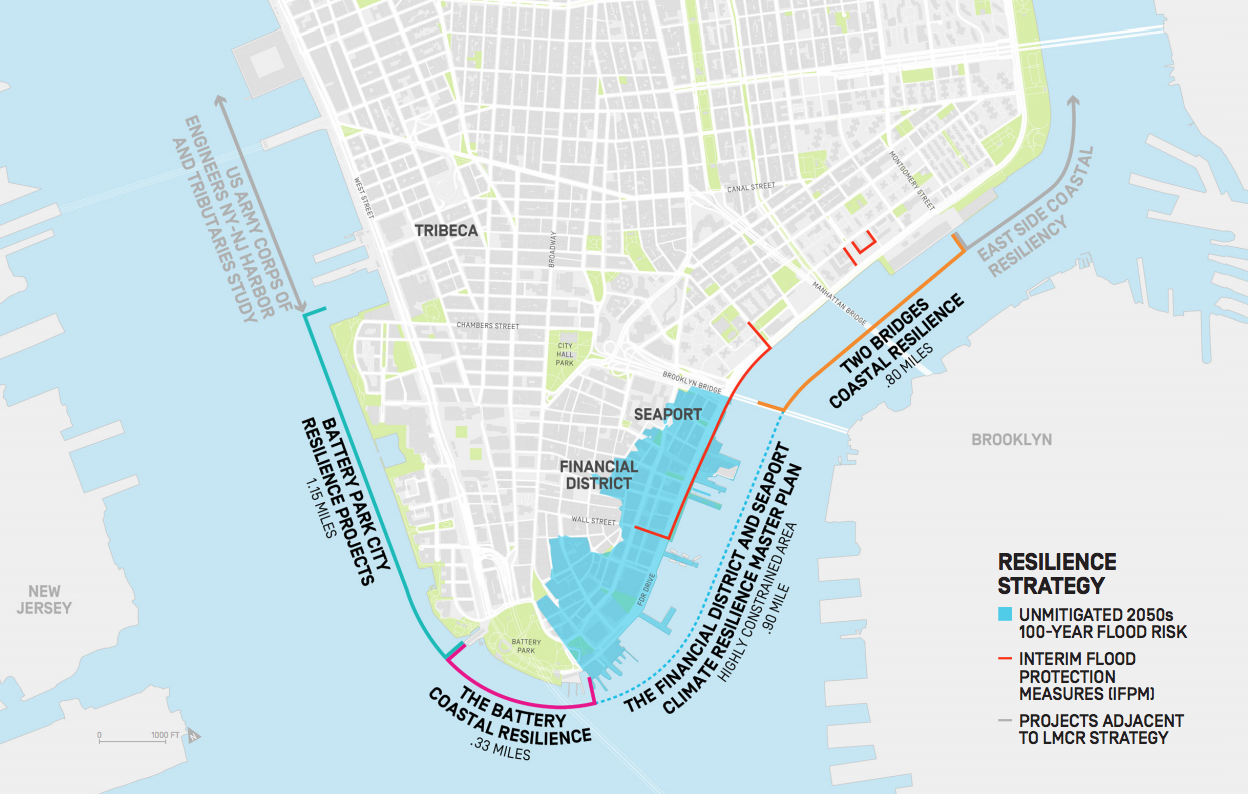 Publication Date: March 2019
Related Organizations:
New York City Economic Development Corporation
Sectors:
Resource Category:
Resource Types:
States Affected:
Impacts: