Maryland Coast Smart Community Scorecard
The Coast Smart Community Scorecard is a self-assessment tool for coastal communities in Maryland that offers a practical method to assess preparedness for coastal hazards and climate change impacts. The Scorecard provides a mechanism for planners, natural resource managers, emergency management professionals and other local officials to identify ways that they can integrate coastal hazard impacts into existing planning, management, and regulatory programs.

See how one state is asking communities to self-assess their preparedness for coastal climate risks.  
The scorecard is organized into five major sections:
1) Risk and Vulnerability Assessment
2) People and Property
3) Infrastructure and Critical Facilities
4) Natural Resources
5) Societal and Economic Impacts
To utilize the scorecard, questions are answered for each section, and totaled responses provide CoastSmart ratings. The ratings indicate how well existing planning efforts are addressing current and future weather and climate hazards. Below is an example of the self-assessment questions for the society and economy section: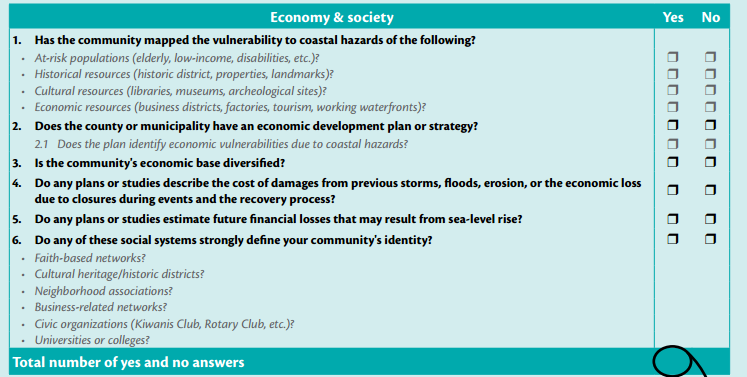 Each section also has a "Where to Start" box and includes a list of relevant planning documents, resources, and other tools to help assess preparedness. 
Related Organizations:
Maryland Department of Natural Resources
Related Resources:
Sectors:
Resource Category:
Resource Types:
States Affected:
Impacts: