Maryland Coastal Resiliency Assessment
The Maryland Department of Natural Resources (DNR) partnered with The Nature Conservancy and Chesapeake and Coastal Services to conduct a Statewide Coastal Resiliency Assessment. The study identified areas where natural habitats provide the greatest potential hazard risk reduction hazards for Maryland's coastal communities, and determined priority areas for coastal conservation and restoration activities. Habitats play a large role in risk reduction for coastal community resiliency in Maryland such as greatly reducing the impacts of climate impacted coastal hazards such as sea level rise and storm surge. 
Risk-reduction benefits were quantified for natural features such as forests, marshes, dunes, oyster reefs, and underwater grasses. The assessment found that forests, marshes and wetlands play the greatest role in risk reduction and significantly protect 22% of Maryland's shoreline. 
The Coastal Resiliency Assessment identifies shoreline points which each represent a 250 meter segment of the Maryland coast, including Atlantic, Chesapeake Bay and Coastal Bay shorelines. The team worked with Natural Capital Project staff to refine the InVEST Coastal Vulnerability model using local data, and to calculate a Shoreline Hazard Index which represents the relative exposure of each segment to storm-induced erosion and flooding for the entire Maryland shoreline.
In addition to the Shoreline Hazard Index, the assessment delineates Coastal Community Flood Risk Areas and identifies Priority Shoreline Areas for conservation and/or restoration. In order to be selected as a Priority Shoreline Area, a location must be no more than two kilometers from a residential area. 
Marshes are found to be some of the most effective buffers against wave damage and storm surge, but some marshes are better equipped or situated to perform these functions than others. DNR ranked Maryland marshes based on marsh size, proximity to hazards, proximity to people, proximity to other protective habitats, and how a marsh is expected to adapt to changing environmental conditions. From this, the team developed the Marsh Protection Potential Index. This effort ultimately takes into account population density, social vulnerability, community risk levels, and the overlay of marsh existence and protection potential. The Proximity to People variable in the marsh index measures the population density and social vulnerability of communities with two kilometers of a marsh.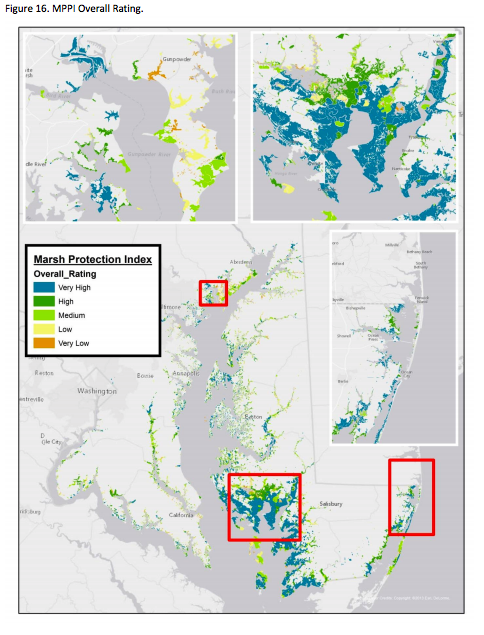 For the Community Risk Analysis analysis, community characteristics and demographics were used alongside flood exposure data to rank residential areas from low to high flood risk. Community Flood Risk Areas data layers were developed to identify residential areas susceptible to a Category 4 hurricane. Census and floodplain data were then used to identify and rank communities less prepared or resilient for coastal hazard events.
Along with population density, social vulnerability metrics were used to target risk reduction practices in communities that may be less prepared for coastal hazard events. The metrics of age, poverty, and language proficiency were selected to indicate social vulnerability - which relate to mobility, preparedness, ability to respond to an emergency and emergency communication. DNR acknowledges that these metrics are not comprehensive, localized community resources may be supporting resiliency that is not tracked, and suggests further research at the community level related to social vulnerability. 
Publication Date: March 2016
Sectors:
Resource Category:
Resource Types:
States Affected:
Impacts: