Maryland Resiliency Hub Grant Program
The Maryland Energy Administration (MEA) created a $5 million Resiliency Hub Grant Program to provide funding in 2019 for the construction of community Resiliency Hubs with solar power and battery storage. The program provides funding to microgrid developers to offset some of the costs to build a Resiliency Hub in high-density, low- and moderate-income neighborhoods in Maryland. The program defines "Resiliency Hubs" as community facilities "designed to provide emergency heating and cooling capability, refrigeration of temperature sensitive medications and milk from nursing mothers, plug power for charging of cell phone and computer batteries, as well as emergency lighting." The purpose of a Resiliency Hub is to provide clean, reliable, and affordable energy during power grid outages and solar power investments in at-risk communities that can also serve to reduce the cost of electricity to the hosting site during normal grid operation.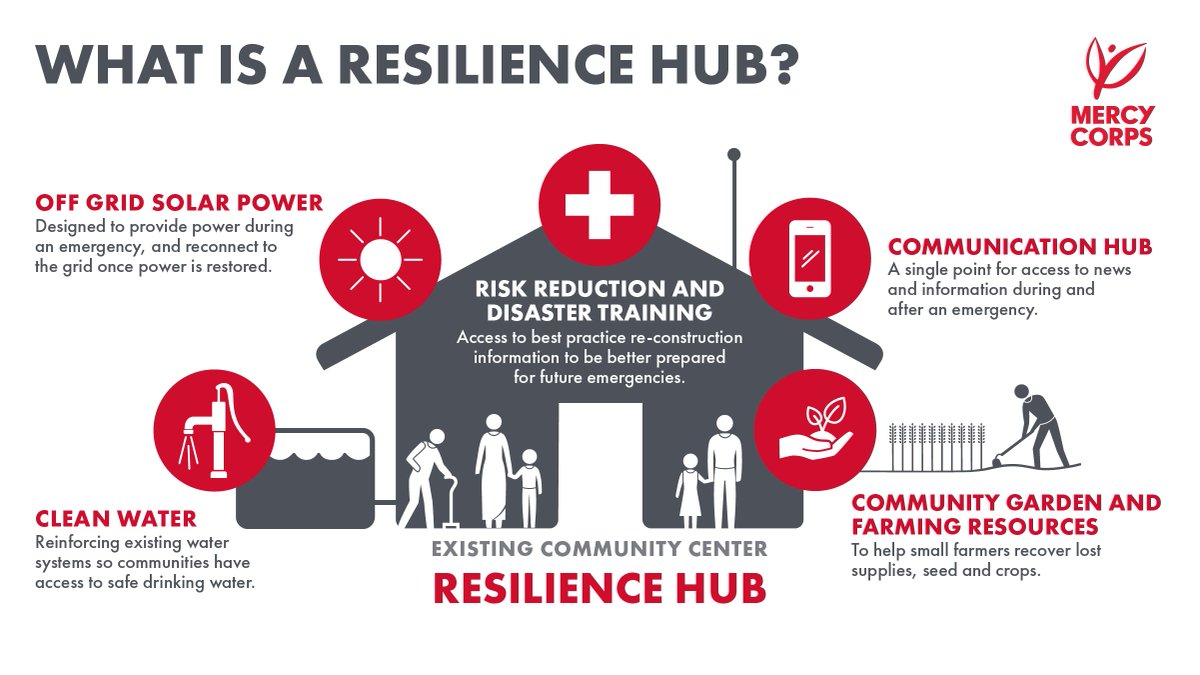 | | |
| --- | --- |
| | Applications will be ranked based upon the ratio of low and moderate income people served. Sites for resilience hubs must be "within short walking distance from economically disadvantaged populations." Recommended examples of suitable facilities include, but are not limited to, schools, religious institutions, community centers, senior centers, and affordable housing buildings with community spaces. The MEA emphasized that the hubs are intended to strengthen the resilience of local communities by serving as meeting places and information centers for the surrounding residents in addition to emergency shelters or hospitals, not to replace them. |

Systems must be at least 10 kilowatts and include batteries that maintain at least 90 percent charge prior to a foreseeable power outage. Approved projects can receive up to $1,300/kilowatt for installation of solar and energy storage systems and $700/kilowatt for equipment and rewiring. Grants may not exceed $501,000 per project. Community-solar projects can also be used to power the microgrid; however, MEA notes that community-solar may increase the overall cost of the project.
Grant funding will be provided on a competitive basis to offset costs for installation of the solar arrays and battery systems for identified resiliency hub locations. Eligible applicants include an individual who is both the system developer and the property owner of the proposed site, or a system developer partnering with the owner of the proposed site (if different). Local governments, businesses, and non-profit organizations, including houses of worship, will be eligible for the grants. Applicants must agree to open the building to the public when the grid is down and serve as a resiliency hub for at least 5 years. Applicants are encouraged to work with the city and county where the resiliency hub will be located and the utility.
This program is being supported with funding from the Exelon-Constellation Energy merger settlement agreement.
Publication Date: November 1, 2018
Related Toolkits:
Sectors:
Resource Category:
Resource Types:
States Affected:
Impacts: