Michigan State Wildlife Action Plan (2015-2025)
Michigan's Wildlife Action Plan identifies the species of greatest conservation need (SGCN) and their habitats in Michigan. A subset of SGCN were prioritized, and the report includes "mini-plans" for the habitats of these focal species - which include critical threats, conservation actions, and the vulnerability to climate change for each species. For 2015-2025, Michigan will focus conservation efforts on these priority SGCN and key habitats with the goals established in this plan.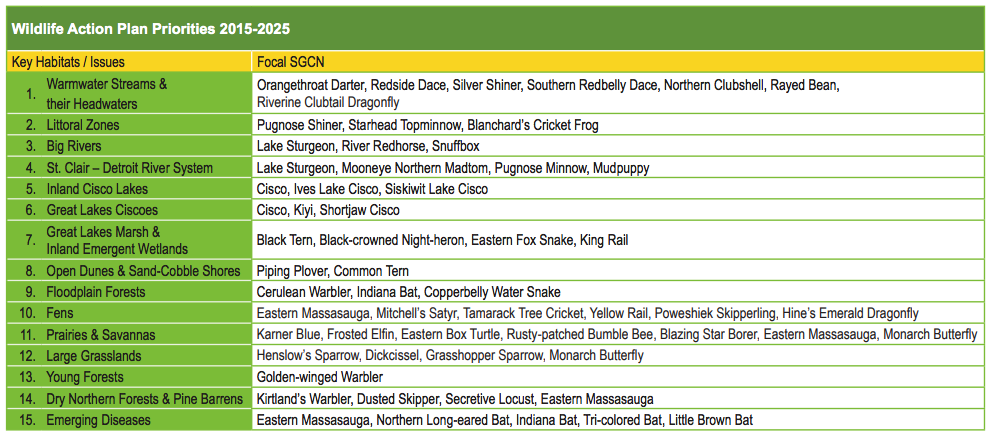 For each priority habitat, mini-plans were developed that describe: the habitat generally, who contributed to the plan, focal SGCN, key habitats and 10-year goals for each focal SGCN, critical threats, key conservation actions, climate vulnerability of focal SGCN, places for partnerships, and monitoring and surveys that are needed.
The NatureServe Climate Vulnerability Index was used to assess the climate change risks to Michigan's wildlife. Each species was scored in the index based on 26 aspects of exposure or sensitivity, which included:
exposure to local climate change using downscaled climate predictions

indirect exposures such as natural or anthropogenic barriers to dispersal, and

species-specific sensitivities based on factors like dispersal ability.
For climate impact analysis on terrestrial habitats, future forest health was modeled from the current status of a habitat, factors currently affecting the habitat, and climate change projections. A high vulnerability ranking indicates that the habitat has a lower adaptive capacity, and the potential impacts of climate change will be more negative.
Habitat suitability models were also built for aquatic focal SGCN, which were used to predict the amount of change in suitable habitat and species distributions by 2050. Climate vulnerability rankings for each species were based on the amount of change in their current distribution - which also accounted for natural and anthropogenic barriers to dispersal. Climate vulnerability rankings are detailed in each mini-plan under the How Vulnerable are Focal Species to Climate Change? section.
Congress charged each state and territory with developing a State Wildlife Action Plan in 2005, in order to receive funds through the State Wildlife Grants Program. To qualify, the state must identify the species of greatest conservation need, and outline strategic conservation actions for wildlife and habitats. An update to the plan is mandated every ten years, and a number of states have incorporated climate change impacts into the updated versions. The Association of Fish and Wildlife Agencies prepared a report with guidance focused on integrating climate change adaptation planning into SWAPs in 2009 - Voluntary Guidance for States to Incorporate Climate Change into State Wildlife Action Plans and Other Management Plans.
Publication Date: 2015
Related Organizations:
Michigan Department of Natural Resources
Sectors:
Fish and fisheries
Land management and conservation
Wildlife
Resource Category:
Resource Types:
States Affected: