National Integrated Heat Health Information System - Urban Heat Island Mapping Campaign
The National Integrated Heat Health Information System (NIHHIS) Urban Heat Island Mapping Campaign provides technical and financial support to urban areas to help them identify neighborhoods at greatest risk from heat stress. NIHHIS is an integrated system that develops science-based products and services for urban areas to understand and reduce health risks related to extreme heat, which is likely to increase in frequency and severity in many urban areas as a result of climate change. NIHHIS was developed through a partnership between the Centers for Disease Control and Prevention (CDC) and the National Oceanic and Atmospheric Administration (NOAA).
The Urban Heat Island Mapping Campaign provides financial and technical assistance to cities to assess which neighborhoods have the greatest increases in temperatures during hot days. The mapping is a snapshot of relative heat across a city but does not provide real time data on current temperatures. The presumption is that those neighborhoods found to be the hottest when the survey was done will continue to have the most heat during future high temperature events.
City governments and NGOs often self-organize to carry out the heat mapping exercise, bringing in partners and experts from local universities and nonprofits, and relying on city resident volunteers to assist with the remote sensing process. Cities receive training, loaned equipment, and data processing and other technical support from the NIHHIS consultant, CAPA Strategies. Volunteers conduct the data-gathering efforts, which involve multiple traverses of specified areas in the city at designated times and using vehicle- or bicycle-mounted heat sensor equipment. The city selects a single day to complete the remote sensing effort - ideally one of the hottest of the year based on projections and data from recent summers. The GPS, time, heat, and humidity data are captured from the sensors and used to produce a map of heat distribution for the city. Once the campaign is complete, each participating city has detailed heat distribution data and maps, as well as a final report detailing the work and findings.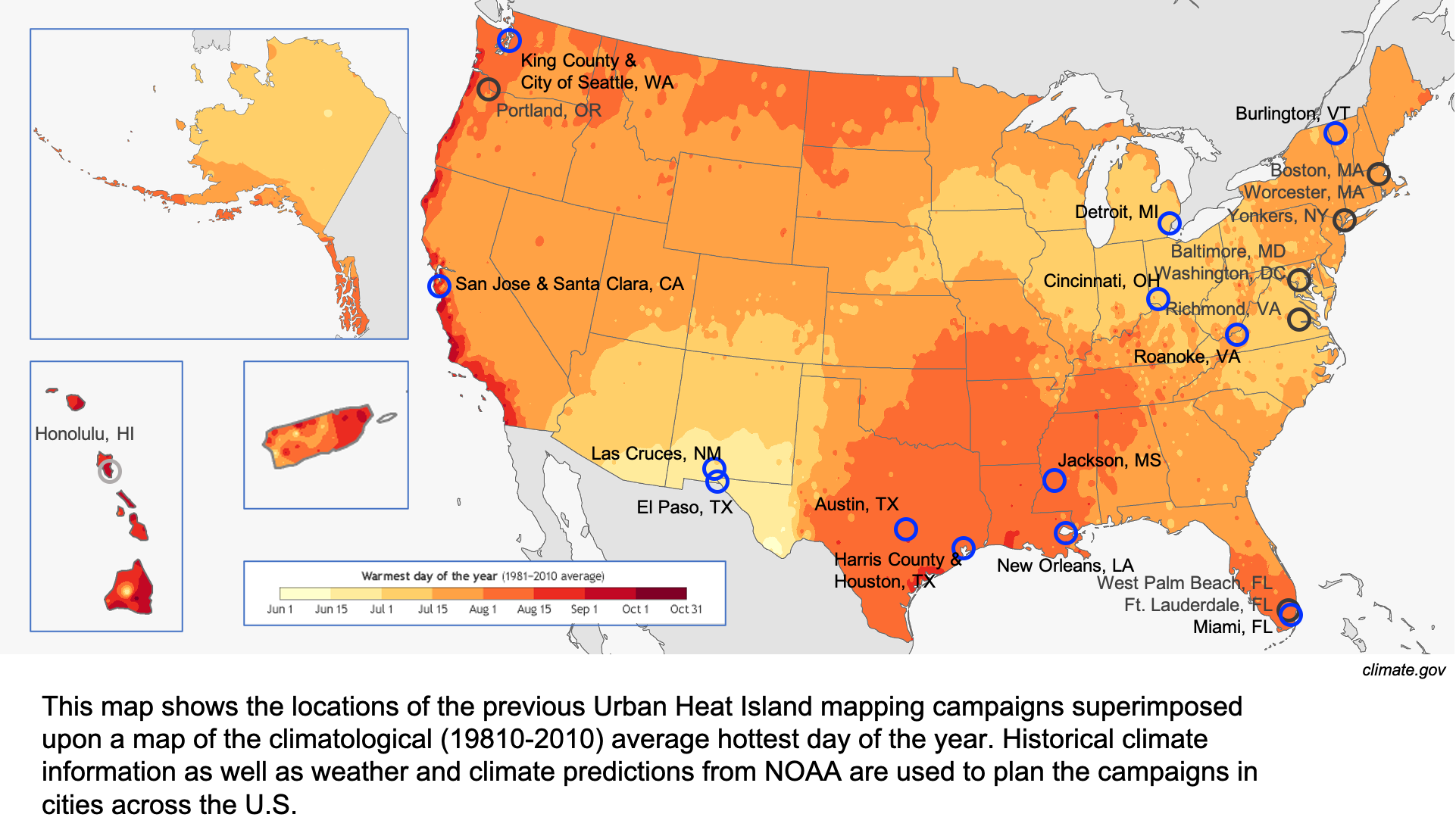 Mapping campaigns cost, on average, $15,000, with up to $10,000 of this coming directly from NIHHIS to support the work of CAPA Strategies with the city. Many cities supplemented the assistance from NIHHIS with their own matching funds and/or in-kind assistance, which can help engage partners and residents, and solidify public/private partnerships to complete the mapping effort. For example, in Houston, the Houston Office of Resilience, Harris County Public Health, the Houston Advanced Research Center, and the Nature Conservancy collaborated on mapping heat islands in Houston (see https://www.h3at.org/). The consortium applied for and received financial and technical support from NIHHIS. The local National Weather Service local forecast office provided temperature projections to aid the mapping. 

Since the program's launch in 2018 and through 2020, over twenty cities have participated in the Urban Heat Island Mapping Campaign. Several of these mapping efforts have involved city-county partnerships or multi-city partnerships, including in Seattle and King County, WA; Houston and Harris County, TX; and San Jose and Santa Clara, CA. Funding for the program was initially provided through NOAA's Office of Education. The Urban Heat Island Mapping Campaign is enabled by a partnership among multiple federal agencies, including the CDC, NOAA, the Environmental Protection Agency, the Department of Health and Human Services' Office of Public Health Emergencies, the Federal Emergency Management Agency, and the Occupational Safety and Health Administration. 
Publication Date: 2018
Related Organizations:
Centers for Disease Control (CDC)
U.S. Department of Health and Human Services (HHS)
Sectors:
Resource Category:
Resource Types:
Funding program
Mapping tool
Impacts: