Neighborhoods at Risk Tool
Neighborhoods at Risk is a free, online data tool that provides users with information about neighborhoods across the U.S. that are facing climate change risks. In particular, the tool displays which communities "may experience unequal impacts from hurricanes, flooding, and extreme heat." Neighborhoods at Risk's data is regularly updated and is an easy way to see what the top vulnerabilities are for any community with data about people and climate exposure. The tool can enable policymakers, community leaders, and others to make more comprehensive and well-rounded decisions with equity, local context, and people in mind. Neighborhoods at Risk was developed by Headwaters Economics, an independent, nonprofit research group based in Bozeman and Helena, Montana. 
About the tool, Headwaters Economics states that Neighborhoods at Risk can help communities:
Prioritize capital improvements;

Conduct vulnerability assessments;

Inform land-use and policy decisions;

Develop mitigation plans; and

Support grant proposals.
The tool can also inform the work of elected officials, planners, climate practitioners, and advocates.
The data in Neighborhoods at Risk is presented at the neighborhood level, according to U.S. Census tracts. The interactive tool has two primary ways people can use the website. First, a user can search for any community and evaluate a neighborhood's spatial risk to climate change. Second, a user can produce a narrative report of future climate projections for a specific neighborhood. 
First, users can select a neighborhood and apply filters based on nine socioeconomic variables and four climate exposure variables. 
The nine socioeconomic variables are:
Children under five years old;

Families in poverty;

Households with no car;

Housing units that are rentals;

People of color including Hispanics;

People over 65 years old;

People who do not speak English well;

People with disabilities; and

People without health insurance,
The four climate exposure variables are: 
Area in hurricane flood zone;

Area lacking tree canopy;

Area of impervious surface; and

Area in 500-year floodplain. 
Once a location is selected, a map of the area will be displayed with data about people in the neighborhood and climate exposure. Users can then adjust the variable filters to further assess risk and exposure. 
Users can also look at and download a report of the socioeconomic data for a selected neighborhood. The tool uses data from the latest update of the U.S. Census American Community Survey five-year estimates. Headwaters Economics updates the tool when new data is released.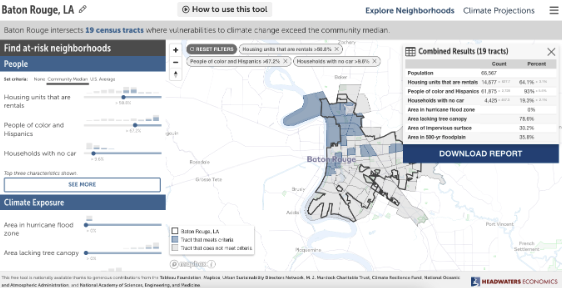 Second, the tool provides users with a more detailed narrative about climate projections for any selected neighborhood based on four variables:

Days per year above 90°F/95°F/100°F;

Average annual temperature;

Days per year with precipitation above 1″/2″/4″; and

Average annual precipitation.
In this section, users can adjust the time range, temperature, precipitation, and emissions scenario to see different projections for a location.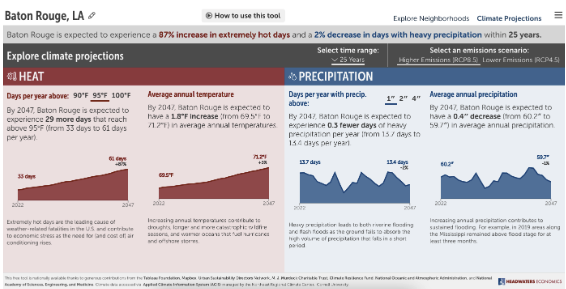 Neighborhoods at Risk can be a great aid to policymakers when having resilience legal, planning, and policy conversations. This tool can help a community gain a better understanding of what climate vulnerabilities exist and what impacts they need to prepare for. Based on these vulnerabilities, governments and other decisionmakers can make better investments for future development.

Headwaters Economics works to "inform community decision-making and identify practical solutions by making complex data understandable, beautiful, and interactive, helping develop solutions to some of the most urgent and important issues that communities face."
Related Organizations:
Related Toolkits:
Resource Category:
Resource Types:
Impacts: