New Hampshire Coastal Risk and Hazards Commission Final Report: Preparing New Hampshire for Projected Storm Surge, Sea-Level Rise and Extreme Precipitation
The final report of the New Hampshire Coastal Risks and Hazards Commission details the growing climate risks from sea-level rise, flooding, storm surge, and extreme weather in coastal New Hampshire. The Commission also recommends policy measures for the the state's legislature, state agencies, and coastal municipalities to help reduce vulnerabilities.
The report summarizes vulnerabilities to projected coastal flood hazards and how these hazards could impact different sectors in the region, focusing on risks specific to New Hampshire's economy, built landscape, natural resources, and heritage. According to the report, New Hampshire's coastal exposure to current and future flood risks is significant. As of 2016, the state's 17 coastal zone municipalities are home to approximately 11 percent of the state population, host over 100,000 jobs, and generated a 2014 Gross Regional Product of approximately $11 billion.
The Commission has provided a comprehensive overview of the region, including details on the climate impacts on coastal municipalities. Tables in the report give clear statistics on flood impacts from sea-level rise and storm surge scenario for the seven Atlantic Coast municipalities; and another for the ten Great Bay municipalities. Birds-eye view images are included that map out and illustrate the extent of flooding from three sea-level rise scenarios in the Hampton-Seabrook estuary, and in the City of Dover, New Hampshire.
Some findings include that New Hampshire's key economic vulnerabilities resulting from increased coastal flooding is the potential loss in overall property valuation – both from actual flood related property losses and from the perception that coastal properties are at risk. The report states that since New Hampshire's coastal municipalities derive a large majority of their revenue from property taxes -  potential losses to their tax base resulting from increased coastal flooding could have a significant impact on municipal budgets throughout the coastal region.
The Commission was able to quantify the general magnitude of property valuation that is at potential risk by estimating how many properties are physically affected under various sea-level rise and storm surge scenarios.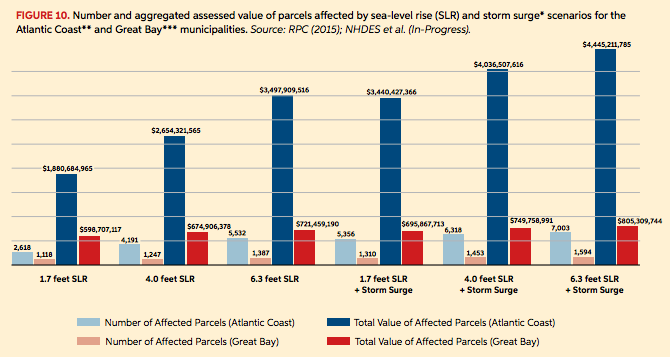 The comprehensive assessment of the vulnerability of natural resources to coastal climate hazards describes:
Sea-Level Rise Impacts on Species and Habitats;
Storm Surge Impacts to Dunes, Salt Marshes, and Estuaries;
Extreme Precipitation Impacts on Natural Systems;

 

and
Human Response to At-Risk Coastal Habitats.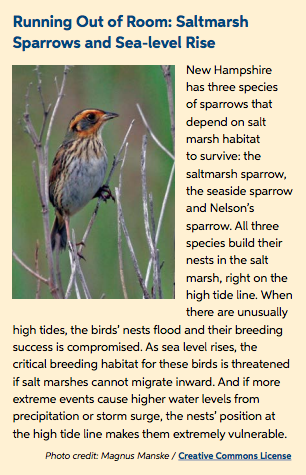 The Commission proposes extensive and detailed recommendations and associated actions that should be implemented to prepare for projected sea-level rise and other coastal watershed hazards.  Highlights from these recommendations include:
Identify vulnerable state and municipal economic assets; structures and facilities; natural resources; and recreational and cultural resources at regional, municipal, and site-specific scales.
Amend statutes, ordinances, rules and regulations, policies, programs, and plans to incorporate and consider the best available science and vulnerability information.
Make existing structures and facilities more resilient to flooding, acquire properties in high risk areas, and avoid exposing new structures and facilities to current and future flood risks.
Protect and restore vulnerable natural resources, and consider how natural resources reduce the impacts of flooding in state and municipal planning efforts.
The Commission was established by state legislation in July 2013 for the purpose of recommending legislation, rules, and other actions to prepare for and reduce risks related to coastal watershed hazards. The Commission's sunset date was December 1, 2016.
Publication Date: November 2016
Related Organizations:
New Hampshire Coastal Risk and Hazards Commission
Related Resources:
Sectors:
Land management and conservation
Resource Category:
Resource Types:
Assessment
Policy analysis/recommendations
States Affected:
Impacts:
User Comments: