Recommendation of Sea Level Rise Planning Scenarios for Delaware: Technical Report
The Delaware Department of Natural Resources and Environmental Control (DNREC) first developed Recommended Sea Level Rise Scenarios for Delaware in 2009. In 2016-2017, a new Delaware Sea Level Rise Technical Committee was convened to update the scenarios based on the latest scientific research and modeling. Led by Delaware Geological Survey and DNREC Delaware Coastal Programs, the Committee and these sea-level rise (SLR) planning scenarios respond to 2013 Executive Order 41 - which requires Delaware state agencies to factor SLR into capital improvement projects and land use decisions, and for DNREC to periodically update SLR scenarios with the best scientific data available. The technical report summarizes Delaware's SLR impacts, tide gauges data, and SLR projections from recent international and national assessments. In turn, it offers recommendations of new and improved SLR scenarios to support decision makers, developers, coastal managers, and state agencies to incorporate SLR risk in long-term planning.
A significant update to the new scenarios, is that any year can be selected within the graphs with confidence, as all values for sea-level rise along the curve are valid, not just for year 2100. The new SLR planning scenarios are based on the assessment of an increase in mean sea level by the year 2100 of 1.53 m / 5.02 ft (High scenario), 0.99 m / 3.25 ft (Intermediate scenario), and 0.52 m / 1.71 ft (Low scenario.)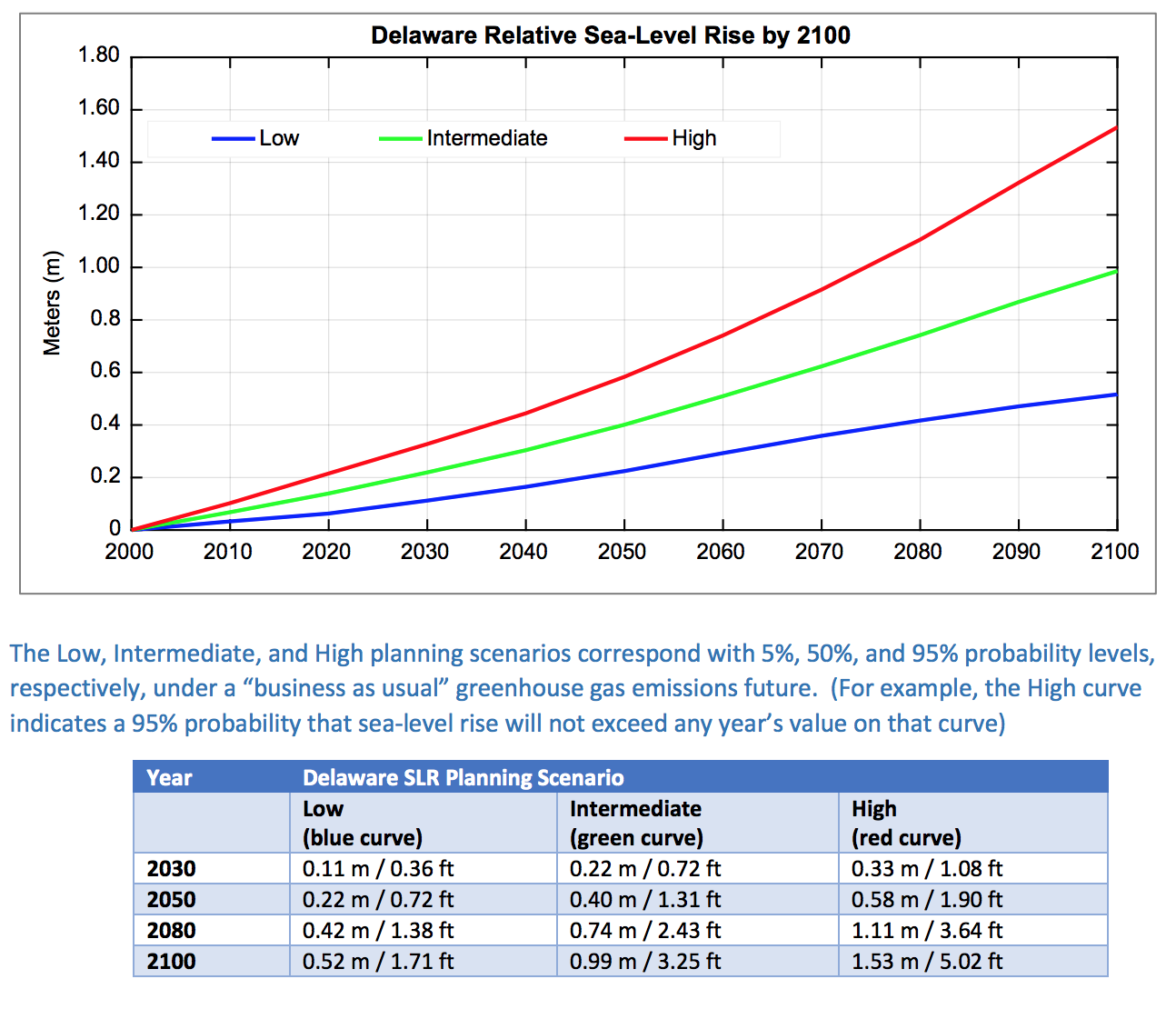 Rates of relative SLR in Delaware are already approximately twice the rate of global mean SLR, according to tide gauge data. Flat topography, low elevation, and extensive development on the coast collectively increase Delaware's vulnerability to SLR significantly. The Committee suggests that in order to select the appropriate Low, Medium or High scenario depends upon both the time horizon or life cycle of a project; and tolerance for risk. "Knowing risk tolerance is absolutely crucial to planning and decision-making because these projections are not predictions. Projects with a shorter service life (20-30 years) will not encounter the same increase in sea-level rise as projects with a longer service life."
Alongside the Committee's work, DGS also DNREC Delaware Coastal Programs produced a series of Coastal Inundation Maps. These maps are available online, and can be used as a planning tools for SLR, inundation, and storm surge risk.
Publication Date: 2017
Related Organizations:
Delaware Geological Survey
Sectors:
Resource Category:
Resource Types:
States Affected:
Impacts: