Regional Collaboratives for Climate Change - A State of the Art
Developed by the Institute for Sustainable Communities (ISC) in 2019, this report summarizes the findings of a survey of 15 Regional Climate Collaboratives (RCCs) that are supporting climate change action at the regional scale in the United States. RCCs are networks that coordinate adaptation (and sometimes mitigation) work across jurisdictional boundaries in municipal regions of the U.S. and often include local and state government representatives as well as nonprofit, academic, and private partners. The report provides a summary of the common factors of success, challenges, barriers, and roles that RCCs are playing in advancing adaptation in their regions, as reported in surveys of RCC representatives. It offers insights on how municipalities are working collaboratively to advance climate adaptation and mitigation goals at the regional scale. The report also includes recommendations to improve the effectiveness of regional collaborations on climate action going forward.
The report opens with an overview of Regional Climate Collaboratives: what constitutes an RCC, how they form, and how they fit in the bigger picture of climate action across the U.S. It describes how networks come together to amplify their messages around climate action, exchange best practices, and pool resources for reaching common goals. 

This resource was featured in the May 23, 2019 ASAP Newsletter with the following description:
"One of the most significant challenges for locally-oriented climate adaptation practitioners is one of scale: how does one build the resilience of regional social, economic and built systems across the highly fragmented jurisdictional boundaries of municipalities and counties? Over the past decade, a new form of networking for local climate action has emerged at the metro-regional scale to address this challenge – networks that have been dubbed Regional Climate Collaboratives (RCCs). "Bound together by a shared focus on place, Regional Climate Collaboratives (RCCs), are harnessing the power of networks to build resilience to climate impacts and, in some cases, to reduce the emissions driving those impacts" (Regional Collaboratives for Climate Change, p. 4)."
ISC identifies the following common characteristics of Regional Climate Collaboratives:
Contiguity: participants share adjacent or overlapping boundaries

Shared systems: participants share and benefit from the same systems (natural, social, economic, infrastructure etc.)

Local Leadership: While state or federal representatives and staff may participate, collaborations rise primarily out of local concerns and goals.
ISC found that these organizations were often formed with the understanding that working together could help them all leverage and connect their own existing networks with others in the region, implement more effective solutions without being inhibited by administrative borders, and provide a consistent strategy for protecting shared ecosystems like watersheds and coastal areas that their jurisdictions both impact and rely on.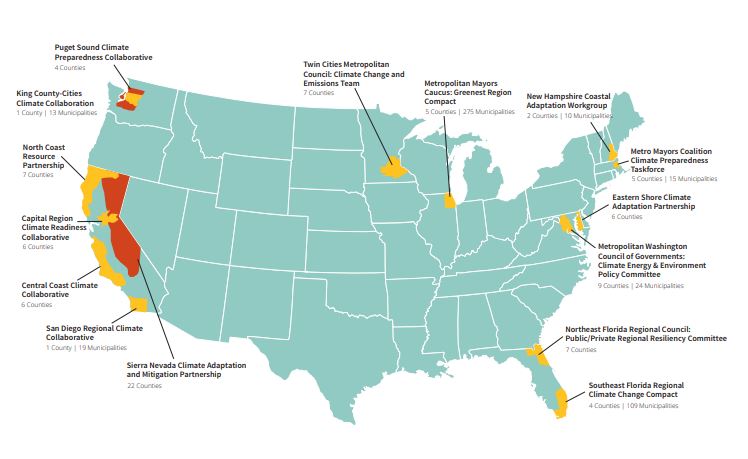 Factors of Success
The report discusses some main themes that RCCs identified as contributing to their success:
Co-production of regional solutions

:

RCCs had the most success when they created solutions collaboratively, operated as a single production network, and ensured collaboration was cross-sectoral.
Engagement

:

RCCs emphasized the importance of maintaining continuous relationships with stakeholders and communities across elections and turnover.
Tracking progress:

RCCs also consistently highlighted the importance of meaningful member participation, saying that the RCC is only as successful as the collaborative members are engaged. Several indicated that they had processes for tracking and evaluating member participation, and that this monitoring was beneficial in showing organization efficacy and garnering funding. Several respondents also indicated that annual strategic priority setting was an essential part of ensuring member participation.
Providing training and tools, and research and analysis

:

RCCs reported that it was important for their members to have access to high-quality training and tools, as well as for audiences to view their organization as a reputable source of training, tools, research, and analysis.
Goal and priority setting

:

RCCs emphasized that it was crucial to their success to have clear and agreed upon goals and priorities that were developed and pursued collaboratively.
Key Barriers and Gaps in Capacity
The report discusses some prominent themes that RCCs surveyed identified as common barriers to success:
Lack of resources

: RCCs identified challenges in acquiring sufficient staff resources and funding. Particularly, the work necessary to build relationships with communities, especially communities that have historically been underserved, was identified as an area that needed more staff time and funding support.
Public communications

: While RCCs identified successful public communication as key to their missions, many indicated it was still something they struggled with.
Integration

: RCCs face challenges working with local entities to integrate climate goals and commitments into everyday operations.
Achieving regional impact

: RCCs also reported that there were gaps in research, data, and analysis that were necessary to inform action and achieve regional impact.
The Role of Regional Climate Collaboratives in Equity

This report examines the role of RCCs in supporting equitable adaptation. RCCs generally viewed themselves as both well-positioned to address inequities in the regions they spanned and in part responsible for doing so, referencing close relationships with communities and connections between equity concerns and climate adaptation. Notably, many communities of color and historically marginalized communities face heightened risks from climate impacts, but often have fewer resources and capacity to address and protect themselves from these risks. RCCs identified the need for additional expertise and improved representation of these communities in the organizations. Many of the RCC's surveyed also noted the need to better integrate and advance equity in collaborative work.
Conclusions and Recommendations
The report concludes with overall takeaways and recommendations advancing regional efforts to prepare for climate impacts. Recommendations for RCCs include focusing on joint production of strategies to create greater regional impact, ensuring integration and adoption of climate commitments at the local level, improving research and analysis to better inform policy development and implementation. The report also recommends that RCCs expand the representation of communities of color and historically marginalized communities to advance more equitable climate action at the regional scale.
The report drew from lessons documented in the Georgetown Climate Center's Lessons in Regional Resilience report and a series of case studies. Most of these case studies were based on work led by the Local Government Commission, which facilitates six regional collaboratives in California through the Alliance for Regional Collaboratives for Climate Adaptation (ARCCA), including their Regional Adaptation Collaborative Toolkit, and other literature on regional coordination on adaptation.
Publication Date: April 2019
Authors or Affiliated Users:
Related Organizations:
Sectors:
Resource Category:
Resource Types:
Academic research paper
Policy analysis/recommendations