Resilient Communities Program (NFWF)
Wells Fargo and the National Fish and Wildlife Foundation (NFWF) launched the Resilient Communities Program in 2017 to help communities plan for and implement resiliency projects, support green infrastructure, and invest in natural ecosystems. Grants will be offered once a year to support priority projects in states and communities associated with Wells Fargo operations. This four-year initiative is supported through a $10 million contribution from Wells Fargo meant to leverage other private and public funds with an expected total investment of more than $20 million. The program emphasizes community inclusion and assistance to traditionally underserved populations in vulnerable areas.
The Resilient Communities program will award approximately $3 million in grants to projects in 2019. Each grant will range from $200,000 to $500,000 depending on category and will be awarded to eligible entities working to help communities become more resilient. This program has one round of applications per year and awards approximately 4 to 8 grants annually.
8 new or continuing resilience grants totaling $2 million were awarded in 2018 which generated $7.6 million in match from the grantees, providing a total conservation impact of $9.6 million. 8 projects were supported in 2017 that addressed coastal conservation in Florida and New Jersey, improving water quality in Iowa, improving water quantity in New Mexico, healthy and fire-resilient ecosystems in California, and assisting cities across the United States in building capacity for resilience challenges.
Purpose: The program will help communities prepare for future impacts associated with sea level rise, water quantity and quality, and forest conservation. Wells Fargo and NFWF will invest in these two focus areas: 1) Adaptation through Regional Conservation Projects, and 2) Community Capacity Building and Demonstration Projects.
Eligible Uses:
Category 1: Regional Adaptation through Regional Conservation Projects
Grants will support highly-impactful and visible conservation projects that help prepare for fire in the Western Region, floods and droughts in the Central Region, and sea-level rise in the Eastern Region. Special consideration is given to projects that help bridge rural and urban community resilience needs with focus on the interconnectedness of natural systems and community well-being. Proposals must include one or more of the project types specified for the region.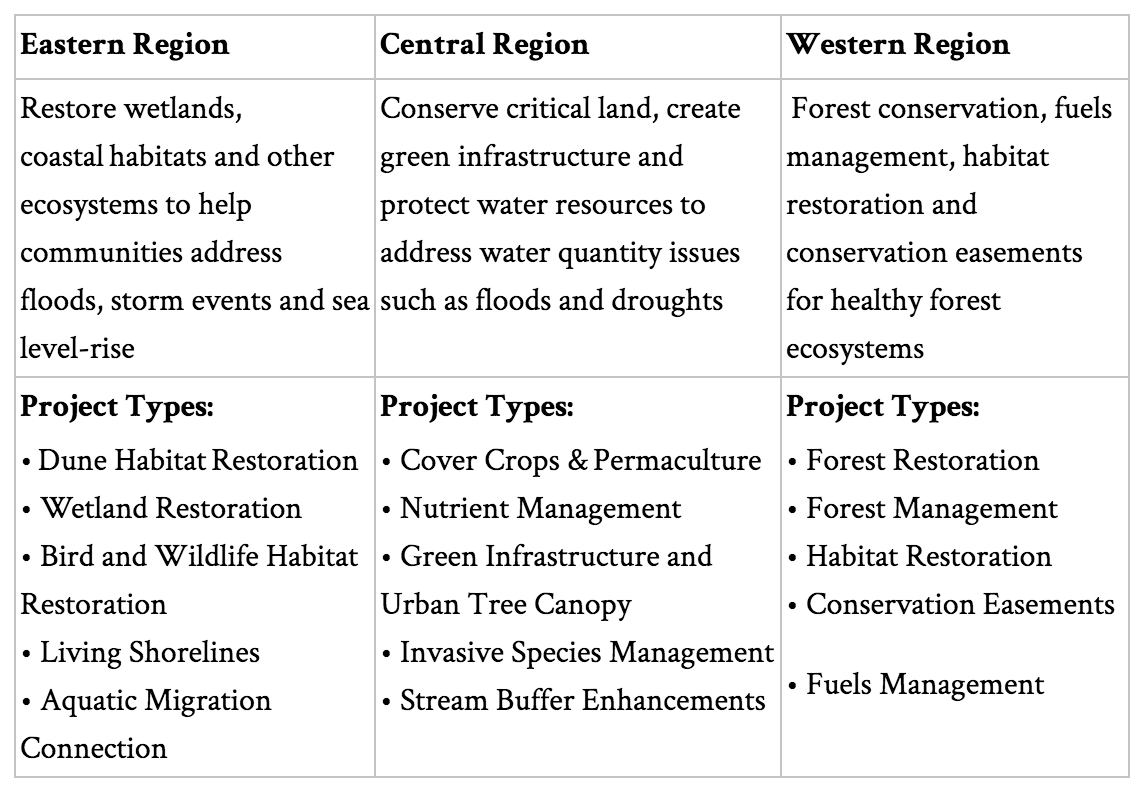 Category 2: Community Capacity Building and Demonstration Projects
Grants will support highly-impactful and visible projects that help communities understand, organize and take action to address risks and opportunities through improved resilience brought about by enhanced natural features. Special consideration is given to projects that measurably benefit low- to-moderate income neighborhoods and advance social cohesion. These projects should address multiple cities and communities and center on one or both of the following activities:
Advance innovative and scalable resilience solutions benefiting multi-family affordable housing through green infrastructure such as tree canopies/pocket parks/community green spaces, and/or stormwater retention projects.

Support organizations that build capacity to help cities plan for enhanced resilience through green infrastructure or other improvements. Successful projects will include programs such as community fellows or ambassadors, or support for collaborative projects or workshops that occur in multiple communities within a region.
Engaging community partnerships in enhanced preparedness and resilience in areas vulnerable to flooding, wildfires and other disasters through natural feature and green infrastructure improvements such as those described in the table above.

Improving community or neighborhood resilience through enhanced natural features and green infrastructure, particularly in vulnerable communities that tend to be disproportionately impacted by stressors

Encouraging small business preparedness and resilience, in order to restore jobs and economic activity in impacted communities
Potential Adaptation Uses: Specific funding priorities for this program include:
High-impact adaptation to help communities prepare for fire in the U.S. West, floods and droughts in the Mid-West, and sea-level rise on the Eastern seaboard.

Community demonstration and capacity-building projects that help communities understand environmental risks and opportunities and organize and take actions to improve local resiliency by enhancing natural buffers and system functions.
Eligible Grantees: Eligible applicants include non-profit 501(c) organizations, local governments, and Indian tribes.
Process and Requirements:
The Resilient Communities program will award approximately $1.5 million in 2018. Grants in this category will range from $200,000 to $500,000 in each of the three regions. This program has one round of applications per year and awards approximately 3 to 6 grants annually.
Regional Adaptation projects must fit regional priorities and should be implemented at a scale that yields measurable and sustainable benefits for natural habitats while also providing measurable and enhanced community benefits to improve resilience.
All proposals submitted should:
Identify strategic importance of project from a resilience standpoint, including identification of the core issue(s) project addresses.

Articulate key natural feature and / or green infrastructure enhancements central to achieving project outcomes.

Provide measurable and meaningful social, economic and environmental outcomes.

Demonstrate regional value or replicability and strong public/private partnerships.

Articulate measures implemented or project aspects that enhance sustainability of project investments.

Identify highly-visible project sites and activities to build community support for activities and outcomes.

Indicate whether the proposed project involves the use of volunteers.

Implement, or be complementary to, an established conservation and/or watershed management plan and demonstrate that the agency or organization that developed the plan is a partner in – or at least is supportive of – the project.

Identify how your organization leverages diverse suppliers

Disclose the members and diversity of your board of directors or equivalent.

Leverage other public and private funding to increase the overall project outcomes.
Projects should last up to 24 months from the start date. The project narrative should include a clear timetable, annual milestones and outcomes and a schedule for project completion. The ratio of matching funds offered is one criterion considered during the review process, and projects that meet or exceed a 1:1 match ratio will be more competitive.
All proposals will be screened for relevance, accuracy, completeness and compliance with NFWF and funding source policies. Proposals will then be evaluated based on the extent to which they meet the following criteria: Program Goals and Priorities; Technical Merit; Budget; Long-term Sustainability; Transferability; Communication; Funding Need; Monitoring; and Past Success.

Publication Date: February 13, 2017
Related Organizations:
Sectors:
Forestry
Land management and conservation
Rural
Wildlife
Resource Category:
Resource Types:
Impacts: