Rhode Island Socioeconomics of Sea Level Rise
A project from the Rhode Island Division of Statewide Planning, Socioeconomics of Sea Level Rise (SLR) identifies the demographic and socioeconomic makeup of the communities located within multiple sea level rise inundation scenarios in Rhode Island. Serving as a resource in sea level rise planning, the Division suggests that data included in this project can be used for capital improvement planning, transportation planning, and overall long-range planning in communities.
The assessment identifies the social, economic and demographic characteristics of the populations located within the 1, 3, 5 and 7 foot SLR inundation zones in the state's 21 coastal communities. Some of the data variables utilized to identify population characteristics include: race, age, disability, employment, income, educational attainment, limited English proficiency and housing tenure data. In addition, the assessment identified the Title VI and Environmental Justice populations protected under the Title VI of the Civil Rights Act of 1964, and Executive Order 12898, Federal Actions to Address Environmental Justice in Minority Populations and Low Income Populations, respectively. 
Project deliverables include comprehensive Community Factsheets that were prepared for 20 of the 21 coastal communities - providing a current snapshot of coastal inundation population characteristics, and focus on the Title VI and EJ populations. Here is a portion of the factsheet for Warwick, Rhode Island: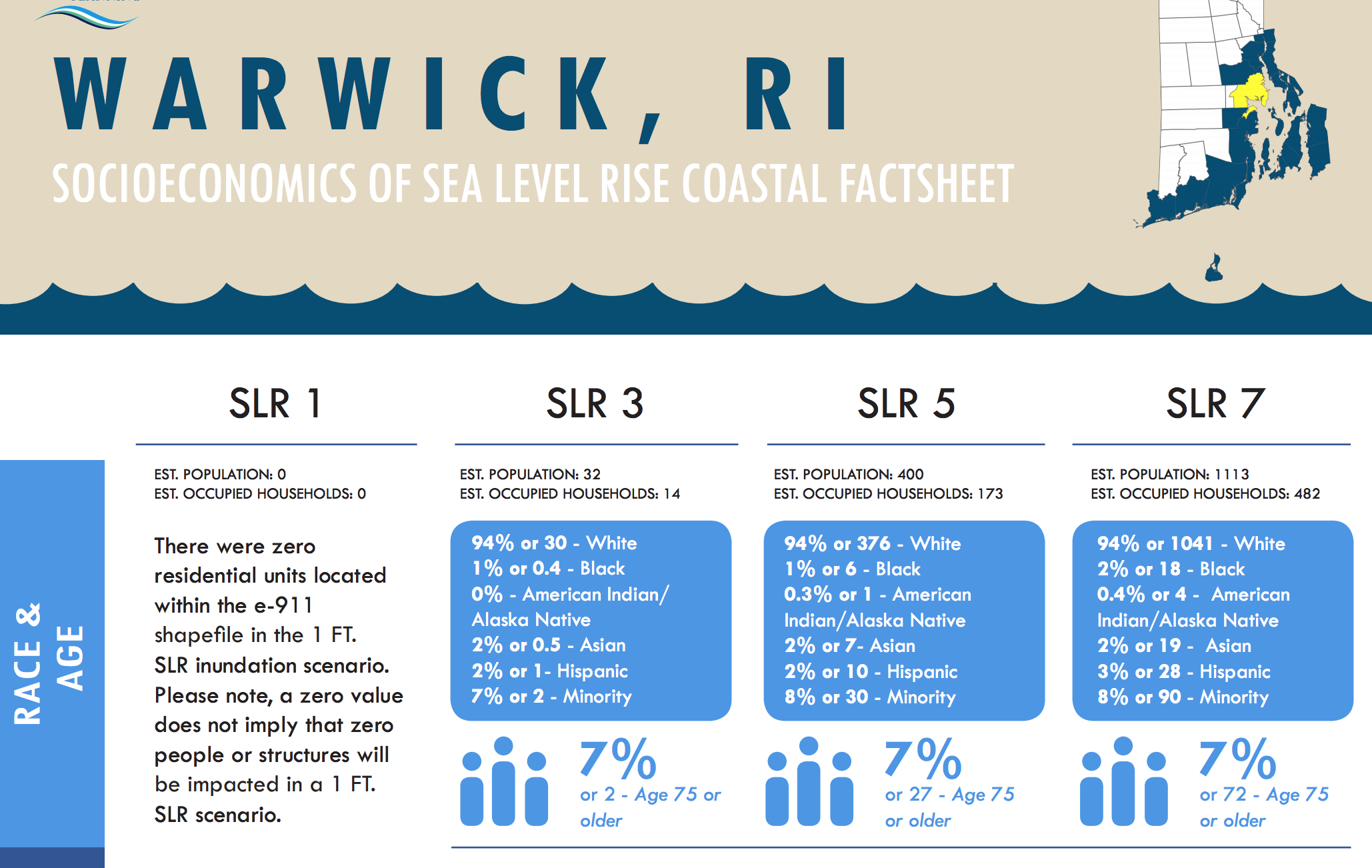 Community Data Profiles are also available, which serve as full appendix tables which include all of the data variables utilized for the project, and include other data points that were not featured in the factsheets.
Technical Paper 168 explains the methodology of the project, as well as how the Community Data Profiles were developed, and can be interpreted.
Publication Date: 2016/2017
Related Organizations:
Rhode Island State Planning Program
Sectors:
Resource Category:
Resource Types:
States Affected:
Impacts: