Scorched: Extreme Heat and Real Estate
Extreme heat is an increasingly severe climate change impact across the United States - to the environment and natural resources, public health, infrastructure and ultimately, the economy. Scorched provides an overview of extreme heat's implications on the built environment and current and future real estate markets. Heat mitigation and adaptation strategies are discussed related to building design, building materials, green infrastructure and public space design. Case studies highlight the how the real estate sector is leading in implementing 'heat-resilient' building designs and land uses. The report also offers new climate adaptive policies to mitigate the infrastructure impacts of extreme heat, and to protect human health.
The report describes how extreme heat may influence urban environments and the urban heat index, infrastructure, investments and local real estate markets. Developments that are not prepared for extreme heat will be affected by: consumer preference for comfort; building longevity, maintenance and operations; higher energy use and cost for cooling buildings; business continuity/interrupted operations from events such as electrical grid failures, transportation interruptions, wildfires, and water shortages; liability for system failures, suffering tenants, building degradation etc.; and future regulatory measures to require building or site retrofits.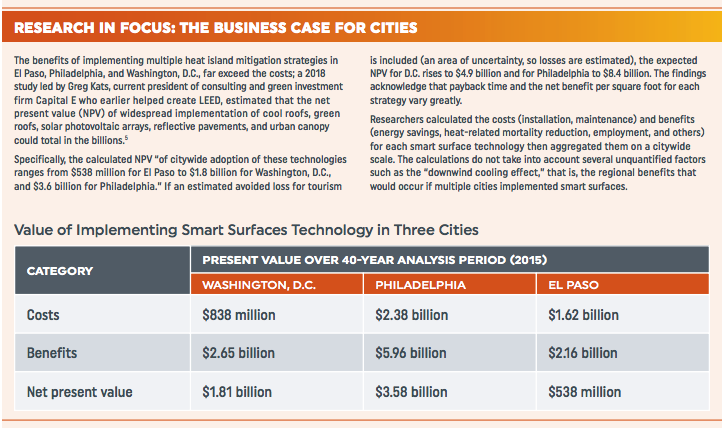 Numerous Extreme Heat Mitigation and Adaptation Strategies are described for buildings, sites, and at the district scale in the following areas:
Building Design: orientation, shape, massing

Building Materials and Engineering: Building envelopes, shading structures, waste heat reduction, HVAC, lighting, sensors and smart buildings

Light-colored and reflective surfaces: Cool roofs, cool walls, cool pavements

Green Infrastructure: green roofs, green walls

Operational Changes: thermostat control, schedule modifications

Urban Development Patterns: urban geometry and density, waste heat reduction, ventilation corridors, urban canopy, and water features
Case Studies on Real Estate Development profile how some progressive developments have been designed to incorporate extreme heat resilience strategies, and the beneficial outcomes. The case studies detail the development project, extreme heat management features, site-specific strategies, how heat is being mitigated and implications on the community and local economies. The case study on Edison Eastlake in Phoenix Arizona demonstrates these site specific strategies: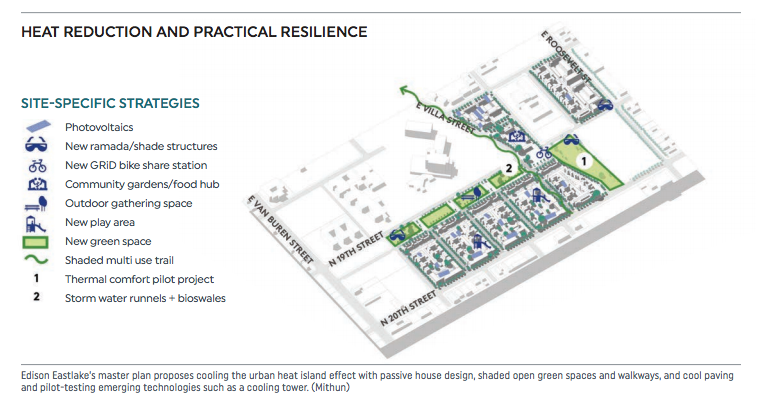 Part III - Extreme Heat Policy Landscape reviews policy options for managing extreme heat, which can involve building safety and efficiency standards, urban greening, public space design, and social services - and often build asset value and address other environmental concerns. Although heat policies have historically been directed at social and emergency services, they are starting to target land use, real estate, building, and public space design.
The report reviews emergent and innovative heat-mitigation policies relevant to the real estate sector including the following:
Citywide Temperature and Reduction Goals

Cool Wall Standards

Expanded Urban Canopy and Greening Programs

Rebates and Incentive Programs

Thermal Comfort Policies

Occupational Hazard Policies

Community Engagement and Connection Programs
Case Studies on heat mitigation policies are provided that have been enacted by local governments. Each case study offers specifics on how the policies were developed, the local heat impacts, extreme heat resilience strategies, and the outcomes (as of publication). The Policy Case Studies include:
- Green Roof Bylaw and Eco-Roof Incentive in Toronto, Canada 
- Cool Roofs and Roads in Los Angeles, California 
- Urban Canopy Policy in Cincinnati Ohio
Publication Date: August 2019
Authors or Affiliated Users:
Related Organizations:
Sectors:
Resource Category:
Resource Types:
Best practice
Case study
Policy analysis/recommendations
Impacts: