Shinnecock Indian Nation Climate Change Adaptation Plan
The Shinnecock Indian Nation, or the People of the Stony Shore, are located on the East End of Long Island adjacent to Southampton, New York with a territory of 800 acres of ancestral land. The Shinnecock are an Algonquian people who have forever lived along the shores of Eastern Long Island, whereas Federal recognition for this tribe was achieved as of October 1, 2010. The Shinnecock Reservation is at sea level, and this area is particularly vulnerable to sea-level rise, hurricanes, flooding, and shoreline erosion. Other climate change impacts such as ocean acidification, and saltwater intrusion are of great concern because of tribal shellfish cultivation, reduced water supply and the loss of shoreline trees. This adaptation plan has been prepared by the tribe, and primarily reflects the climate change impacts to shoreline assets and ancestral lands.
To estimate sea level rise on the Shinnecock Nation lands, data from nearby tide gauges at Montauk and Port Jefferson, NY, and Sandy Hook, NJ has been collected, and combined with global sea level rise projections from the two intermediate National Climate Assessment emission pathway scenarios through 2050, and 2100. The results of this analysis suggest relative sea level rise on the Shinnecock Nation lands of 2.1 to 4.4 feet by 2100. Mapping for flooding inundation demonstrates present-day 100-year storm protections and the impact of 1.5 foot of sea level rise in 2050 (below, Figure 6).
During a 100-year storm, along with this 2050 sea-level rise scenario - not only do all Shinnecock coastal properties experience flooding, but their cemetery, waste disposal site, and many houses and structures located a considerable distance from the shore are a risk of flooding as well. The Shinnecock are already witnessing severe climate change impacts from Hurricane Sandy in 2012 and present day, for example the flooding of tribal burial grounds and ceremonial lands; less shellfish for harvesting on the shore; and loss of wetland and tidal marsh habitat.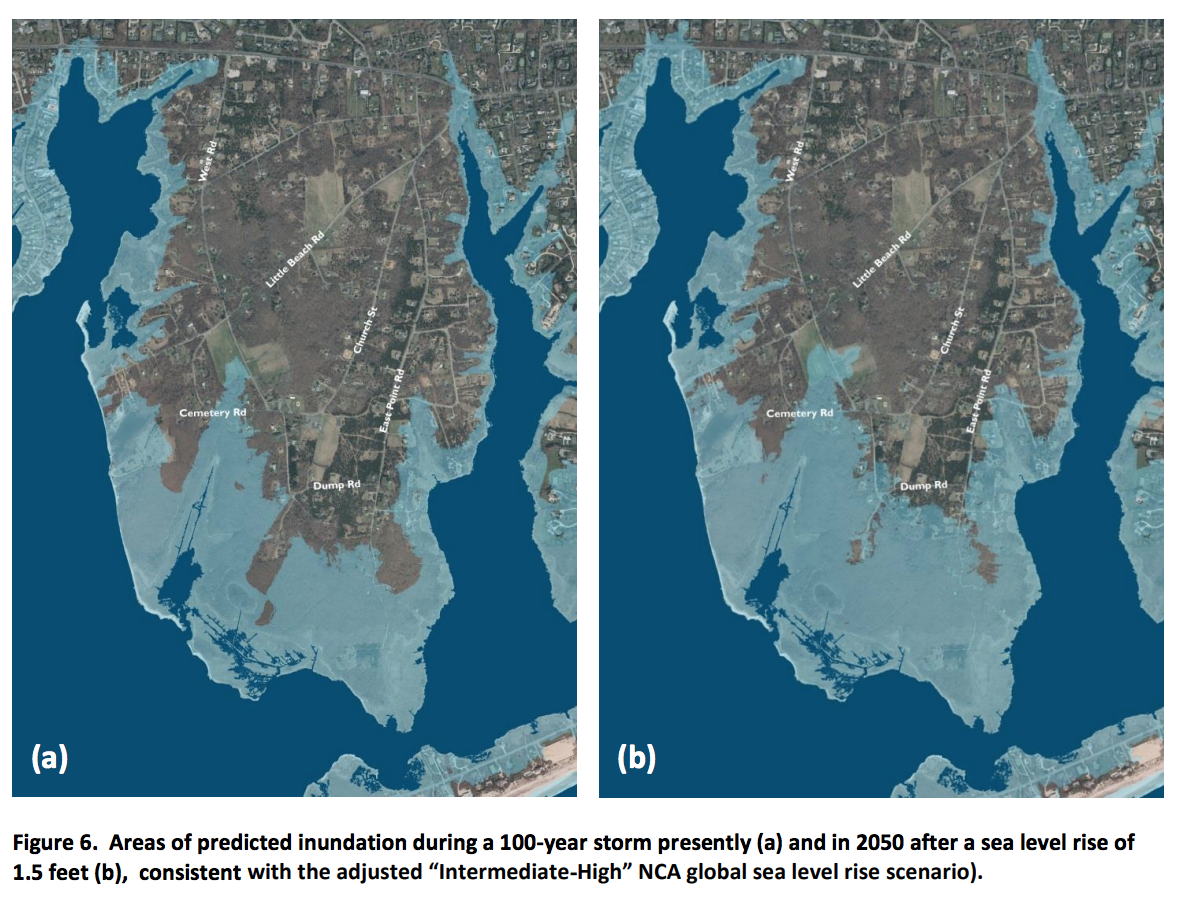 A summary table of Potential Climate Change Vulnerabilities addresses additional impacts of concern including increased risk of pest outbreaks and lyme disease; the need for new upgraded flood control and erosion control structures; shifts in species range and distribution in aquatic ecosystems; heat-related stress, particularly among the elderly, the poor and other vulnerable populations; and more. 
Recommended Goals and Actions, as described further in the report, include:
Local shoreline change analysis - and assessment of overall erosion rates as part of future storm planning

Development of a long-term monitoring program - of coastal erosion and water level changes.

Assessment of estuaries and wetlands in the Shinnecock Nation peninsula - especially tidally restricted estuaries

Identify possible conceptual engineering adaptations (phased) that the Nation could consider pursuing - such as adaptable and modular engineering concepts, flood proofing, bioengineered technology, managed retreat/relocation, elevating, flow control structures, and evacuation plans
Additional natural climate solutions/ green infrastructure strategies are suggested to improve resilience to sea-level rise and related impacts including off-shore oyster reefs and restoring native marsh grasses on the shoreline. Building oyster reefs and restoring submersed aquatic vegetation will lessen wave action and reduce erosion, and also ensure that oysters along with other fish and shellfish, continue to survive the impacts of climate change. Removing non-native invasive plants and restoring native marsh grasses will "build back the shoreline's natural resilience. Planting flood tolerant trees like black gum and bald cypress now will help make the shoreline more stable as water moves inland."
Publication Date: October 2013
Related Organizations:
Sectors:
Resource Category:
Resource Types:
Adaptation plan
Assessment
States Affected:
Impacts:
Invasive species and pests