South Carolina Hazard Mitigation Plan - 2018 Update
The 2018 Update to the South Carolina Hazard Mitigation Plan identifies the major natural hazards affecting the state, analyzes risk and vulnerability, and identifies actions to minimize impacts of those hazards. Mitigation actions identified in the plan are based on the Risk Assessment of multiple natural and manmade hazards, including climate impacts, and on the Capability Assessment reviewing the state's capacity to address the hazards. 
This comprehensive mitigation plan includes a risk and vulnerability assessment incorporating climate change-related threats such as sea level rise, floods, drought, wildfire, extreme heat, severe storms, coastal erosion, hurricanes and storm surge. For each hazard analyzed, an overview of the type of hazard is provided along with descriptions of historical and recent (2012-2017) events. The state's vulnerability to each hazard is discussed and mapped, including reviews of the historical frequency of the hazard (risk) and losses. 
Wildfire is South Carolina's most frequently experienced hazard, while hurricanes and earthquakes are considered to hold the greatest potential for disaster. Winter weather, flooding, drought, tornadoes, and severe storms result in the state's greatest losses. The risk analysis also maps regional differences in natural hazard risk and vulnerability as well as social vulnerability, identifying locations where socioeconomic and demographic differences may result in differential vulnerability to hazards.
Sea level rise is projected to impact South Carolina with potentially severe flooding and inundation. Table 4.Q.1 shows the maximum and average inundation levels for each coastal county.  Beaufort County has the most land area to lose to inundation in any of the projected sea level rise scenarios. The estimated impact of sea level rise is analyzed and mapped for a .6 meter rise, 1 and 2 meters along the South Carolina coast. The social vulnerability relative to sea level rise (as estimated by NOAA) is also presented: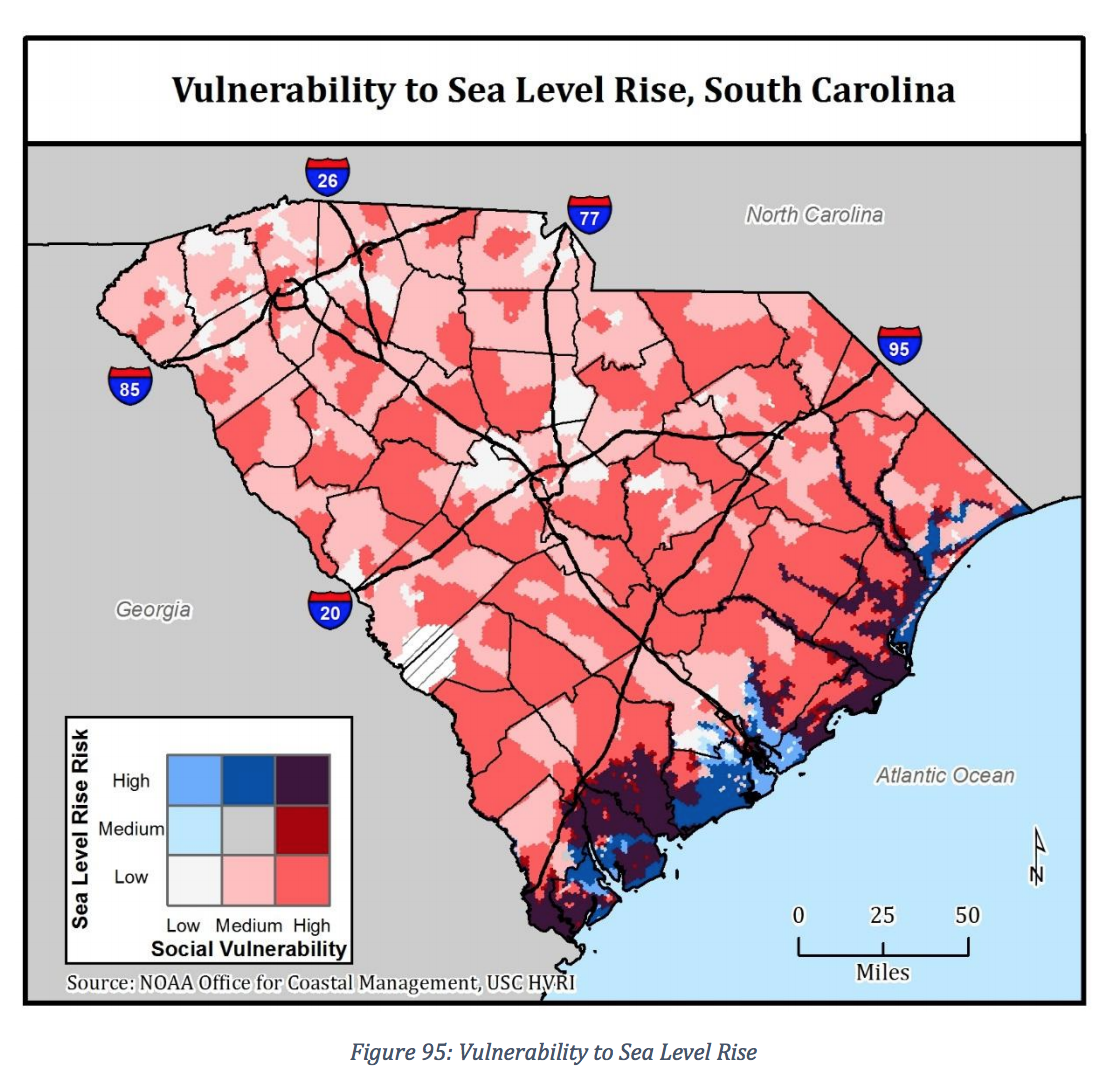 The Mitigation Action Plan prioritizes specific mitigation actions, identifies actors responsible for implementation, estimates costs and implementation timeline, updates action status, and identifies potential funding for mitigation projects (links to mitigation action tables are available on SCEMD's Hazard Mitigation Plan webpage). Mitigation actions include activities related to prevention, property protection, natural resource protection, structural mitigation projects, emergency services, and public information and awareness. 
Section V. provides updated status of local mitigation planning by County, plus four municipalities.
Section VI. includes a table listing state agencies, programs, plans, policies, practices, regulations, and funding that can support or facilitate implementation of mitigation actions. This section includes summary descriptions of various state-administered grant programs for hazard mitigation.
State and local governments must meet the requirements of the Disaster Mitigation Act of 2000 and develop FEMA-approved hazard mitigation plans to be eligible for hazard mitigation funding under the Stafford Act. Updates to the state's hazard mitigation plan must be approved to ensure continued funding eligibility for Stafford Act Grant programs, including FEMA's hazard mitigation assistance programs: Hazard Mitigation Grant Program, Pre-Disaster Mitigation Assistance, Repetitive Flood Claim Program, as well as the Fire Management Assistance Grant Program and Public Assistance grants.
Publication Date: October 2018
Related Organizations:
Sectors:
Resource Category:
Resource Types:
States Affected:
Impacts: