Survival by Degrees: 389 Bird Species on the Brink
From the National Audubon Society, this report describes a comprehensive climate change vulnerability assessment for North American birds. The study projects avian species geographic range changes due to climatic shifts, identifies the most vulnerable species and locations, and maps the risk of various climate hazards to avian species. The results of this study can inform conservation priorities as they help identify the species and locations most in need of climate adaptation solutions. 
Audubon examined the current and projected geographic range of 604 bird species across North America to establish a vulnerability rating (neutral, low, moderate, or high) based on a comparison of future range loss and gain for individual species and species groupings by habitat. Vulnerability was assessed under three different emissions scenarios projected to result in a 1.5°C, 2.0°C, and 3.0°C (2.7°F, 3.6°F, 5.4°F) increase in global mean temperature. The study analyzed the environmental conditions (climate, vegetation type, land use, and topography) of each species' current range and then projected future range by mapping where those specific conditions are expected to exist under each of the three future scenarios. Interactive, online maps showing predicted range changes by bird species are accessible on Audubon's website.  
Almost two-thirds (64%; 389 out of 604) of North American bird species were found to be moderately or highly vulnerable to climate change. The most highly vulnerable species groupings by habitat were found to be Arctic, boreal forest, western forest, and water birds. The report asserts the importance of adaptation actions focused on species that are most vulnerable to climate change and also already identified as having a high conservation need.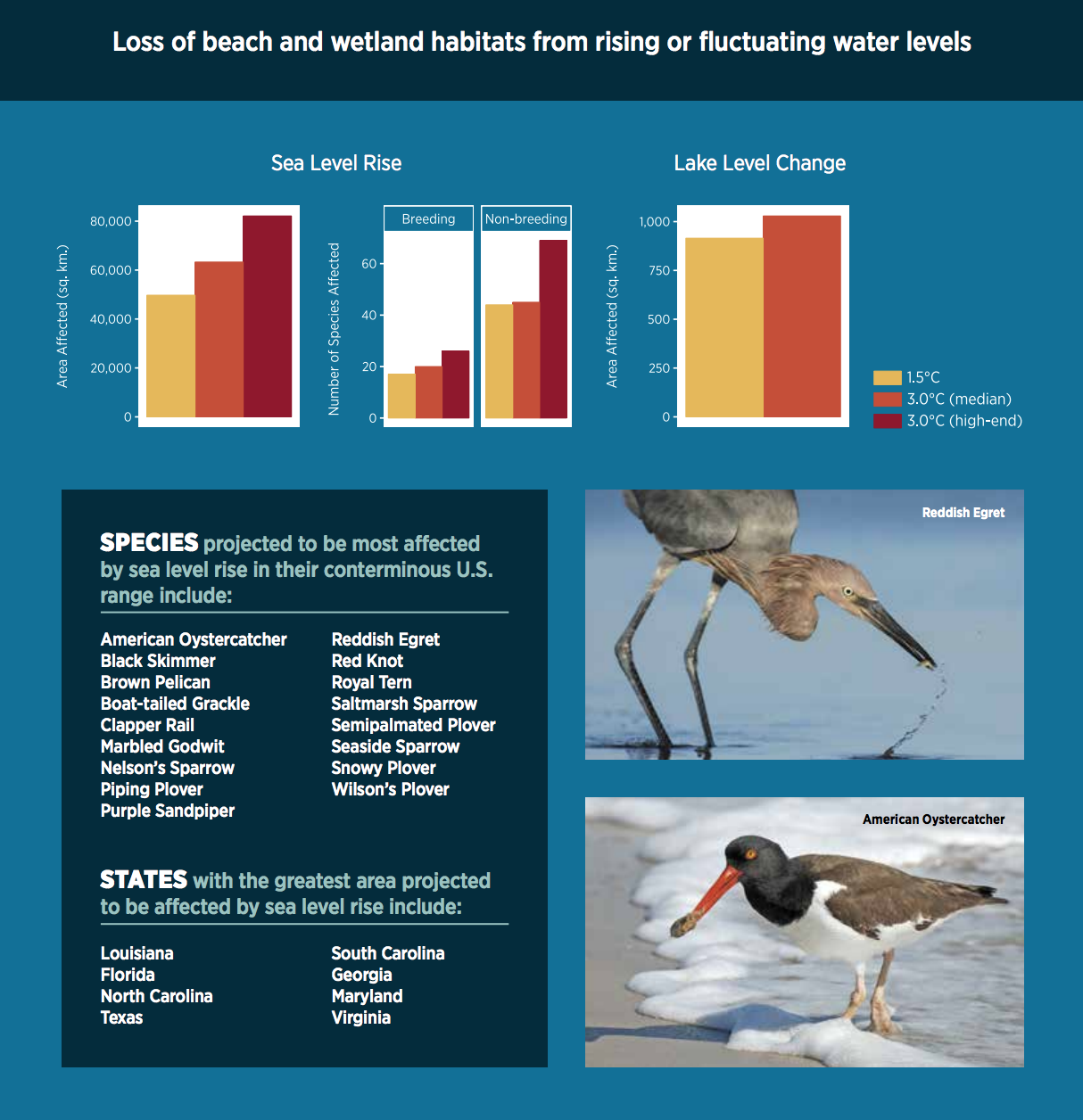 In order to identify the places where adaptation actions can have the most impact, the study used the range projections to map the change in avian species composition across North America. The Boreal Shield of Canada, northern and eastern temperate forests, and the northern parts of the U.S. Midwest and Northeast are expected to lose the most species under the 3.0°C scenario. For areas expected to experience high net change in the number of bird species, the report recommends "increasing the amount of potential habitat, working with cooperating agencies and landowners to improve habitat connectivity for birds across boundaries, managing the disturbance regime, and possibly more robust management actions (e.g., intensive nest site management, translocations)." 
The top three greatest climate impacts to birds are extreme heat, fire weather, and urbanization. A risk assessment examined the number of species affected by key climate change threats, including: 
Sea level rise and Lake level change

Urbanization

Cropland expansion

Extreme spring heat

Fire weather

Spring droughts

Heavy rains

False springs
The risk to birds of such climate hazards was then mapped to identify locations in the contiguous U.S. and species most impacted. Under the 3.0°C scenario during the breeding season, risk was greatest in the mountainous regions of the West and Northeast and 97% of species were found to be affected by two or more threats.
The study also compared the differences in vulnerability, risk, and impacts between scenarios, finding reductions in all cases in the 1.5°C scenario as compared to the 3.0°C scenario, indicating the benefit to birds of climate change mitigation. 
The final section of the report outlines National Audubon Society's climate change adaptation strategies and mitigation advocacy.  The adaptation strategies described include: 
supporting resilient coastal wetlands,

restoration of priority watersheds and rivers,

increasing bird-friendly and sustainable land management practices,

creating "bird-friendly" communities by promoting native plants and "climate-friendly" municipal policies, and more. 
Publication Date: October 10, 2019
Related Organizations:
Sectors:
Land management and conservation
Wildlife
Resource Category:
Resource Types:
Impacts:
Air temperature
Precipitation changes
Wildfires