The Kresge Foundation Climate Resilient and Equitable Water Systems (CREWS) Initiative
Climate Resilient and Equitable Water Systems (CREWS) consists of 24 nonprofits - Kresge Foundation grantees - who are building solutions for low-income communities in U.S. cities to adapt to climate enhanced storm and flood impacts. CREWS programs are transforming urban stormwater and wastewater systems with climate resilient integrated water-management practices and socially equitable solutions. CREWS is an initiative of the Kresge Foundation's Environment Program, focused on climate resilience through adaptation, mitigation, and social justice.
Kresge's goals for the CREWS program are to:
Support and nurture a new cadre of water leaders to amplify marginalized voices and strengthen climate-vulnerable regions and water systems.
Build the case and enabling environment for equitable water system transformation.
Advance non-traditional approaches to financing, operations and community participation that produce multiple community benefits.

There is diversity among the CREWS organizations, with most experience in one or two of the dimensions at the intersection between water, climate resilience, and equity. According to Kresge, some of the larger CREWS organizations take a more traditional, policy-oriented approach to water management issues and are just starting to integrate climate resilience and/or equity solutions, for example. Environmental justice organizations may be focused on water management, while beginning to integrate climate resilience goals. With funding from Kresge, the CREWS grantee cohort are integrating their expertise by working together, and sharing knowledge and experience across fields.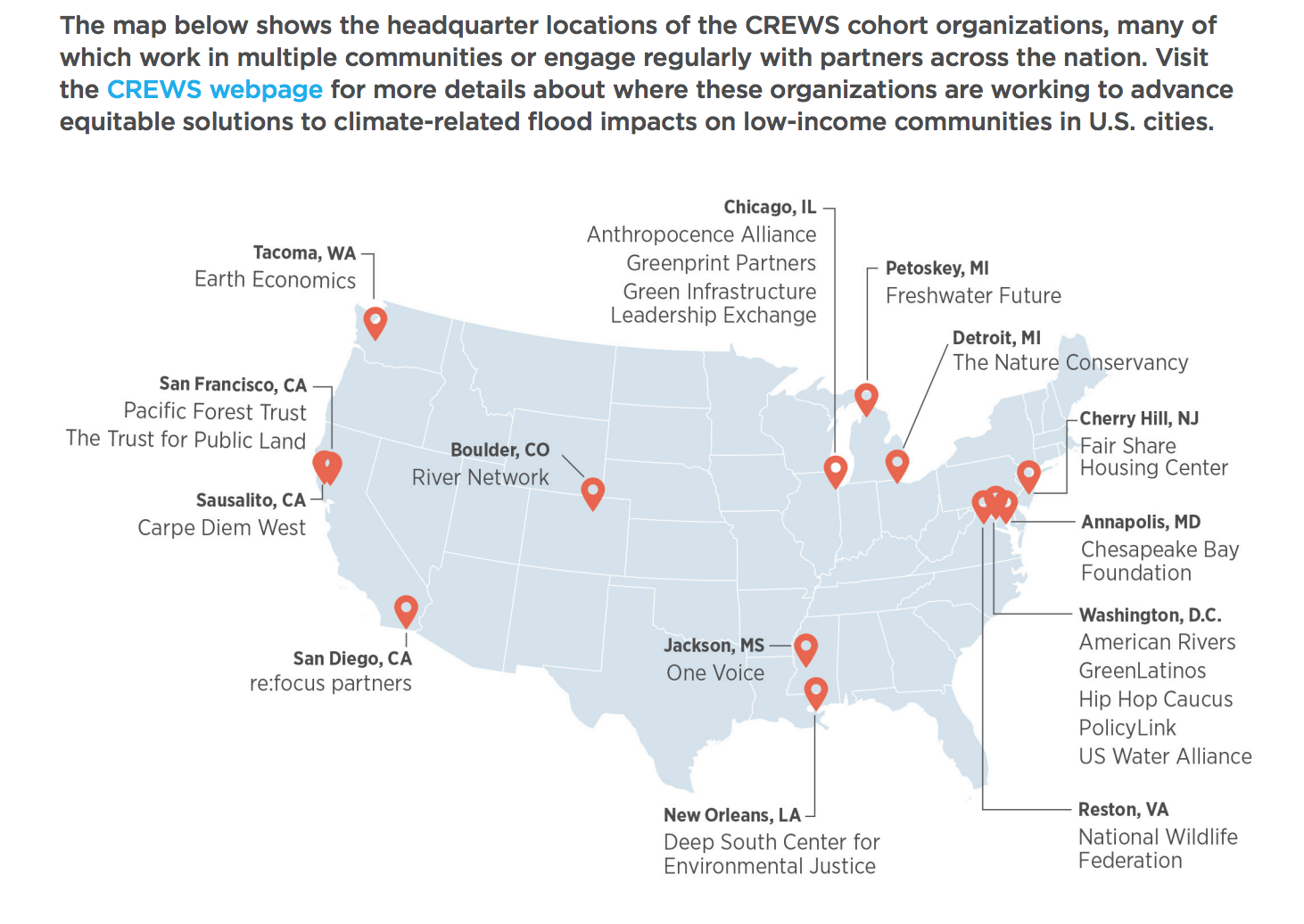 Building a Community of Practice at the Intersection of Water, Climate Resilience and Equity is a report on the initiatives and lessons learned from the grantees within the first year of CREWS. All of the organizations and many of their successful programs are described. 
Other resources for CREWS grantees, and any practitioners working to advance equitable and climate resilient water systems include the Climate Resilient & Equitable Water Systems Capital Scan, and An Equitable Water Future – A National Briefing Paper
Publication Date: 2017
Related Organizations:
Related Resources:
Sectors:
Resource Category:
Resource Types:
Best practice
Engagement
Funding program
Impacts: