Twin Cities, Minnesota Metropolitan Council Climate Vulnerability Assessment Tool
The Twin Cities Metropolitan Council Climate Vulnerability Assessment (CVA) tool can assist the Metropolitan Council and community planning efforts in preparing for and adapting to climate change in the Twin Cities, Minnesota region. The assessment focuses primarily on the impacts of extreme heat and flooding events. The CVA and tools include the assessment report, data sets, interactive mapping tools, and story maps. The Metropolitan Council is the regional planning organization for the seven-county Twin Cities, Minnesota region - and the CVA supports the Council in maintaining infrastructure and prioritizing future climate adaptive improvements.
The CVA includes interactive mapping tools, along with guidance on how to use each tool:
Extreme Heat Map Tool

Localized Flood Map Screening Tool

Extreme Heat Story Map

Localized Flooding Story Map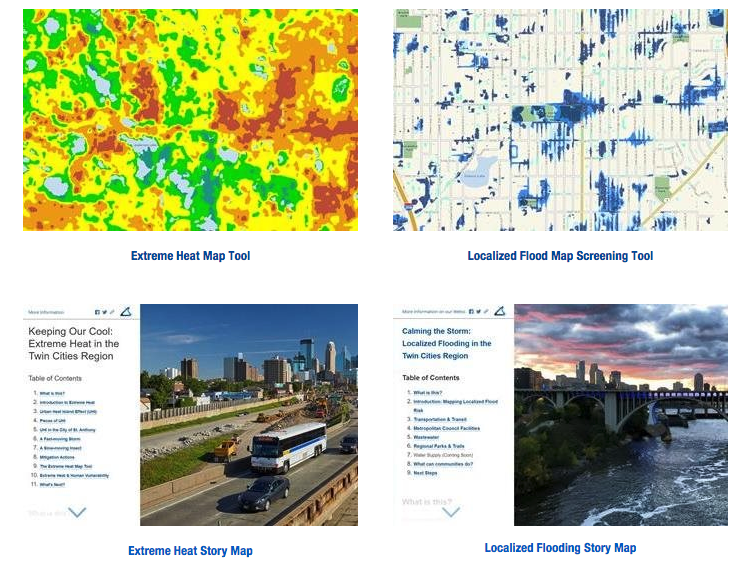 The Extreme Heat Map Tool shows Land Surface Temperature Data for the Twin Cities metro area. The heat data is based on an Urban Heat Index snapshot taken in July 2016, in order for cities to view hot spots to inform development decisions, "such as where to plant more trees to increase shade cover."
This assessment also focuses on the climate hazard of localized flooding - recognizing vulnerabilities such as disruptions to the transit system, increase in inflow/infiltration to wastewater infrastructure, and impacts on water quality and supply. The Localized Flood Map Screening Tool demonstrates potential surface flooding locations in the Twin Cities metro area. Flooding information is based on topographical data from remote sensing (LiDAR). Local decision makers can use the tool to determine which areas have a higher risk for flooding, and consider climate adaptation or flooding resilience investments.
The Localized Flooding Story Map details the localized impacts of flooding, and the Extreme Heat Story Map explores the causes of the urban heat island effect within the region. Both story maps describe how to incorporate flooding or heat data, tools, and resources into decision-making. The story maps include recommended adaptation and mitigation strategies for Council and stakeholder consideration.
Publication Date: September 2018
Related Organizations:
Metropolitan Council of the Twin Cities Metro Area
Sectors:
Resource Category:
Resource Types:
Assessment
Mapping tool
Tool (general)
States Affected:
Impacts:
Air temperature
Precipitation changes