Under Water: How Sea Level Rise Threatens the Tri-State Region
This report identifies the places in the New York, New Jersey and Connecticut metropolitan area that are most at risk of being permanently flooded by sea level rise, and describes the effects of 1, 3 and 6 feet of sea level rise on neighborhoods, employment centers and infrastructure.
Anticipated 1,3, and 6 feet of sea level rise impacts on New York City, Long Island, Hudson Valley /Long Island Sound, Northern and Central New Jersey, and Coastal Connecticut are detailed. The report provides hypothetical scenarios of what the region might face in the various sea levels rise scenarios. In addition, a summary of geospatial analysis is given that estimates the current population, number of housing units, total area, jobs and critical infrastructure in these areas projected to be affected by sea level rise.
A few of the Key Findings include the following:
- The pace at which seas are rising is accelerating. Sea levels could rise around one foot as soon as the 2030s. Three feet could occur as early as the 2080s. Six feet of sea level rise could come early in the next century.
- The communities of the Rockaways, Jamaica Bay, Coney Island and the East Shore of Staten Island are amongst the most threatened in New York City.
- Without additional protection measures, one foot of sea level rise will inundate nearly 60 square miles, where more than 19,000 residents in 10,000 homes live today, and where approximately 10,000 people work.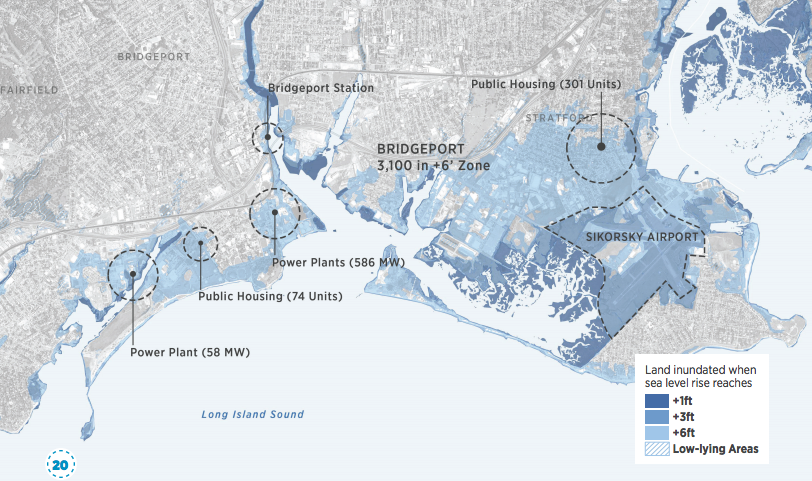 The report provides detail on the New York State Community Risk and Resilience Act; New York City's Special Initiative for Rebuilding and Resiliency; and Rebuild By Design program in the "What's Being Done" section.
The report closes with some recommendations -  including to fund sea level rise adaptation through a combination of accommodation and retreat strategies. Another recommendation is to "(p)ay special attention to the most socially and economically vulnerable," noting that about one-third of residents in this region at risk of flooding from sea level rise could be considered socially vulnerable.
Publication Date: December 5, 2016
Related Organizations:
Regional Plan Association
Sectors:
Resource Category:
Resource Types:
States Affected:
Impacts: