Vibrant Cities Lab
Vibrant Cities Lab is an online hub promoting the implementation of urban forestry and green infrastructure with the latest research, best practices, and successful case studies from around the country. City managers, policymakers, and advocates can use the information provided to understand the many benefits of urban canopy (including climate adaptation benefits), advocate for equitable tree planting distribution, and build effective urban forestry programs to help build resilient communities. Presented by American Forests and funded by the USDA Forest Service, this nonprofit site is updated at least quarterly.
The website offers links to guides, case studies, and the latest science research papers on urban forestry grouped by topic: Human Health, Economic Development, Water Quality, Air Quality, Public Safety, Equity, Transportation, Education, City Planning, Smart Cities Tech, Urban Wood Reuse, and Resilience. The Resilience section highlights case studies and research showing how urban forests can help reduce the impact of climate change hazards and help communities recover and become more resilient after catastrophe hits. Adaptation-focused guides include the Adaptation Workbook and the Trees and Stormwater toolkit. The case studies selected illustrate model programs, laws, funding, and management structures that lead to long-term success and promote the health, safety, and resilience of the communities in which they occur.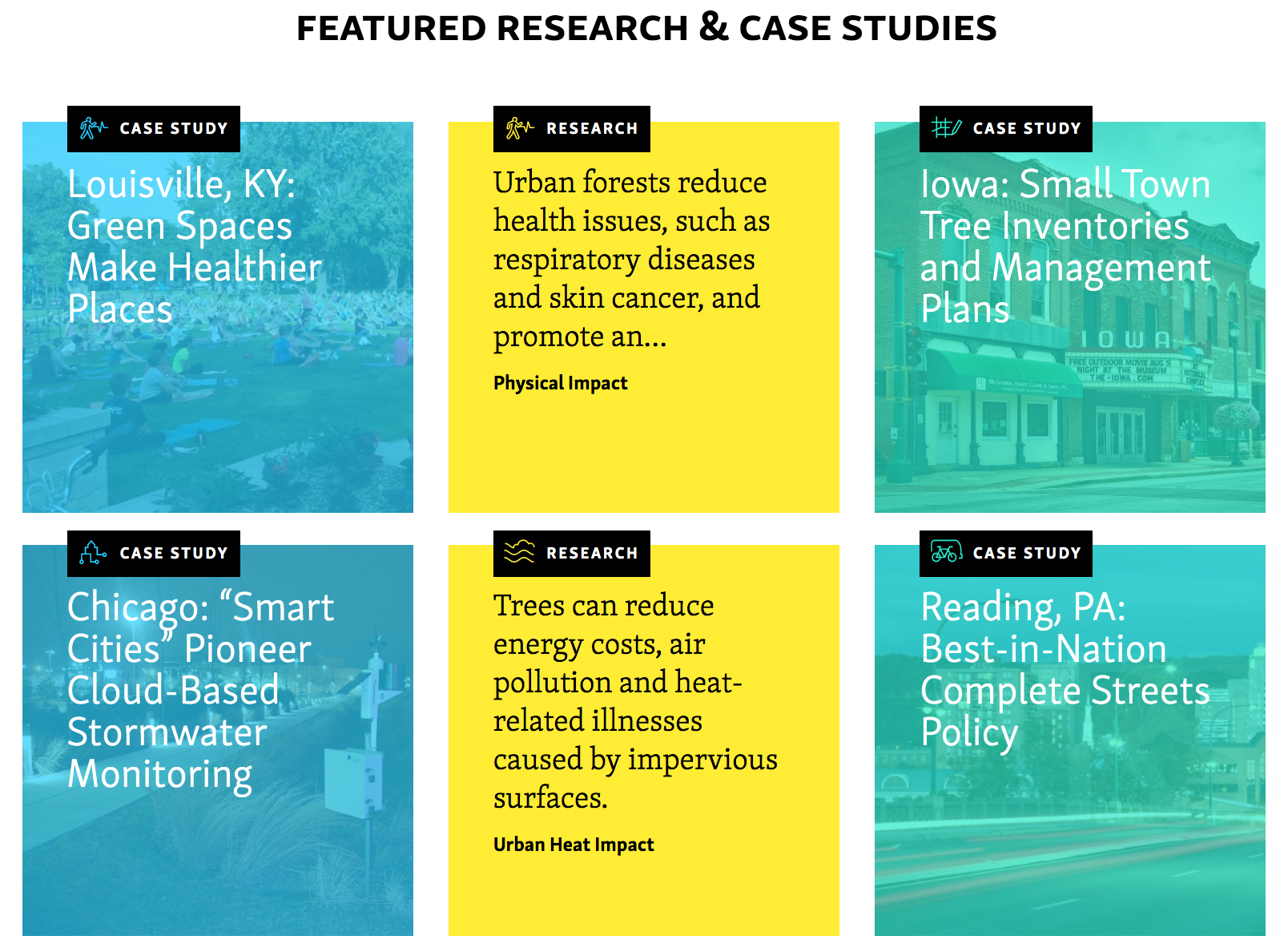 "Case studies have been chosen to move beyond the allure of a pretty landscape installation and instead focus on successful programs, laws, funding and management structures that can help institutionalize urban forestry for the long term."
The site features the Urban Forestry Toolkit, developed by the U.S. Forest Service as a step-by-step guide to implementing urban forestry. Urban forests support climate resilience by mitigating floods, the urban heat island effect, and more. The steps are designed to guide the development of a comprehensive urban forest management program:
Assess

the urban tree canopy 

Prioritize

where to plant and how to do so equitably

Organize

to build stakeholder support for the project

Plan

following urban forestry best practices

Build

urban forestry into all policies and plant appropriate species with proper site evaluation 

Protect

the urban forest by considering local risk (eg. from climate change and climate impacts such as fire, flood, drought, pests, etc) and following the toolkit's five key risk management principles

Sustain

the urban forest with regular monitoring, maintenance, and funding
The site offers a Community Assessment tool to set goals and measure progress. It also provides a searchable Resource Library with links to guides, papers, ordinances, and more, as well as a searchable Tool Library including digital tools, apps, and calculators to support urban forestry program development and implementation.
Related Organizations:
National Association of Regional Councils
Sectors:
Resource Category:
Resource Types:
Case study
Planning guides
Impacts:
Air temperature
Precipitation changes
User Comments: