A Climate Change Vulnerability Assessment for Focal Resources of the Sierra Nevada
In collaboration with the U.S. Forest Service and the California Landscape Conservation Cooperative (CA LCC), EcoAdapt brought together 30 experts to conduct climate change vulnerability assessments on 27 focal resources (including ecosystems, species populations, and ecosystem services) across the Sierra Nevada region of California and Nevada. The results from this assessment are intended to help resource managers and stakeholders develop and prioritize adaptation strategies to conserve these resources as climate change impacts the region. This vulnerability assessment serves as the foundation for the adaptation strategies identified for some of the focal resources described in EcoAdapt's companion document Climate Change Adaptation Strategies for Focal Resources of the Sierra Nevada. 
The report provides a summary of past and projected climate trends for the north, central and south sub-regions of the Sierra Nevada, including temperature, precipitation, hydrology (i.e., snowpack, runoff, climatic water deficit), wildfire, and vegetation patterns. 
Section 3 describes how the focal resources were chosen, and details the development of the vulnerability assessment model. Each resource was evaluated for sensitivity, adaptive capacity, and exposure, and given confidence rankings of low, moderate, or high for each of these vulnerability components. Sensitivity, adaptive capacity and exposure evaluation processes are explained for ecosystems, species, and ecosystem services assessment models.  
The 27 focal resources assessed included: 
8 ecosystems: alpine/subalpine, aquatic,

chaparral

, wet meadows and fens, oak woodlands, red fir, sagebrush, and yellow pine/mixed conifer

15 species: bighorn sheep, black oak, blue oak, bristlecone pine, marten, mountain quail, mountain and Sierra Nevada yellow-legged frogs, fisher, red fir, sage-grouse, whitebark pine, willow flycatcher, woodrat, and aspen

4 ecosystem services: timber and forest products, carbon storage, fire, and recreation 
Section 4 of this report presents individual vulnerability assessments with rankings, additional comments by experts, and brief literature review for each focal resource.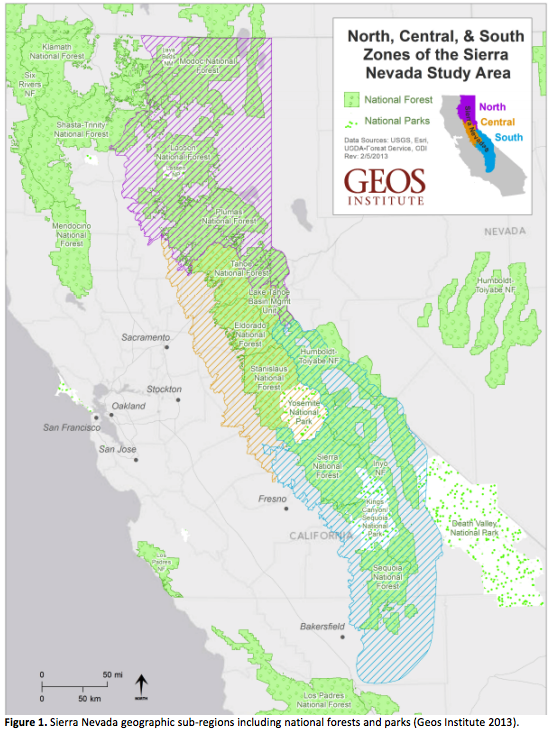 The results of this vulnerability assessment showed all of the ecosystems and species considered were judged to have at least moderate vulnerability to climate change. Alpine/subalpine ecosystems were considered the most vulnerable to climate change with a combination of moderate to high exposure and sensitivity and low to moderate adaptive capacity. Red fir, whitebark pine, and willow flycatcher species were identified to be the most vulnerable to climate change - with high exposure and sensitivity, and low to moderate adaptive capacity.
It is recommended that resource managers refer to the expert comments and supporting materials in addition to the rankings for each resource to understand sub-regional differences when using the information for planning management actions and developing adaptation strategies.  
Climate exposure information for the Sierra Nevada was provided by the Geos Institute. All downscaled climate data layers as well as dominant vegetation type change projections used for this assessment are available on Conservation Biology Institute's Data Basin. Additional exposure data for specific focal resources was accessed using the Template for Assessing Climate Change Impacts and Management Options (TACCIMO), a web-based tool connecting forest planning to the most current climate change science.
Publication Date: February 2014
Related Organizations:
Sectors:
Forestry
Land management and conservation
Rural
Resource Category:
Resource Types:
States Affected:
Impacts:
Air temperature
Precipitation changes
Wildfires