Achieving Urban Resilience: Washington D.C.
Achieving Urban Resilience illustrates the environmental, health and economic benefits that Washington, D.C. could gain from citywide adoption of smart surface technologies such as cool roofs, green roofs, solar PV, porous pavements, bio-retention, rainwater harvesting, reflective pavements, permeable pavements, and urban trees. The report quantifies the benefits of adopting cost-effective strategies to manage sun and rainfall at a city level, and documents how the District could save at least $5 billion over 40 years with smart surface strategies. The benefits valued for this study include energy cost savings, improved air quality and public health, reduced stormwater runoff, climate change mitigation and resilience, as well as additional support for the economy through the creation of green jobs.
The report offers a framework for other urban areas to utilize in a green infrastructure or climate resiliency planning process. It details the methodology used for estimating the full costs and benefits for each component of the analysis in order to help other cities understand, evaluate, and estimate the these costs and benefits of smarter city surface solutions.
An opening "Overview of Solutions" section quickly reviews the green infrastructure strategies, including a summary of the major benefits each solution provides. Detailed descriptions of every solution and their impacts can be found in the comprehensive solution-specific chapters for:
Cool Roofs

Green Roofs

Bioretention

Rainwater harvesting

Solar PV

Reflective pavements

Permeable sidewalks and Parking lots

Urban Trees
Each chapter provides the basic information needed to understand the surface solution and application, describes the near- and long-term climate impacts mitigated, details the costs and benefits of implementation, and identifies opportunities for combining sustainable strategies.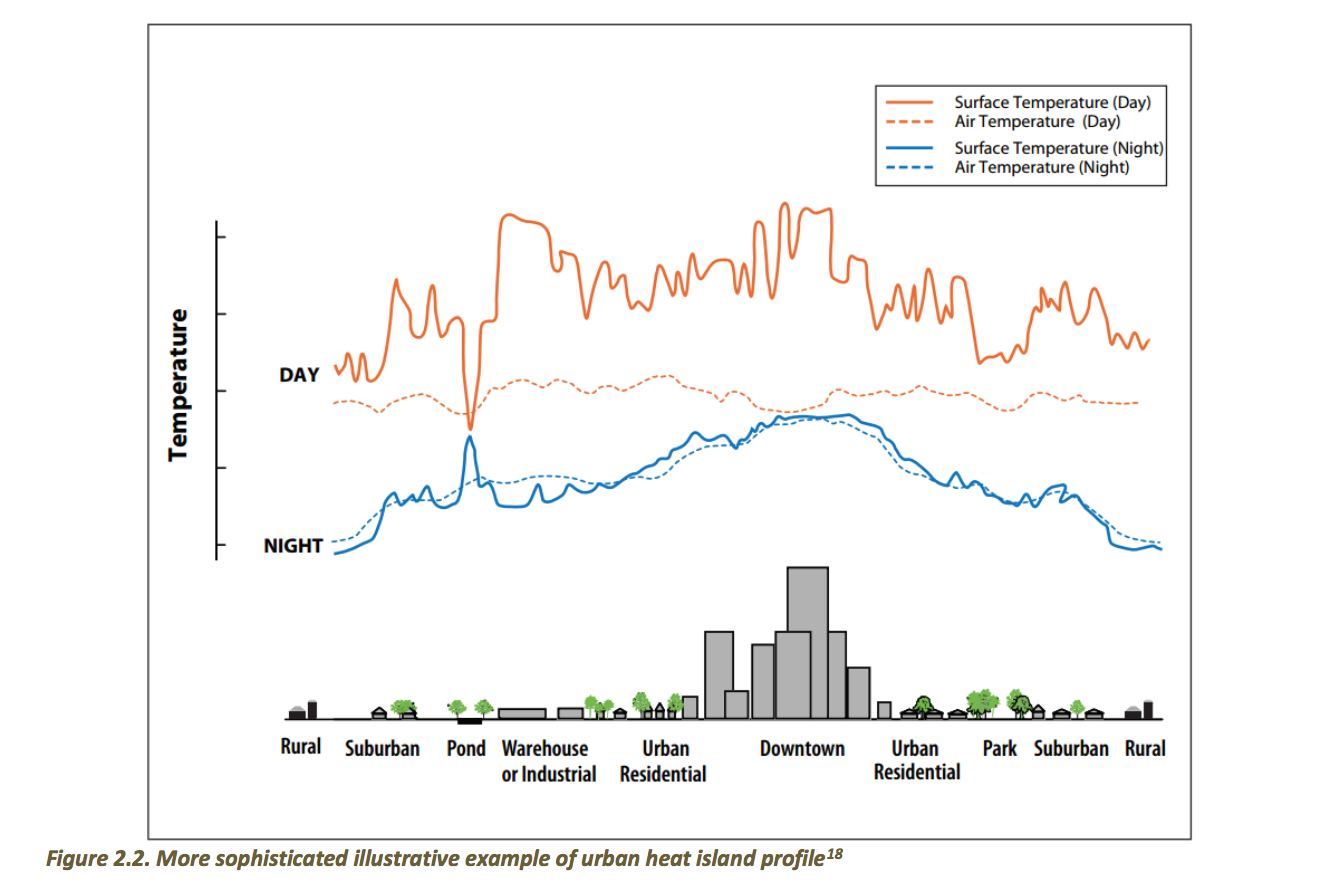 The overview of methodology indicates that the kind of "full, integrated analysis presented in this report has not been done before in large part because of its complexity, and because there exists no analytic framework or tool that comes close to estimating full costs and benefits."
New ways of quantifying benefit estimations were adopted  for:
- estimating the indirect energy benefit of green roofs;
- valuing emissions reductions from the solutions studied using the social cost of carbon
- developing simple, yet robust temperature-based methods to estimate city ozone concentration reductions;
- valuing health benefits of PM2.5 emissions reductions due to installing cool roofs, green roofs, reflective pavements, and urban trees;
- valuing heat-related mortality reductions due to cool roofs, green roofs, reflective pavements, and urban trees; and
- combining new methods and existing methods to estimate costs and benefits. 
Combined analysis of benefit estimation of these new and existing methods are provided to estimate cost and benefits at a city scale of all of the solutions studies.  The report also describes scenario development that models gradual implementation of all solutions at the same time. 
The report was funded by the District Department of General Services and the Department of Energy & Environment. Other partners that supported this research include the American Institute of Architects, the National League of Cities, DowntownDC BID, USGBC, the National Housing Trust and the Chesapeake Bay Foundation.
Publication Date: December 12, 2016
Authors or Affiliated Users:
Greg Kats
Keith Glassbrook
Related Organizations:
District Department of Energy and the Environment (DDOE) - Washington DC
District Department of General Services - Washington DC
Capital E
Sectors:
Resource Category:
Resource Types:
Assessment
Best practice
Planning guides
States Affected:
Impacts:
Air temperature
Precipitation changes