Adaptokc: Adapting for a Healthy Future - Oklahoma City, Oklahoma
Adaptokc, the first sustainability plan for Oklahoma City, Oklahoma, was adopted by the city's Planning Commission and City Council in summer 2020. Adaptokc aims to strengthen Oklahoma City communities in the face of economic, social, and environmental challenges -- including climate change. The plan is divided up into four main sections: energy productivity, natural and built environment, air quality, and waste reduction. Among the initiatives proposed in the plan are increased energy efficiency and renewable energy use, mitigation of heat through development requirements, reduced transportation emissions, reduced waste generation, and strengthening of infrastructure against extreme weather.

Adaptokc comes after the adoption of planokc in 2015, the city's comprehensive plan that promoted a new vision for policy, infrastructure, and planning for the city. It also builds on numerous other planning processes that provided key information, recommendations, and momentum for actions on sustainability and resilience, including the city's 2019 Metropolitan Area Tree Canopy Assessment, 2017 local Hazard Mitigation Plan, 2018 bikewalkokc, 2017 Water Conservation Plan, and the 2015 Climate in the Heartland report, among other plans and studies.
Adaptokc identifies eight key challenges and issues facing the city and affecting the environmental, economic, and social components of sustainability: transportation costs, urban flooding, disruptive technologies, environmental and public health, extreme heat, economic diversification, disproportional vulnerability, and preparedness and resilience.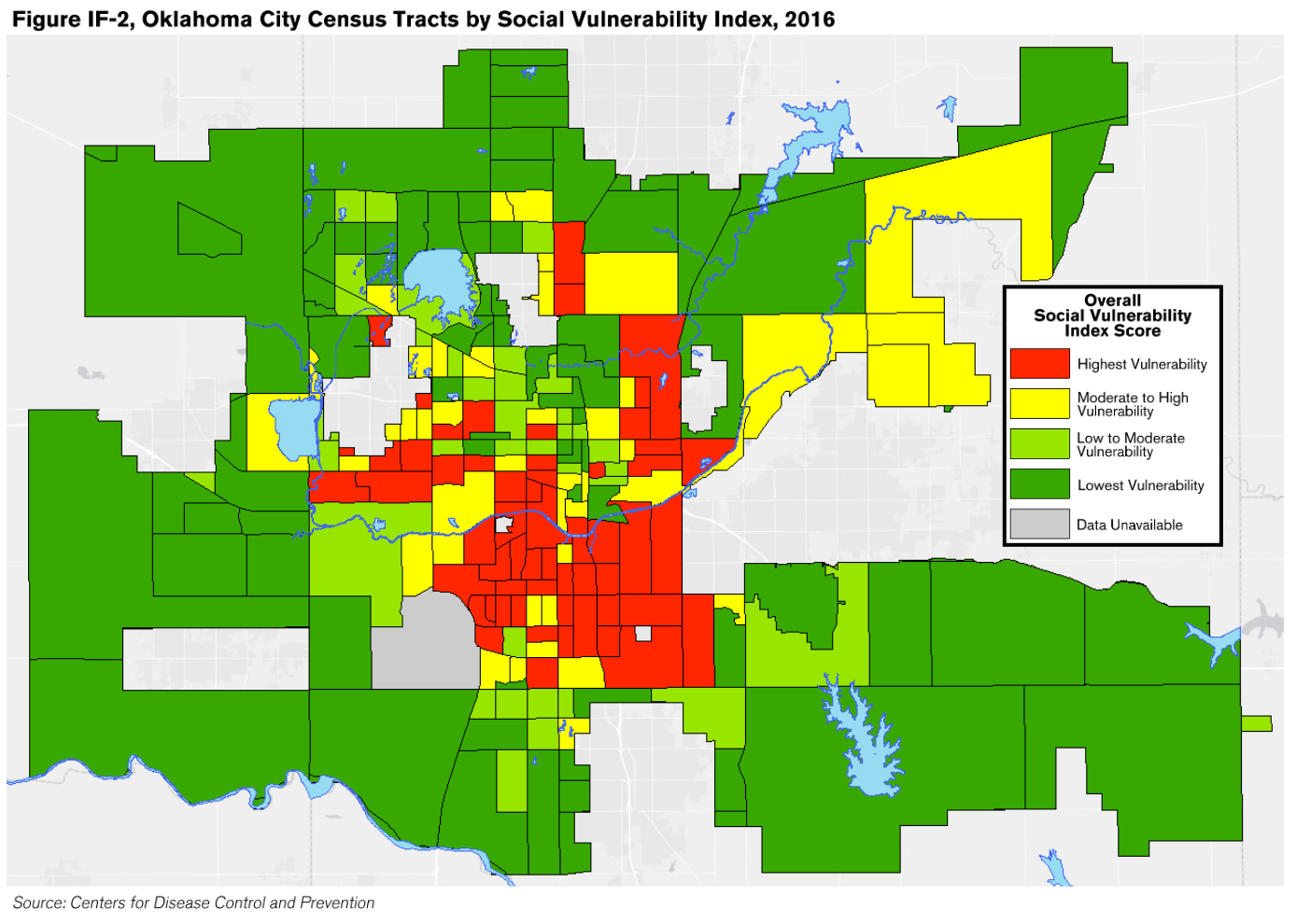 | | |
| --- | --- |
| | The plan discusses how disproportionate vulnerability among community members must be taken into consideration. One example given is linguistic isolation, as it is estimated that more than 11,000 Oklahoma City households are linguistically isolated, or the adults speak a language other than English and do not speak English fluently. The plan discusses how language barriers present in Oklahoma City must be taken into account when preparing public service delivery. |
The plan focuses on four critical sectors: how Oklahoma City generates and consumes electricity, how the maintenance of the natural environment can mitigate climate stressors, how transportation choices impact Oklahoma City's air, and how waste can be better managed. These sectors are in turn broken down into the current situation of each sector, the plan, the goals, and the initiatives to achieve these goals.

Energy Productivity: Oklahoma City is seeing low prices for electricity combined with higher rates of consumption, resulting in increased fossil fuel use through energy generation. The City is proposing both a vigorous commitment to renewable energy and a restored focus on energy efficiency, with initiatives to reduce energy emissions, promote energy efficiency and renewable energy sources, monetize carbon emission offsets, and support jobs in the renewable energy sector. 

Natural and built environment: The City has experienced a rapid increase in the amount of impervious surfaces, which has contributed to increased flooding and the urban heat island effect, as well as challenges in water quality. Furthermore, Oklahoma City has recently experienced higher rates of food deserts. To combat these issues, the City aims to take actions that will promote development that fosters healthy ecological relationships, protect water resources, and preserve and expand vegetative cover. Initiatives to achieve these goals include promoting low-impact development in the City, supporting small-scale food production on underutilized spaces, and mitigating areas of high heat and flood exposure.

Air quality: Significant growth is projected for Oklahoma City's vehicle miles traveled (VMT), which could increase emissions such as CO2, nitrous oxides (NOx), and volatile organic compounds (VOCs) that pose serious health risks to Oklahoma City. The City's primary source of CO2 emissions are personal vehicles, so the City plans to approach emissions reduction in twofold: continuing to enhance transit services and prioritize safe infrastructure for bicycle and pedestrian commutes; and accommodating remaining VMT through alternative fuels that generate few to no emissions. The initiatives include reducing transportation emissions and increasing funding for transportation infrastructure
Waste reduction:

The majority of Oklahoma City's waste goes to landfill, with most of the materials delivered to these landfills originating from sources beyond curbside residential waste, such as the commercial, industrial, and construction/demolition sectors. The City proposes to enhance existing recycling programs, expand efforts to recover materials in sectors beyond single-family residential, and emphasize the role of producer responsibility in waste generation and reduction. The initiatives to reach these goals include reducing the amount of recoverable waste sent to landfills, purchasing products made from recycled materials, and increasing options for proper hazardous waste disposal.
The final chapter of adaptokc focuses on Policies and Implementation. For each sector focused on in the plan, this chapter classifies the type of activity or activities needed to achieve each policy goal (e.g., Policy decision, Program/Partnership, Ordinance, etc.), specifies the target start date for implementation, identifies responsible parties (i.e., city departments, key organizations, and other stakeholders), and establishes indicators that will help monitor the progress towards these goals. For example, Policy NB-14 within the Natural and Built Environment sector states a goal to "Update municipal code to increase elevation requirements for new construction and substantially-improved structures in the 500-year floodplain." The city aims to start this process by 2023, which will involve policy decisions and ordinance/subdivision regulations and require collaboration among Development Services, Planning, and Public Works departments.
Indicators are broken up into external indicators monitoring outside trends which may affect the policy decisions, and internal indicators that are directly in the City's control and will be used to track the effectiveness of City progress. For each internal indicator, the plan identifies current conditions and baseline year, and the 5-year and 10-year target conditions. For example, the city as of 2014 has participated in FEMA's Community Rating System at Level 8, but aims to improve its participation to Level 7 within 5 years and Level 6 within 10 years.
Publication Date: July 2020
Related Organizations:
Sectors:
Resource Category:
Resource Types:
States Affected:
Impacts: