Austin Climate Resilience Action Plan - for City Assets and Operations
The Climate Resilience Action Plan for Austin, Texas outlines climate change adaptation and resilience strategies for the city's operations, asset management, and long-range planning. This report provides an overview of climate projections for Austin, an assessment of potential extreme weather impacts to city-owned assets and operations, and strategies to address those impacts.
The strategies are focused on energy, water, transportation, telecommunications infrastructure, and community facilities - and are to be implemented by the departments responsible for maintaining these operations.   
Climate projections for the region indicate that the most critical climate hazards for both short- and long-term planning efforts include: Extreme Heat, Drought, Flooding, and Wildfire. An increase in average annual temperatures, and more high temperature extremes are expected, along with variable precipitation patterns leading to longer periods of drought and extreme rainfall events.
The vulnerability assessment analyzed three sectors of:
Utility Infrastructure: Large electric utility, water and wastewater assets, and telecommunications network infrastructure.

Transportation Assets: Critical arterial roads in the jurisdiction of or partially operated by the City of Austin, plus City fleet assets.

Community Facilities: City recreation, activity, neighborhood centers, and public libraries.
Based on the vulnerability assessment, the following key climate resilience strategies were identified by staff from across 15 City Departments. Numerous related actions are detailed in the plan under each strategy.
Strengthen Emergency Response

: Ensure that emergency response plans incorporate possible climate changes that could impact the protection of staff, infrastructure, and facilities during emergencies and extreme weather events.

Expand Staff Safety Plans

: Incorporate climate risks into staff safety plans and procedures to provide a safe and healthy work environment for City staff.

Evaluate and Upgrade Existing Facilities and Infrastructure

: Determine facility and infrastructure upgrade needs and reinforce City assets to withstand climate impacts by providing utility redundancies, weatherizing buildings, and making other needed facility improvements.

Future-Proof New Facilities and Infrastructure

: Integrate climate change considerations into future infrastructure and capital improvements decision-making to create climate resilience co-benefits.
The four strategies have many related actions that are charted in the report in terms of the phasing of these actions, and the lead city departments, status, and financial resources are identified for each as well. For example, for the 'Future-proof new facilities and infrastructure' recommendation, one of the supporting actions is to Design for Resilience. Here's how that is illustrated in the report: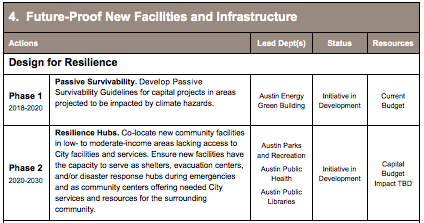 Publication Date: April 20, 2018
Related Organizations:
Sectors:
Resource Category:
Resource Types:
States Affected:
Impacts:
Air temperature
Precipitation changes