Caltrans District Climate Change Vulnerability Assessments (2019)
Between 2017 and 2019, the California Department of Transportation (Caltrans) produced climate change vulnerability assessments and corresponding GIS mapping tools for each of its twelve districts covering the state to help build resilience through transportation decisionmaking. For each Caltrans district, the assessments include high-level overviews of climate change impacts (summary reports) and detailed technical reports on the processes used to identify relevant climate impacts. The reports and mapping tools are designed to help Caltrans planners understand impacts to the portions of the State Highway System (SHS) and other assets in each district, and plan projects accordingly to ensure resilience under future conditions.
For the analysis that informed the summary and technical assessments, Caltrans considered 32 Global Climate Models (GCMs) that had been downscaled and refined for use in California, and then further narrowed that list to 10 GCMs that were deemed by state agencies to be most applicable to California. The analysis considered three representative concentration pathways (RCPs), scenarios representing different possible levels of emissions reductions in the future.
Each summary report begins with context specific to the district, including its geography, population, topography, major SHS components, and climate change impacts and extreme events - ranging from sea-level rise, storm surge, and cliff retreat to temperature and precipitation changes to wildfire and wind events. Relevant planning efforts within the district are identified, noting how they relate to transportation, if not Caltrans-led. For each climate stressor and extreme event type affecting the district, the summary reports note specific projections and potential impacts on design, operations and maintenance. Design and asset management considerations that are relevant statewide are discussed as well. For example, Caltrans has divided the state into 9 different pavement zones based on climate conditions and future projections, to ensure that pavement asset management strategies are regionally-appropriate, particularly for the latter half of the century. The reports provide examples from projects within the district on how Caltrans is adapting or is considering adapting to the different climate change impacts affecting the district.
District 1 Example: The summary report for District 1, representing the mostly rural, northernmost portions of coastal California, notes that the region is characterized by "rocky coastline, redwood forests, and low-lying marshlands," and that with no interstate highways, the primary north-south route is iconic coastal State Route 1. Previous adaptation planning and project efforts in District 1 include sea-level rise adaptation plans in Humboldt County, the Yurok Tribe's adaptation plan, and the District 1 FHWA Climate Resilience Pilot Project study from 2014. The district has been affected by severe wildfire events, including the Mendocino Complex Fire in summer 2018 that burned 459,000 acres and caused road closures and evacuations, cliff retreat, especially in Humboldt County along portions of US 101, and flooding, landslides, and mudslides caused by heavy precipitation events. In addition to wildfire, cliff retreat, and precipitation, the D1 report identifies anticipated impacts to transportation assets from temperature changes, sea-level rise, and storm surge. One example highlighted in the District 1 report is the relocation of nearly 2 miles of US 101 to bypass the Confusion Hill Slide Area in Mendocino County, which had caused frequent road closures for a period of 17 years.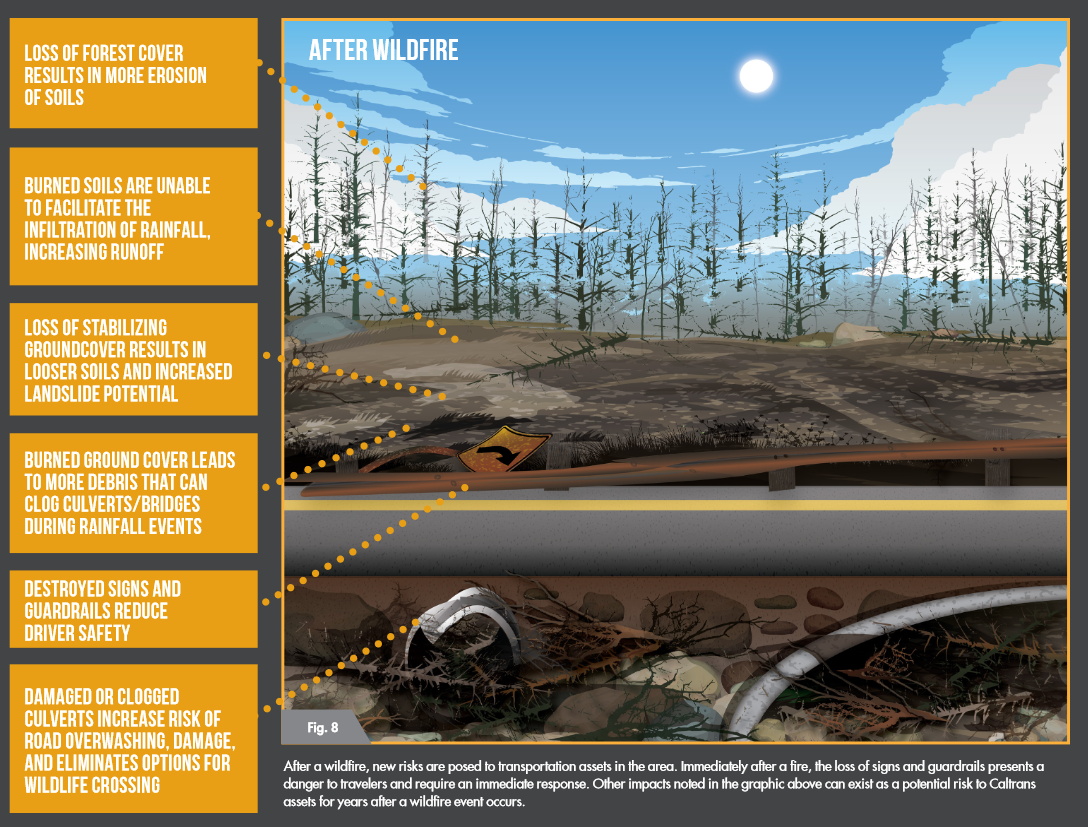 For each district, a mapping tool was also developed that includes geospatial climate stressor data, indicating portions of the district that would be exposed to different levels of climate stressors. For example, the District 1 tool includes sea-level rise ranging from 0 to 10 feet, storm surge ranging from 0 to 1.41 meters, roadway exposure to cliff retreat , wildfire exposure under 2 different RCPs across 3 different timescales (2025, 2055, 2085), percent change in 100-year precipitation event depths across different timescales, and average 7-day maximum temperature across different timescales. These climate data selected for mapping were chosen with input from Caltrans engineers to ensure that they would be directly applicable to transportation design and engineering decisions. For example, the tool notes that "'100-year storm depth' is a statistical measure of rainfall used by engineers as inputs to hydrologic models.  These models provide flood flow projections which can be used to determine the appropriate height of bridges and size of culverts."
The district reports and mapping tools were finalized between 2017 and 2019. The statewide assessment effort was conducted with support from the 2018-2020 round of the Federal Highway Administration's Climate Resilience Pilot Program. It built on Caltrans' first FHWA-supported pilot project effort, which was completed in 2014 and focused specifically on District 1.
Publication Date: October 2019
Related Organizations:
California Department of Transportation (Caltrans)
Sectors:
Resource Category:
Resource Types:
States Affected:
Impacts:
Air temperature
Precipitation changes
Wildfires
Wind