City of Somerville, Massachusetts Climate Forward Plan
Somerville, Massachusetts' climate change plan includes policies, programs, and strategies for climate change adaptation, mitigation, and social equity. 13 primary strategies or Action Areas were developed to make Somerville climate neutral by 2050, and more climate resilient in the near-and long-term. 
Each Action Area includes details on the Approach and the Plan for Implementation - including a proposed schedule, partners or stakeholders, and social equity considerations. Additionally, each area includes a section on Precedent - illustrating examples of the action as implemented in other cities, as well as Cost and Benefit analysis. 
22 Priority Actions within these primary strategies establish a framework to set this course for climate adaption and mitigation efforts in the next 5-10 years. Each specific priority action was selected based on the impact and co-benefits it can provide, the feasibility of implementation in Somerville, and from stakeholder input.
Adaptation focused Action Areas include:
Stormwater Management

Expanded Tree Canopy

Healthy and Resilient Community

Regional Collaboration for Coastal Resilience

Culture of Climate Action: (Organize community climate action and preparedness leadership program to educate the public and increase participation in climate programs.)
The Healthy and Resilient Community aspects relate to raising awareness around flooding vulnerability and extreme heat through improved communication networks. Steps are outlined to build an enhanced communication system for local residents to support one another during dangerous climate events. Other actions suggested to support community resilience include adjusting existing emergency preparedness plans to incorporate climate projections, and increasing the resilience of existing City run shelters, such as having backup power generation. 
As illustrated in the Relative Urban Heat Island Exposure by Neighborhood Map here, some neighborhoods in Somerville are at greater risk for to urban heat island effect due to limited vegetation and urbanization patterns.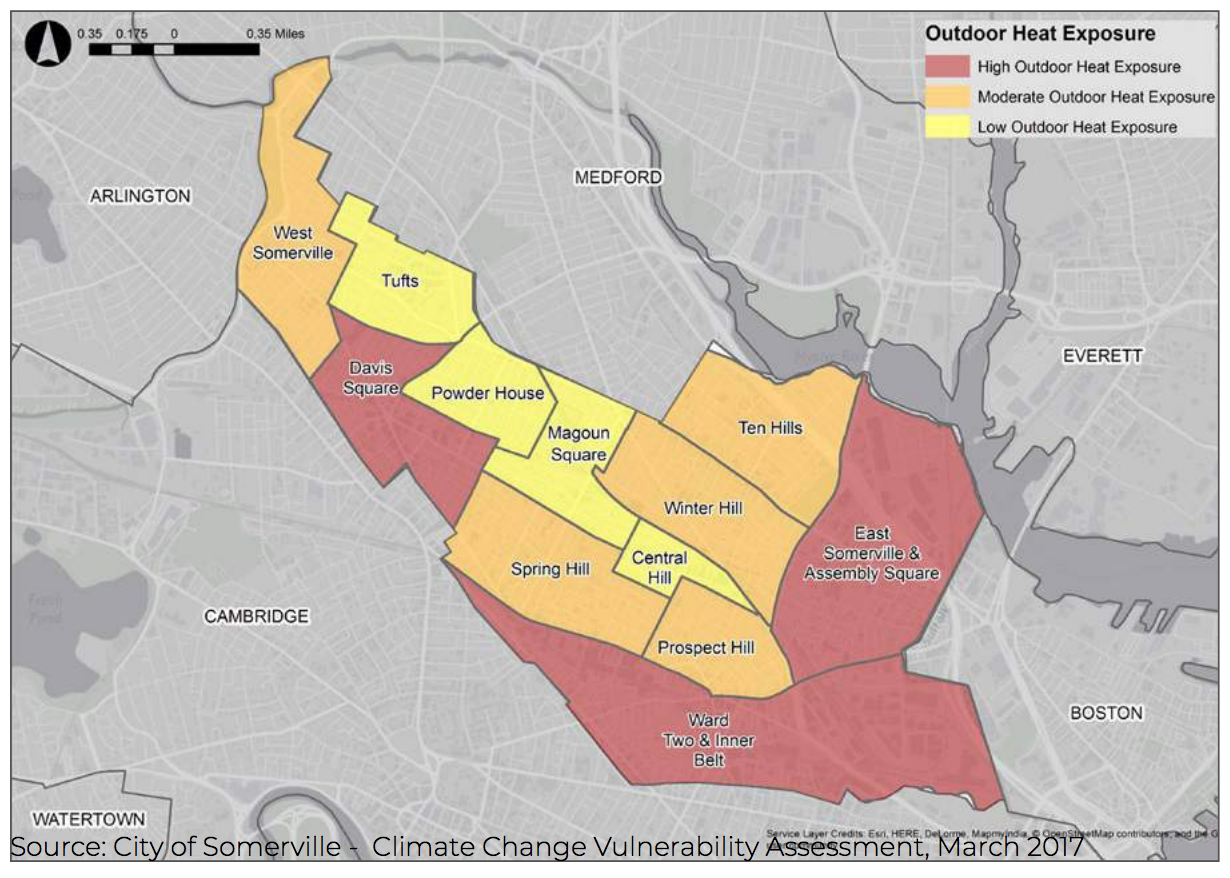 An Implementation Timeline for tracking success is included at the end of the plan. The timeline shows which actions are being started immediately and how long the City anticipates it will take to complete the majority of the steps outlined in each priority action.
Publication Date: January 2019
Related Organizations:
City of Somerville, Massachusetts
Sectors:
Resource Category:
Resource Types:
Adaptation plan
Plans (other)
States Affected:
Impacts:
Air temperature
Precipitation changes