Delaware Climate Mitigation and Adaptation Planning
The Climate Mitigation and Adaptation Planning (CMAP) report for Delaware was prepared by the state's Department of Natural Resources and Environmental Control as part of a pilot project to address the risk climate change poses to public use and critical function facilities. Three pilot facilities were assessed for both their ability to maintain operations during climate change fueled weather events and at higher temperatures - including the Delaware State Parks Indian River Life Saving Station, a Delaware Department of Transportation (DelDOT) building, and a state police facility. The report's focal climate resiliency measures include flood risk mitigation and energy conservation - aimed at ensuring the continuity of critical functions in these facilities and other similar facilities throughout the state.
The report outlines a number of different approaches to mitigating flood risk including riverine or coastal flooding, and flooding as related to hurricanes or rainfall and runoff. It includes an analysis framework and scoring methodology to direct communities towards the highest-benefit flood mitigation options in Chapter 2. Priority criteria to assess for flooding are detailed, including: social, technical, administrative, economic, and legal feasibility; and environmental impacts. An example of a scoring approach is found in Table 9: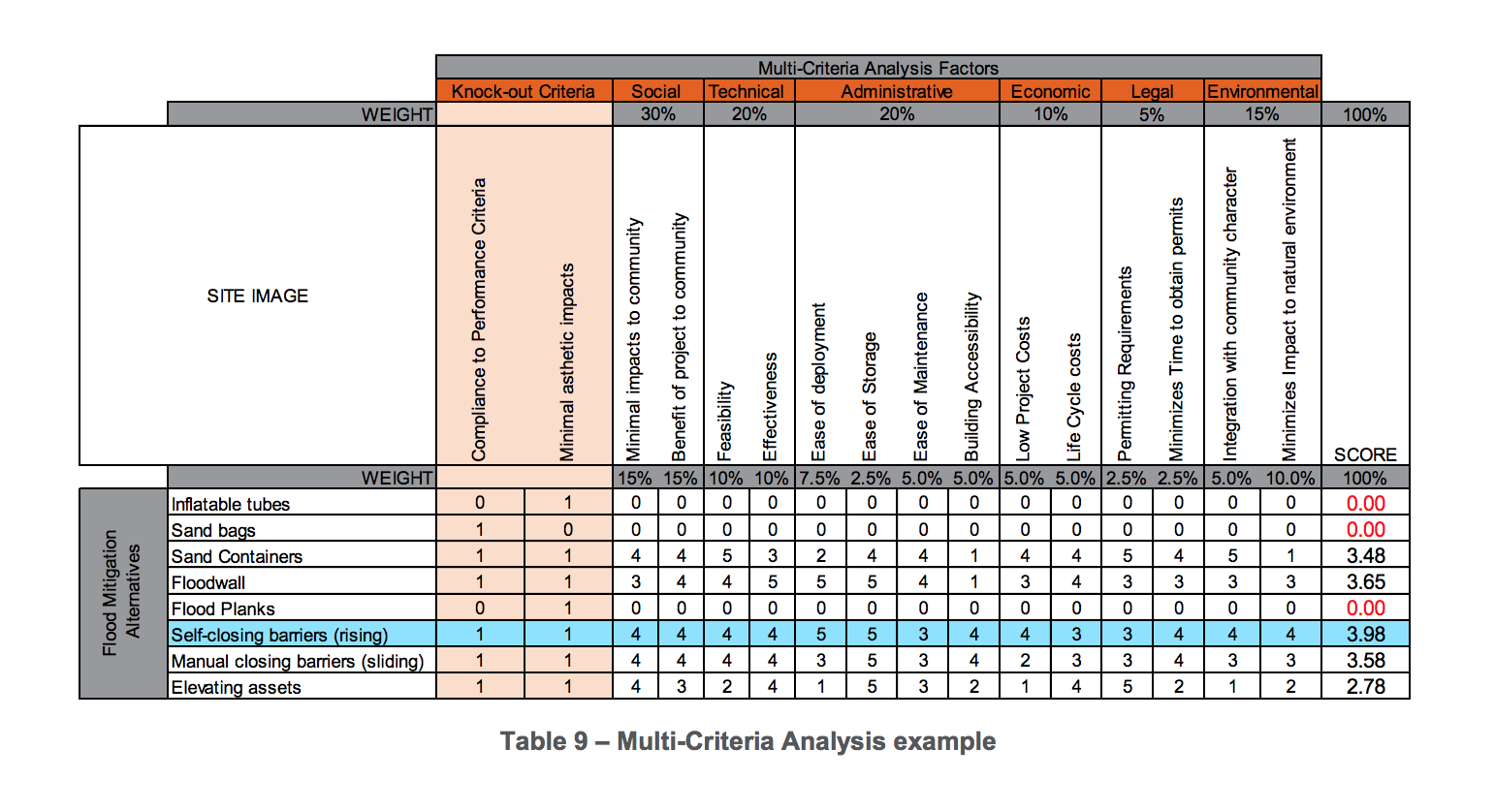 The energy assessment was developed by the American Society of Heating, Refrigeration and Air Conditioning Engineers which involved a long term study on energy procurement, climate change's threats to electrical generation, transmission, and demand. The study also used data provided by the Delaware Climate Projections Portal to predict increased energy consumption as the number of days with outdoor temperatures above 90°F and the demand for air conditioning increases. While energy use and cost projections were estimated for three public use and critical function facilities, the Climate Projections Portal allows for assessment of any site in Delaware.
Publication Date: October 9, 2017
Related Organizations:
Sectors:
Resource Category:
Resource Types:
States Affected:
Impacts: